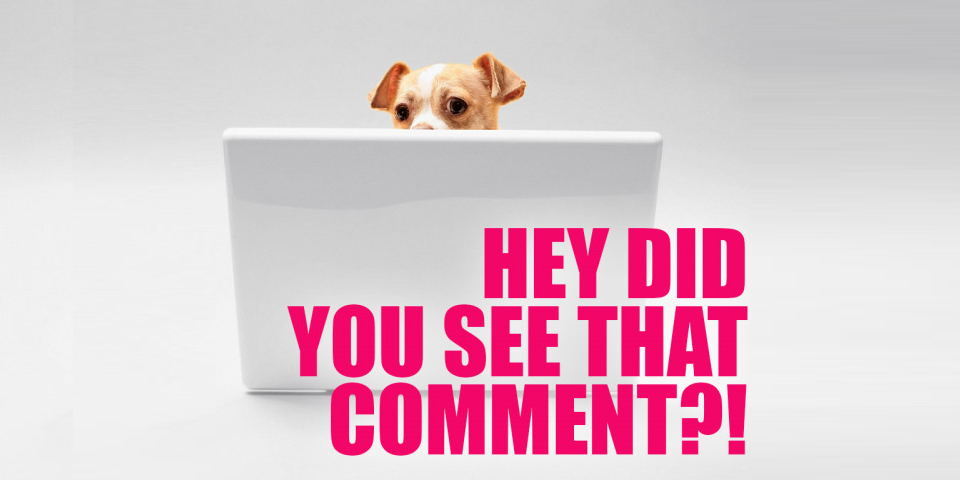 Hello, perfect friends! Did you know there is an app (several, I assume) that will track your cycles, if you have them, and tell you when things are happening in your body? I mention this because you'd think, at 35, I would understand that when I feel like crying all day long, drive fairly badly, and stop on the way home for a bottle of whisky and a cheese danish, it just might have to do with my cycle? But no, I always just assumed I was simply having a terrible day. Now, thanks to an app, I know when I am both having a terrible day and ovulating! Thanks, technology!
(That was yesterday. The danish helped!)
This week, Reneice made the most beautiful buttermilk biscuits.
Is A-Camp your happy place, like it is mine? Donate or apply for a campership today!
Mal! Blum! New! Music! Eeeeeee!
Alexis re-wrote a bunch of popular movies to be super gay in The Black Lesbian Movie Project. These sound so good!
Rachel wrote about dating someone who's intro astrology when you're so skeptical your name might as well be Dana Scully. It's possible, people! Our differing passions and interests make the world go 'round. Truly.
The L Word reboot is on its way. Let's go lesbians! Let's go!
I LOVED THIS SO DAMN MUCH: Proudly Black, Fat, Queer and Making a Home for Myself in Cosplay.
The straights are at it again. One of the items on Straight People Watch this week is a sex button. A SEX button! A sex BUTTON. On your nightstand! Which you push! When you want! To have sex! With your spouse! Instead! Of asking them!
Finally, Heather reviewed Rebecca Henderson, the actor who played overalls-clad Lizzy in Russian Doll! They talked about their cats!
And then there were your comments!
---
On Femme Brûlée: My Perfect Buttermilk Biscuits:
The Bring Me Flours Award to Letitia:

On Sunday Funday Is Obsessed With the New Killing Eve Trailer:
The Pronoun Party Award to Rachel:

On Monday Roundtable: How Could I Forget?
The Dog Days Award to Caitlin:

On The Black Lesbian Movie Project:
The Casting Couch Award to Mina:

On 95% of Lesbians Keep Their Fingernails Short, All Hands On Deck:
The Sweet Little Figs Award to Carmen SanDiego:

On "The L Word" Reboot: Lots of Bette, Shane and Alice, a "Little Browner and a Little Less Cis":
The Saving Private Williams Award to Chloe:

On 11 Queers Share the Best and Worst Lines They've Gotten on Dating Apps:
The Long Con Award to Claire:

And on Straight People Watch: Winter 2019:
The Worst Timeline Award to Linnea: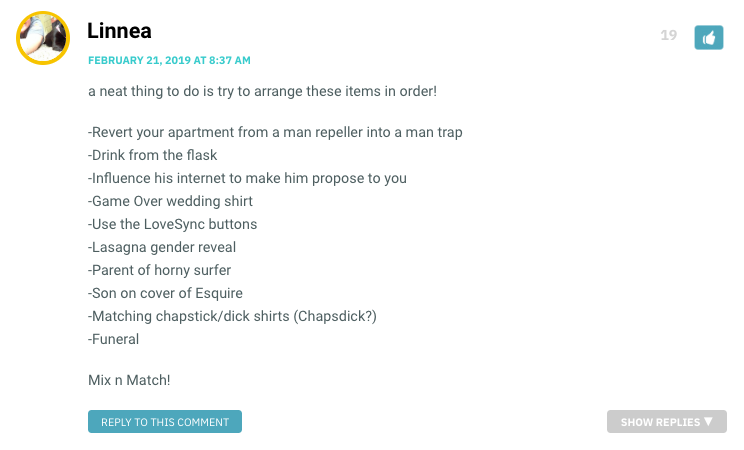 And the Man Repeller Award to Carmen SanDiego:
---
See a comment that needs to be here? E-mail me! Queergirlblogs [at] gmail.com.