If you've allowed yourself the cathartic pleasure of watching Russian Doll, you are (repeatedly) acquainted with Rebecca Henderson, who plays Lizzy, the best friend of Natasha Lyonne's Nadia. If you're a real student of lesbian cinema, you've known her since she starred as Maxine in Desiree Akhavan's 2014 breakout hit, Appropriate Behavior. Henderson doesn't just play gay, though; she's a real-life lesbian who also happens to be married to Russian Doll co-creator/writer/director Leslye Headland.
Henderson's Lizzy is an eccentric lesbian Lothario who stands by Nadia's side no matter what happens (or when), and she quickly became a fan favorite when Russian Doll landed on Netflix two weeks ago. According to queer Twitter, some gays want Lizzy to be their best pal, too; and some gays want Lizzy to run over them with a truck. After talking with her, I can confirm that Henderson's way too nice to murder you — she and her wife are even getting certified by the ASPCA to rescue feral cats in New York City — but you'd be very lucky to call her a friend. Henderson chatted with me about being on set with her wife, the evolution of queer women on TV, and her real feelings about overalls.
---
Congratulations on the great success of the show! It's been nothing but hype and praise since it dropped on Netflix.
I'm so pleased, and surprised — not in a bad way! I just don't think anyone was expecting this. So many times your work comes out and people are like, "Oh were you in that thing I don't care about?" But this has been such a celebration for my wife and for Natasha. It's been a joy for me to have a small part in it as well.
Is this the first time you've worked with your wife in this capacity?
It is. We're about to do something else together, but this was our first time and I really loved it. I just felt like it was so sexy to see her at work. I think lot of people feel that way when they see their person at work, doing well. Every time she came around the corner I'd be like, "Who's that? Oh, that's my wife!" She just has this amazing energy on set. It's like I know her so well, but I got to learn her in a new way.
Was Lizzy written with you in mind?
Lizzy's part is loosely based on an actual friend of Natasha's. I do think that they were probably always considering me, just being a lesbian of the right age. I wanted to be part of the series — but I didn't think it'd be such a cool part. I wasn't holding Leslye hostage at home. But apparently Natasha came in one day and was like, "When are we going to offer this part to Henderson already?"
Have you been surprised Lizzy has become such a fan favorite?
Yes! When my friends asked about my part I was like, "Oh, I'm barely there," but then when I watched it I was like, "You know I'm kind of here a lot!" I've been really surprised at how people have responded to this weird person, but it's also been wonderful. We really love our friends, don't we? People are like, "Wow Lizzy really loves Nadia so much," and I'm like, "Yes, and I love Natasha so much!" And it translated on set. When I'd arrive, Natasha would say, "Henderson's here! Good, you make me feel good! We can use your light and your energy; you make me feel safe."
So the main way you relate to Lizzy being a caretaker? Or, secretly, you're also a real life overalls girl?
[Laughs] No, I am not an overalls girl! But I love the costuming. I can't change it, right, so I was happy it was comfortable. And I liked that it was a little bit androgynous, but with femme-y shoes. It's a nice mix.
Obviously a lot of people made the comparison between Russian Doll and Groundhog Day, but what that juxtaposition really does for me is highlight the fact that Groundhog Day is a movie where everyone exists solely to interact with this one straight white guy and help him become a better person. The characters are like video game NPCs. But on your show, there's agency for everyone.
Right, exactly! We have our own free will. Every time Nadia comes back, we change and we grow. Greta Lee and I spent so much time with each other, and of course you don't know what it's going to look like until the entire series is put together, so we really just had to talk it out and trust Natasha as the leader of the ship, and work off the energy she was bringing to every scene. Especially Greta, who had to keep finding ways to exclaim, "Sweet birthday baaaaby!"
Already iconic! There were a lots and lots and lots of women involved in this project.
I'm so spoiled. I'm never going to be cast as the sexy ingénue, so I get to work with a lot of my friends who are really powerful women in the industry, but this really was next level. Jamie Babbit directed an episode. She, of course, did But I'm a Cheerleader with Natasha, which I couldn't believe was a real film the first time I saw it. And I know Clea DuVall now. Those were some of the first gay characters I'd ever seen. Now I'm working with them. The set just ran so smoothly; it felt so supportive and collaborative. It felt like coming home instead of going to work.
I'll also say it was a lot of fun seeing women play the roles that men usually play. The men on set were like, "Wait, now, what am I doing? I come in and I look pretty and I leave?" And we were like, "Yes, get outta here!"
Right, and when you're looking at you and Greta, you both got more character development in a couple of minutes per episode than most women starring as main characters would get over the course of a whole show.
Yes, usually a supporting role for woman is a wife to a man, or a mother, and then her kids go off to college. Even Lizzy's last scene, which I won't spoil, felt like the ending of a beautiful arc.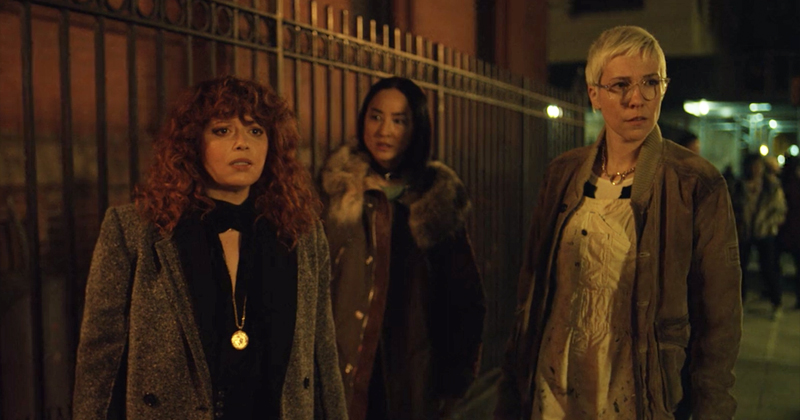 I don't think this show could have existed before right now, and I also think it's the show for this exact moment. It's exploring women's trauma. It's giving us metaphors for things like mental illness and anxiety — both personal anxiety and broad cultural anxiety. How do you feel about the show's timing?
It's exactly what you just said; this stuff is all I think about and talk about. It's what I work on in therapy. My own relationship with my mother, my own trauma, my own relationship with the addiction that surrounds me. Thinking about breaking out of our own loops of anxiety that we've been stuck in since we were little kids. And, of course, the #MeToo movement, which is the best fucking thing in the world and I can't believe I get to be alive at this moment and participate in this activism. I also think gay television has evolved so much. Netflix was never like, "Oooh, a little less gay." It's exactly as gay as it is and that's the right amount of gay.
I think that's another way you can tell this show has women's hands all over it. It's generous. A viewer can come to it and relate to it and even imprint on it in a way. This isn't a show about a man and his redemption.
Yes, it's about all of us. And I think so much of that is what Natasha brings to it. She's a force. Just who she is and how she moves through the world.
You mentioned But I'm a Cheerleader. Is that the first queer representation you ever saw?
The first time I ever saw a gay person was at a Bette Midler concert when I was ten years old. There were two men sitting in front of me and they were kissing and holding each other and I stared at them the whole time. The first actual lesbian I saw is going to be a classic for people my age, and it's Ellen coming out on her sitcom. And that's the night I came out, too. I drove my friends home after we watched it together and I sat in the car and cried, and I didn't even really know why I was so upset. My friends were amazing; they were like, "Whatever makes you happy! Just be happy!"
That's wonderful. Ellen was my first TV gay too. And now that we've bonded over this very deep lesbianism, it's time to turn our attention to cats.
Did you say cats?
Yes, cats! I was perusing your Instagram today and noticed you have two ginger cats and a dog.
Oh, yes! I am a cat person! I came to my relationship with two cats who are brothers, and Leslye came with a big Great Dane. We love them all so much, but they have to live on different floors because they don't get along!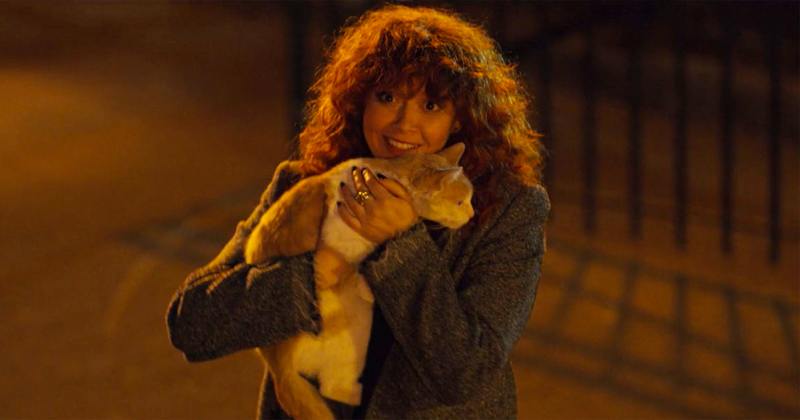 Oatmeal the cat was my partner's main worry about Russian Doll. She started watching the Friday morning it came out and when I woke up she was like, "You have to contact Netflix; you have to find out if Oatmeal is going to be okay!"
I was terrified being on set with Oatmeal. Obviously I wasn't in any scenes with the cat, but if I wanted to see my wife at night, I had to go to the set. So this cat wrangler had this incredible cat and she would just place it on the ground—
Out in the wild in New York City?!
Right? First of all, nope! If you put my cat outside, he'd be gone forever in five minutes. So this wrangler would sit the cat down and slowly back away and I was like, "What the fuck is going on?" But the cat would just stay there! And then Natasha would come over and scoop it up and it would start purring. I don't know where you get a magical cat like that, but I was horrified. What if it gets startled? What if a loud truck goes by?
I would have had an anxiety attack.
Yes, I can tell by your voice that you get it.
Are there any experiences in your life you'd like to live over? Not indefinitely on a loop, because that's way too daunting, but just once maybe?
What a great question. When Leslye proposed to me was an incredibly magical moment. The first time I saw her, when she walked into the room, I was like, "Um, that's the most beautiful lesbian I have ever seen. She's going to be my wife." We didn't know each other. We were both in other relationships. About a year and half later, we'd both broken up with our people, and I was like, "Get the word out!" I told Natasha. I told another one of our mutual friends. They were like, "Leslye's straight," and I was like, "I don't think so!"
Eventually we started dating and she proposed to me in front of all of our closest friends. I had said I wanted these sunglasses and she had a sunglass box in her lap. She was giving a speech at the end of dinner; she said, "I just want to say how much I love you. You told everyone here that we were going to be together, and you were right, and I want you to know you'll always be right," and then she opened the sunglass box and there was a ring in it. I, of course, broke down.
Oh my gosh. 
That was probably the best moment of my life. I would definitely relive it.
What's next for you?
I did a film called Mickey and the Bear that's about to go to SXSW. I play a lesbian therapist. When they wrote the role, the character was a 55-year-old married straight woman, but when I got the part, they made her a lesbian. For a second, I was like, "Hmm, I am a lesbian and I look like a lesbian, but do I always have to play a lesbian?" And, you know what? I don't — but I'm so happy to be able to.
For more Rebecca Henderson and her cats and dog and wife and life, check out her Instagram. Or watch Lizzy in Russian Doll, streaming right this very second on Netflix.