If you, a gay person in 2019, do not already care about or believe in astrology, I am not here to convince you otherwise; that is not my journey. However, it is a truth universally acknowledged that if you're dating in any way, shape or form right now, the topic is going to come up and people you probably want to have sex with might care about where the planets were on the day you were born. If you feel strongly about Scullying this situation and avoiding anyone who believes in made-up sky magic, that's your prerogative, but you should know that you're preemptively x'ing out a LOT of the queer population you might otherwise click with! Even Scully decided to devote her life to somebody who believes Elvis is still alive. Instead, consider: how to talk to hot people about astrology when you don't know anything about it.
Don't Be a Jerk About It
If you do nothing else, you can at least not roll your eyes, make fun or disparage someone's interest in whether their moon is square your Venus, etc. You don't have to care about it, and if you go to your grave thinking it's a dumb made up hobby, that is fine and no one will stop you! But it's hard to think of a faster way to turn someone off than to make a point of letting them know their interests are dumb. Even if you think you are doing this in a jokey, fun way, the truth is that kind of interaction really only works when you have a long-established relationship that involves ribbing each other, not when you're just getting to know someone. When you feel the instinct to roll your eyes back in your head, maybe ask yourself if you could say politely "I've never really gotten into that! What do you like about it?" This is good advice for life in general! Even if you think something someone cares about is stupid, as long as it's harmless you always have the option to be polite about it or at worst, ignore it.
Know Your Basic Info
At the minimum, you should know the city you were born, the date and the exact time. I know 'exact time' probably sounds unnecessarily dramatic, but for people who take astrology seriously this is truly the wing of a butterfly that causes a hurricane, and so forth. Take your fate into your own hands by texting your mom now to ask your birth time, or otherwise you will find yourself doing so sooner or later at a chic fermentation-themed gastropub while your date fiddles with her artisanal kimchi impatiently. This information will enable whatever cutie you're talking to to whip out her phone at the bar and find your basic chart, which will hopefully contain information that makes you wildly attractive to them.
Alternatively, you can skip ahead to that step yourself, and put your basic info into a chart calculator yourself. It's very easy! You can do it here for free (albeit with an unfortunately binary gender option). The main things you'll want to know are your sun sign (what you already know as "your sign," the main one), your moon sign, your rising/ascendant (although if you don't know your time of birth, you won't know this one), and ideally your mars and venus signs — what astrology enthusiasts will look at to know what you're like ~in love~ or whatever.
If you get your chart from Cafe Astrology, this is an example of what it will look like, with the Sun, Moon, Venus, Mars and rising highlighted, so you know where to check. (For reference, this is the chart of one Emily Fields, whose birth time Heather Hogan was somehow able to verify within five minutes. If reading this post has made you anxious in any way about someone else's assessment of your own chart please rest assured that yours is likely easier to deal with than Emily's, although it does make her sound great in bed.)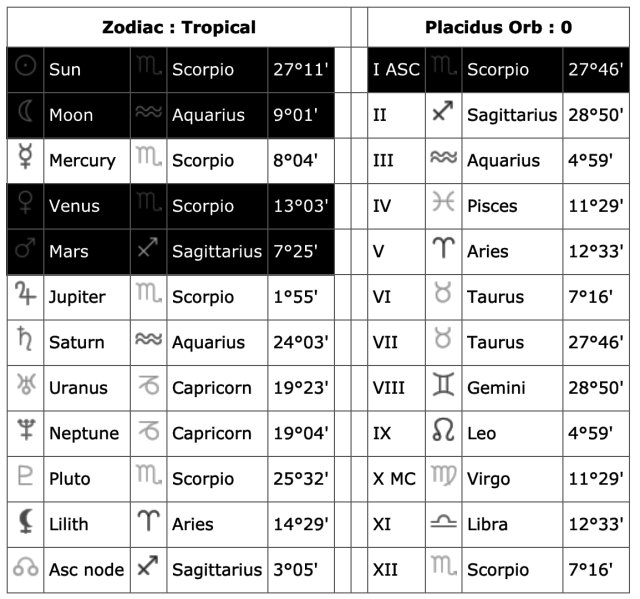 If you're curious about what those things mean to people who care about them, Jeanna wrote a great series on this! If you don't care about looking that up at all, that's okay, you are a great candidate for this next category:
Ask Them to Explain It to You!
Everyone loves feeling knowledgeable and like their knowledge about something is interesting to others! You can make your crush feel that way while also coasting on an easy conversation topic and learning more about each other by asking them to explain your chart to you. This is so stupid easy! "Oh, my moon is in Gemini? Wait, so what does that mean?" Then you listen attentively and with genuine interest to what they tell you, and before you know it you're actually getting to know each other and talking about who you are as people. "Oh, Gemini moons are supposed to be chatty? That's weird, I feel like I'm usually more shy. Is there something else in my chart that would explain that?" Look at you, friend, you're OFF TO THE RACES.
Ask About Their Stuff, Too
Just as you would with any other topic, you should ask questions of them too! It's a great way to learn about them, but also about how they think of themselves, different but equally important. "Your venus is in cancer? So does that mean you're like a hopeless romantic?" Their answer will help you get to know them better and they feel flattered by your interest in them — everyone likes talking about themselves, and it feels good to feel like someone is invested in learning details about your personality. It's an organic way to learn about each other's inner lives without having to weirdly quiz someone about "so, how do you feel like you process emotion?"
Flirt!
If you've gotten this far and you haven't scared her off by having some sort of end times nightmare chart — and hey, even if you do, it's cute for you! Etc! — it's not difficult to build off all that conversation to flirty teasing and inside jokes, and once you have inside jokes things start to feel really cute really fast. "Sorry I'm running late, I had to change my outfit! You know me, such a Libra!" Look at you, you're a pro.
Again, you don't have to take any of this seriously! And if other people taking it super seriously is a real dealbreaker for you, that's good to know that about yourself and your dating life, but if you feel like you can be a little flexible about it, you too can enjoy an easy topic of conversation that isn't your most recent breakup!