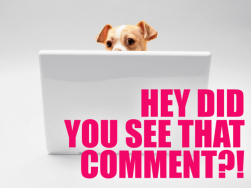 Hi pals! I hope that you're staying warm this week, and getting through it however you need to — whether that's by surrounding yourself with family or going to a holiday orgy. 2017: It's almost over!
This week, Heather interviewed Cameron Esposito and Rhea Butcher, who hopefully will be co-headlining the American presidency in a few years.
You never forget your first time! (These aren't what you think.)
In an extremely on-brand and adorable move, Lena Waithe got engaged on Thanksgiving!
These are all excellent and you may want to run out and read them right now: The Top 10 Queer and Feminist Books of 2017, from Carolyn.
And then there were your comments!
---
On Y'All Need Help #16: You Can Do Things About You!
The Force Is Strong With This One Award to Rey:
On Holiday Gift Guide: For the Queers in the Kitchen:
The THANK YOU, THEY ARE NOT THE SAME! Award to Holly:

On The 8 Sexiest Non-Sex Film Scenes of 2017:
The Themyscira? I Barely Know Her! Award to amidola:

On Relevant To Your Interests: Some (Spoiler-Free) Star Wars Merch For You and Your Favorite Porg:
The Star Tours Award to Kris H:

On 6 Kinds of Coats for Facing Any Winter Weather:
The Chasing Amy Award to Carmen SanDiego and Al: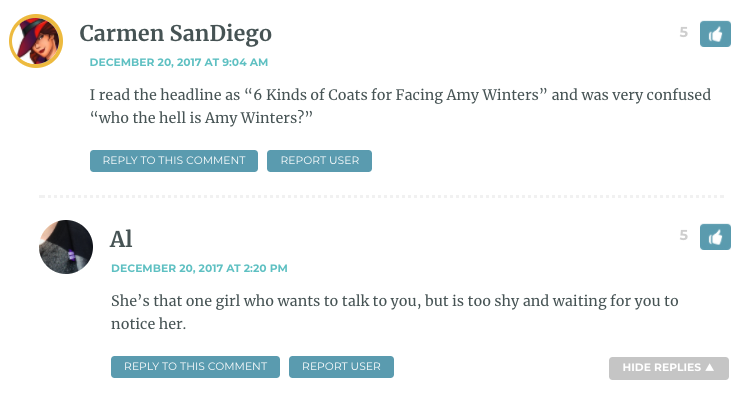 And on Pop Culture Fix: One Pic From "One Day At A Time," The Allegedly Not-Lesbian "Ocean's 8" Trailer and Other Stories:
The Carol of the Ocean Award to Heather Hogan:

---
See a funny or amazing comment that needs to be here? E-mail me at queergirlblogs [at] gmail [dot] com!