I have a lot of feelings about winter coats — perhaps too many! I've lived in a wide range of winter climates, from the essentially winter-less Los Angeles, to mild D.C. and slightly colder New York, to quite cold Ann Arbor, to completely frigid Chicago — which is why I'm here to guide you through some of the best options that prioritize both fashion and function. Let's get down to business!
Parkas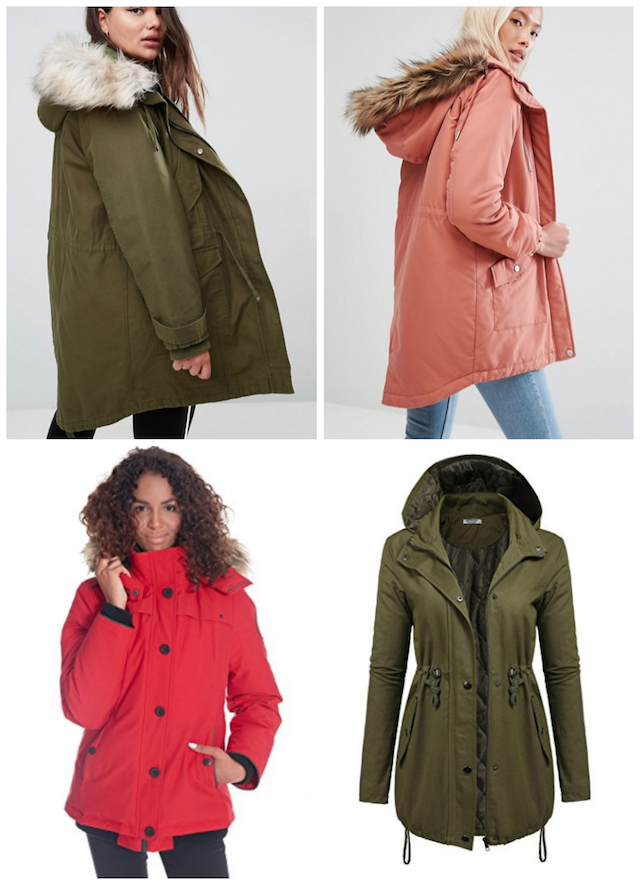 1. ASOS CURVE Oversized Parka with Padded Liner 2. Noisy May Parka with Faux Fur Hood 3. Alpinetek Women's Short Down Bomber Parka 4. Hotouch Hooded Fleece-Lined Parka
Parkas come in a wide range of weights and linings, so whether you live somewhere frigid or in a milder climate, you can find one that matches your winter needs. You don't have to drop hundreds on a Canada Goose either (unless you do a lot of outdoor adventure-type stuff, in which case, invest in a serious parka). I recommend going with a bold color if you want something a little different.
Puffers

1. Topman Oat Puffer Jacket 2. ASOS Puffer Jacket 3. ELORA Full-Length Puffer 4. Longline Plus Puffer
Not all puffers have to be hideous — they can also be fun! And they're super easy to pack. For colder climates, definitely go with the full-length; my full-length Spyder puffer was on the expensive side, but it got me through six winters in the Midwest.
Wool Coats

1. ASOS Wool Coat 2. Cinzia Rocca Walker Coat 3. Wool Shawl Collar Wrap Coat 4. Lucky Brand Oversized Lightweight Wool Coat
Wool coats can be super femme or super butch, making them my favorite and most versatile style of winter coat! They're not always practical for places with serious winter weather, but they hold up well in mild snow, and keep you snuggly and warm and looking fresh as hell. If you're prioritizing style, definitely go the wool route — think Charlize Theron in Atomic Blonde or Cate Blanchett in Ocean's 8.
Field Coats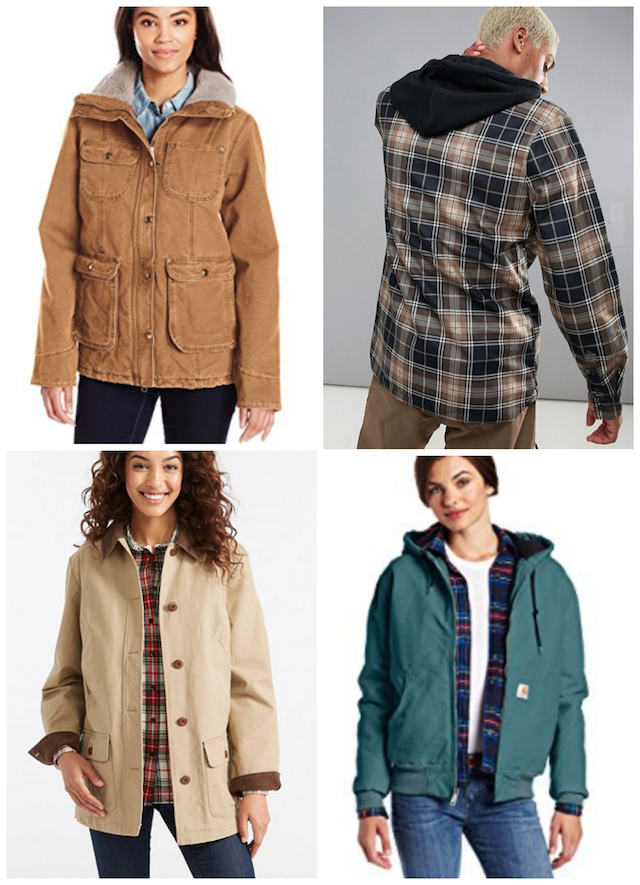 1. Carhartt Weathered Duck Wesley Coat 2. Volcom Field Bonded Flannel Jacket 3. Adirondack Flannel-Lined Barn Coat 4. Carhartt Lined Sandstone Active Jacket
Field coats and hunting-style jackets are great for masculine of center folks or any other flannel lover. I wear a very simple dark green field coat that I, ahem, "borrowed" from my girlfriend; it's just the right weight for New York, and it's incredibly comfortable. Carhartt is one of the biggest brands for this style, but you don't necessarily have to go to an outerwear brand for this look.
Barely Winter Coats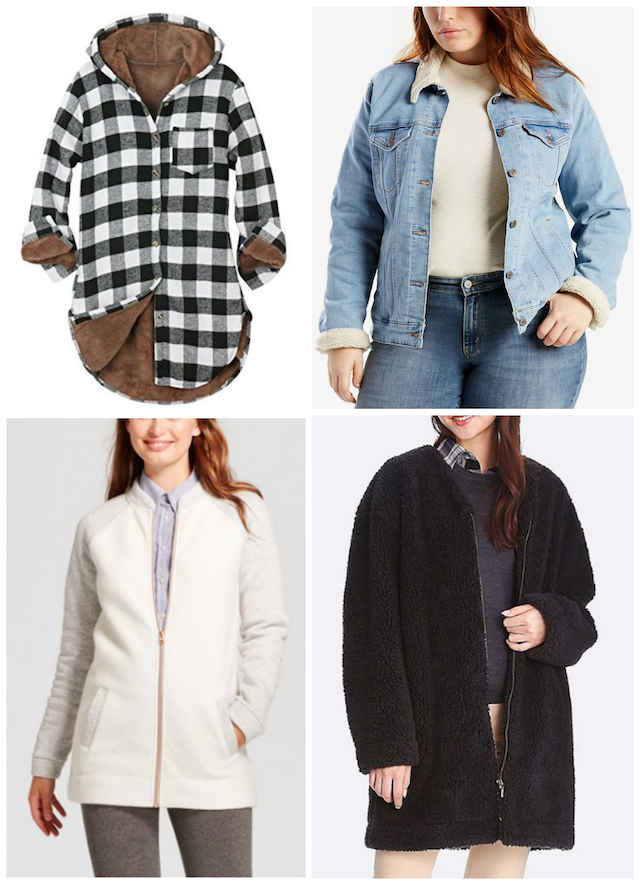 1. Sherpa-Lined Flannel 2. Levi's Plus Fleece-Lined Denim Jacket 3. Fleece Bomber 4. Uniqlo Fluffy Fleece Coat
Maybe you live somewhere pretty warm year-round, but you still want in on this "winter" "coat" life. Look, it's all relative! It took about one week of living in LA for me to suddenly think 50ºF was cold. Fleece and other lightweight jackets are so comfy and cozy and ideal for winterless places, or for around the house if you do live in a winter climate and have a drafty home.
Wild Cards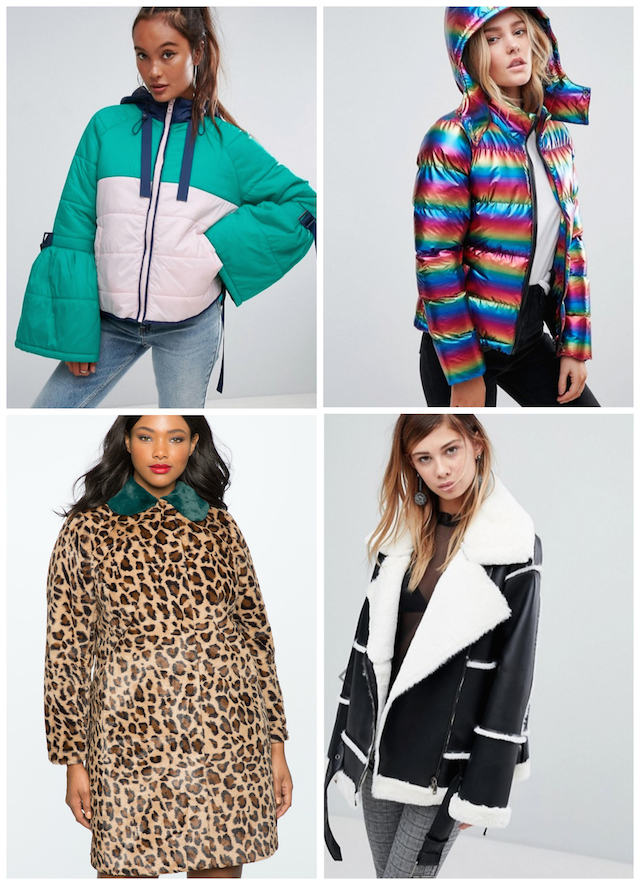 1. ASOS Bell-Sleeved Padded Jacket 2. Brave Soul Joseph Padded Coat 3. Eloquii Leopard Coat 4. Monki Faux Leather Shearling Biker Jacket
I loved this Racked piece about getting a silly winter coat, and I agree — winter doesn't have to be a time for fashion monotony. Try something a little wild!