Welcome back to No Filter, a once-weekly jaunt through the annals of queer celebrity social media. What a dream! This week in news, the ghost of Kristen Stewart attended a photo exhibition, Gossip Cop did the Important Work of investigating rumors that Paris Jackson might have a crush on Cara Delevingne and our friend Evan Rachel Wood came clean with a bold new life decision:
https://twitter.com/evanrachelwood/status/941501615189528576
Also, in news that isn't really all that vapid, Halsey expressed some frustration with misconceptions about bisexuality and ERWB totally understood.
https://twitter.com/evanrachelwood/status/942890789863964672
Bisexual representation, you can stay. Anyway, here's some Instagram.
---
I love a good go-to photo face; here are three of them.
---
Lauren Morelli, cackling wildly in the face of knowledge.
---
Now you know.
---
https://www.instagram.com/p/Bc0GdJFFj8W/?taken-by=tracelysette
I'm going to include this photograph from Trace Lysette's insta feed because confirmed bisexual Stephanie Beatriz is in it (along with a huge group of other badasses) and also you can't stop me.
---
https://www.instagram.com/p/Bcp1CeqggZY/?taken-by=gabyroad
I will tell you the same thing I told Gaby about this photo, which is that this season of Westworld is very confusing.
---

Hayley Kiyoko just wishes for your continued success.
---
---

Kristin Russo cannot friggin believe she made a pillowcase and Jasika Nicole can't friggin believe they didn't make an entire outfit plus a five-course meal. Also HAPPY BIRTHDAY KRISTIN, YOU SHINING STAR.
---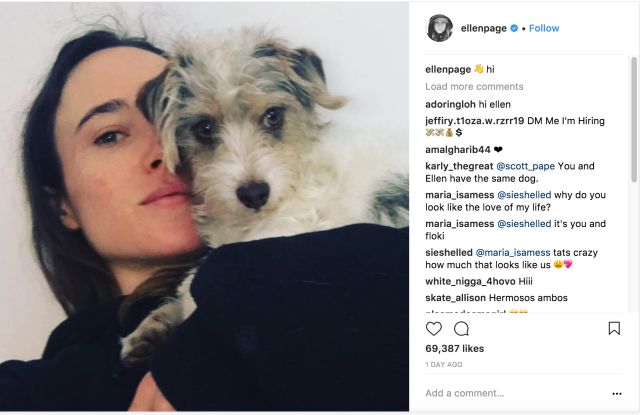 WE FOUND PATTERS.
---

Valerie Anne would like for us to discuss this adorable situation. It's nice that these two gals are such good friends!
---
https://www.instagram.com/p/Bc5RUvUnP6O/?taken-by=kehlani
I LOVE IT WHEN CUTE QUEERS ARE FRIENDS.
---

I think "casually draped over a couch" Sarah Paulson is my second favorite Sarah Paulson, second only to "matchy-matchy outfits with Holland Taylor" Sarah Paulson.
---

EVEN MORE LAUREN MORELLI because look how jazzed these two are. Shout out to user mayralopez1286, who helpfully told Samira, "you look like a teacher lol."
---
Lastly, my good friends:

I GOT A NEW JACKET. MY LIFE BEGINS TODAY pic.twitter.com/CRN3jvpu1G

— Daniel M. Lavery (@daniel_m_lavery) December 19, 2017
---
Join us next week, when I actually do expect some matchy-matchy photos of Sarah Paulson and Holland Taylor; don't let us down kids!