2017 has been pretty awesome for a ton of new queer and/or feminist things to read! Here are some of the best.
The Top 10 Queer and Feminist Books of 2017
---
10. Spinning by Tillie Walden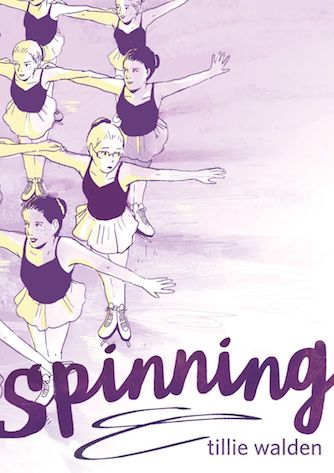 This graphic memoir from On A Sunbeam's Tillie Walden deals with young queer love (and first kisses, competitive figure skating, and being a teen girl. In a Drawn-to-Comics-curated interview with Ngozi Ukazu, Walden says:
"[E]very coming-out story is so unique that I think it's really important that we share with each other what ours was. And readers have related in really fascinating ways. You know what one of my most common questions at school visits is? 'How do you come out?' Kids actually ask me this, in front of their peers and teachers. It's unbelievable to me, it's so brave. And I've realized that because I talk about this hard moment in my life and I'm showing them that I made it through it, they suddenly feel like they can approach this topic with me. It's mind blowing. Really."
---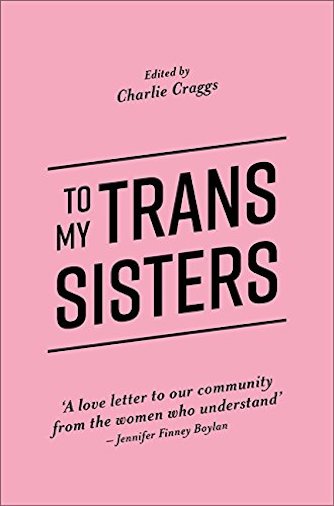 This collection of letters from nearly 100 trans women, including Juno Dawson, Isis King, Rhiannon Styles, Laura Jane Grace and Juliet Jacques, is meant to advise and empower women at the beginning of transition. In an interview at Dazed with Kuchenga Shenje, who was also a contributor, Craggs says:
"Most people just don't know trans people in their day to day life. I didn't know any trans people when I transitioned. I only met my first trans person when I was like a year or two in. You feel quite alone and you don't have anyone to ask those questions. You can't ask your mum or your cis friends because they just don't know the answers. So, I wanted to create that source of information and inspiration. I call this book an anthology of trans excellence. The girls and the women that I literally clung on to. I researched them and clung on to their stories in early transition, I just didn't know any other trans people so I read every Wikipedia page. I read every autobiography. I watched every film. I watched every documentary. I watched all the YouTube videos. It's like a place where I've collected all those amazing women to tell the next generation: 'Yeah, these are the women who you need to know about.'"
---
In her second essay collection, Meaty author Samantha Irby explores The Bachelorette, poop, lesbian porn, family, bodies and more. In an interview at Hazlitt with Scaachi Koul, Irby says about her art:
"[M]y approach is always to make my essays poop length. For a couple reasons: one, it's just practical. I understand that between Instagramming cute dinners and bleeding the planet's resources dry, people don't have a lot of time to devote to sitting down with whatever musings I have about my butthole, but everybody poops and most people like to keep a book handy for the toilet, and six or seven pages is just enough time to be entertained while getting your business done without worrying about your butt falling asleep. Same goes for a subway commute or keeping it on your bedside table—I know I've got a handful of pages in me before I pass out on top of the book, creasing it into oblivion, and I assume other people are like that, too?"
---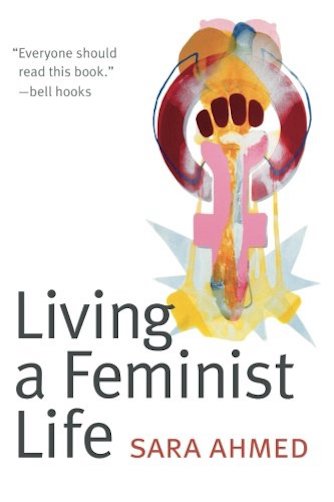 In Living a Feminist Life, Sara Ahmed interrogates the idea of the feminist origin story as a result of rites of passage, and instead argues for feminism as an ongoing action. In a review at Bookforum, Melissa Gira Grant notes:
"The usual feminist origin story unfolds as a series of firsts: first feminist book read, first feminist action attended. Or a series of wounding rites of passage: first grope, first shaming, first rape. But a better and more challenging question than 'What made you a feminist?' might be 'What makes you a feminist?' Sara Ahmed's new book helps put the feminist origin story into the present tense. […] Ahmed has no interest in packaging tales of personal achievement and the intimate costs of being a feminist in an unfeminist world in order to burnish her credentials, nor in producing a blueprint for a supposedly correct feminism. She uses everyday experience to complicate and interrogate the assumptions and certainties of feminist theory rather than to shore them up."
---
In Sour Heart, her first short story collection, Jenny Zhang explores the Chinese immigrant experience in New York City. In a review in the New Republic, Bijan Stephen notes:
"Zhang's writing strips away the layers between reader and experience; her gaze is unflinching, and she never cuts away when things become uncomfortable or grotesque. The effect is something like watching a wound scar in reverse. It seems to say: This is the site of trauma. I might heal, but I'll never be the same."
---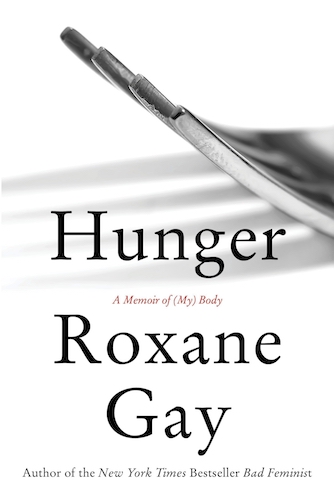 In Hunger, Roxane Gay, author of Bad Feminist, explores the tension between body and selfhood, as well as sexual assault, binge eating, fatness, cultural ideas of thinness and more. In a review at Autostraddle, Aisha Sabatini Sloan writes:
"What I find so stunning about Roxane Gay's Hunger is that she is testifying before a society that is plagued by violence that recovery from violence may well take every ounce of courage that a person has to give. And the manifestations of that coping can take on innumerable forms. In a time when the word 'healing' feels thinner than ever, affixed as it is to too many pictures of skinny, silhouetted yogis on beaches, we need to reacquaint ourselves with the severity of that process. This book is a generous offering to a society that may not know what to do with it."
---
Durga Chew-Bose's debut essay collection Too Much and Not in the Mood celebrates the tiny moments that add up to wonder. In a review at the Millions, Annelise Jolley calls it:
"[A] ranging, intricate work crowded with lush detail. Her prose blends commentary on pop culture with the precision of literature. It flows to the particular, just as Rodriguez suggests literature should. Nothing is irrelevant: not the examination of an emoji, not Allen Iverson's voice, not a 'lathery shade of peach' in a painting at the Met. Chew-Bose is meticulous in recording what it feels like to be alive."
---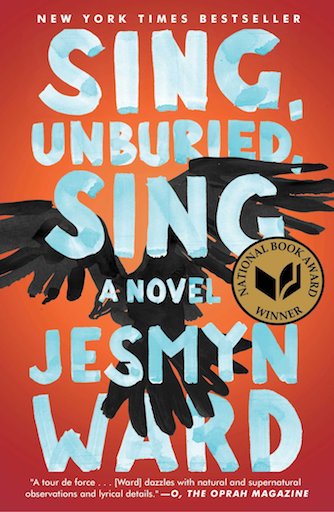 The author of 2011's Salvage the Bones returns with a mythic narrative that's part ghost story, part road novel set in the American South, and "perfectly poised for the moment." It also won the National Book Award and "establish[ed] its author, Jesmyn Ward, as one of the most powerfully poetic writers in the country." In a review at Lithub, Michele Filgate writes:
"'I never thought I'd live in this country, even though I grew up in Mississippi and, as I've written about multiple times, experienced some racism,' National Book Award winning author Jesmyn Ward says. 'The fact that people relish being willfully ignorant now is frightening, and it's heartbreaking that it does not seem like an isolated phenomena. It's something that's being celebrated. Most days I don't know what to do with it. [I can] write, and use the voice that I have and the access that I've been given to push back against that and to dispel and fight some of that willful ignorance. But it's hard. It's tough.'

This plague of hatred is why Ward's spectacular Sing, Unburied, Sing is the novel every American needs to read, a book in which the dead and the living occupy the same space."
---
2. Mean by Myriam Gurba
In Mean's series of small, fluid moments, Myriam Gurba explores coming of age as a queer mixed-race Chicana. She plays with form, finds ghosts everywhere and explores assault, identity, eating disorders, true crime, art and more. In a review at Autostraddle, Aisha Sabatini Sloan writes:
"It normally takes me a few dozen pages before I am devoted to a book, but by page eleven, when little girl Gurba spit out a Brussel's sprout and said "I don't want to talk about it," I was holding my copy of Mean like it was a living thing. Her brain starts in one place and ends up across the street and you are chasing her, laughing, suddenly unafraid of cars. […]

Gurba's writing feels devastating and holy and hilarious all at once, like a dead sea scroll that is as fun to read as an old issue of Playboy. And don't forget that the name of the book is Mean. By goodness I am talking about something that twists and disappears and resurges. A kind of balance."
---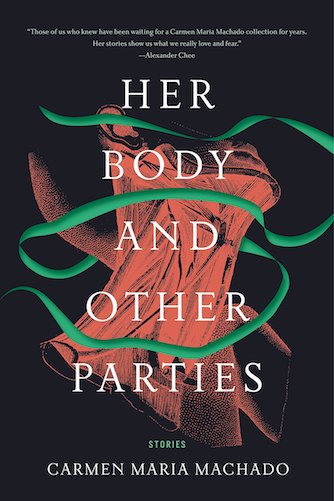 Her Body And Other Parties is a stunning debut short-story collection by Carmen Maria Machado of fairytales, queer fabulism, and bodies as horror. In a review in the New York Times, Parul Sehgal writes:
"Machado is fluent in the vocabulary of fairy tales — her stories are full of foxes, foundlings, nooses and gowns — but she remixes it to her own ends. Her fiction is both matter-of-factly and gorgeously queer. She writes about loving and living with women and men with such heat and specificity that it feels revelatory. […] But if Machado is strong on pleasure, she's better on despair, on our rage at our bodies — for their ugliness and unruliness, their excess and inadequacy and, worst of all, their temerity to abandon us altogether."
---
If your favorite book published in 2017 isn't included here and you've got feelings about that, let's talk about it self-righteously in all-caps in the comments! Or just tell everyone what we should read next.