Tilllie Walden is one of the most impressive and important young artists in all of comics today. She's a brilliant writer, and the linework and imagination in her art are simply stunning. She recently released Spinning, a graphic memoir about her time as a figure skater, to rave reviews, and she's just at the beginning of what is sure to be a brilliant career.
I'm lucky enough to be able to bring you this exclusive interview between Ngozi Ukazu, the creator of the popular and wonderful webcomic Check, Please!, and Walden about her new book and her process. This isn't something we've ever done here at Drawn to Comics before, but I'm extremely excited to bring to you this enthralling conversation between two great creators. You can pick up Spinning in book stores and at amazon.
Ngozi: Hello, Tillie! How are you doing and when did you wake up this morning?
Tillie: Hello Ngozi! I'm well. I slept in until 7am (really luxurious of me) and then I stayed in bed for another full 30 minutes doing nothing but thinking. I think this is the start of a new era, a new relaxed version of myself.
N: What's the last thing you read, watched, or listened to that you're absolutely gaga about?
T: Oh god, I just read Warcross by Marie Lu, and it totally captivated me. I couldn't put it down. It's one of those books that I loved so much that now I just want to throw it at every person who walks by me. I also recently finished reading The 57 Bus by Dashka Slater, and that was a gut-wrenching and engaging read. I don't typically enjoy non-fiction, I'm really the type that wants to fly away into a fantasy world when I'm reading. But Dashka's such a good writer and storyteller that she still managed to hook me in.
N: Tillie, what I find most fascinating about your comics is your ability to create mood and your laser-focused work ethic! When did you start your work on Spinning and when did you draw your last page? How did drawing the first page feel? How was inking the last panel?
T: "Laser-focused," I like that, haha. I don't always feel that way but I'm glad it comes across like that. I started working on Spinning in the fall of 2015, right around when my second year at The Center for Cartoon Studies was beginning. Working on that first page… wow, no one has ever asked me that. It was surreal. The first page I drew was that one with like, 20 something little panels, and I'm waking up to go to practice. I think it was terrifying. Yeah. Because when I was working on that page, I realized this was just the tip of the iceberg for me. The book, at the time, felt so huge and unattainable. But drawing that last page… oh man, it was better than winning any medal. When I drew the last page I let out this long breath. I remember I had to sit and scan the final batch of pages after I was done drawing, and while I was doing that it was like I was floating. Because I did it. I really fucking did it, and I had no idea I had that in me.
N: In your author's note, you talk about the idea of artistic intent and how you consider yourself an author who stumbles into meaning on accident. When you start a project, do you have a clear vision, a mapped out plot, or a specific mood? Some mixture of the three?
T: I rarely have a clear vision. I think I have the mood. I always have that. I can feel the story, though I can rarely describe it. And oh my god, I'm so lazy with plotting. No one realizes just how lazy I can be, but let me tell you, try and make me write a script, it will never happen. I won't do it. For pretty much everything I've done, I just charge right ahead into the book and follow the mood I've come up with. Then, of course, there's tons of editing afterwards to try and figure out what the hell the plot was supposed to be, hah. Thank god for editors.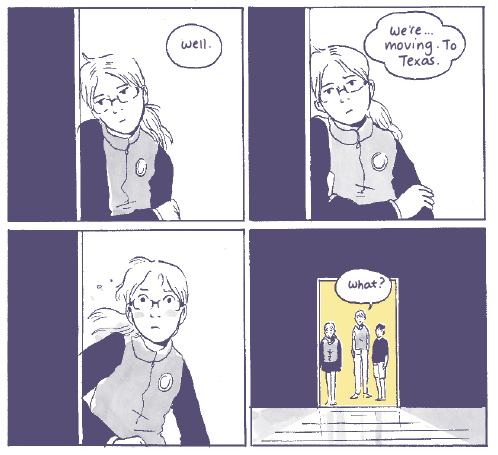 N: Is creating comics meditative for you? Or is it a constant problem solving?
T: Oh it's completely meditative. That's probably why I don't like plotting/planning too much, it would ruin that quality for me. I go into my comics expecting nothing. I can't start a graphic novel and say to myself "This has to be X or it has to be Y or it won't be good." I just say to myself "Well. Let's draw." Who cares what happens after that? Being in that moment of drawing and creating. That's the whole point for me.
N: Why purple and lilac and yellow for Spinning?
T: The skating dress I used to wear in my teen years was purple and gold. I really associate those colors with my skating memories because of it. And the purple felt so perfect for the atmosphere of the comic, and then the yellow fell in as this emotional addition. It really worked out. Thank god my main dress wasn't green and orange, this book could have been hideous.
N: When does a collection of autobio comics become a memoir?
T: I think it's a label you have to decide on yourself. I don't see my diary comics as a memoir, so they aren't a memoir. I think when you decide something is a memoir, it becomes one. Because that label change changes how you work, how you perceive what you're doing.
N: It's important for younger queer readers to see themselves in literature. Even then, for an author, retelling a difficult coming-out process can be hard. Thank you so much for sharing. How do your readers relate?
T: Phew, thank you! It was so hard! God! And every coming-out story is so unique that I think it's really important that we share with each other what ours was. And readers have related in really fascinating ways. You know what one of my most common questions at school visits is? "How do you come out?" Kids actually ask me this, in front of their peers and teachers. It's unbelievable to me, it's so brave. And I've realized that because I talk about this hard moment in my life and I'm showing them that I made it through it, they suddenly feel like they can approach this topic with me. It's mind blowing. Really.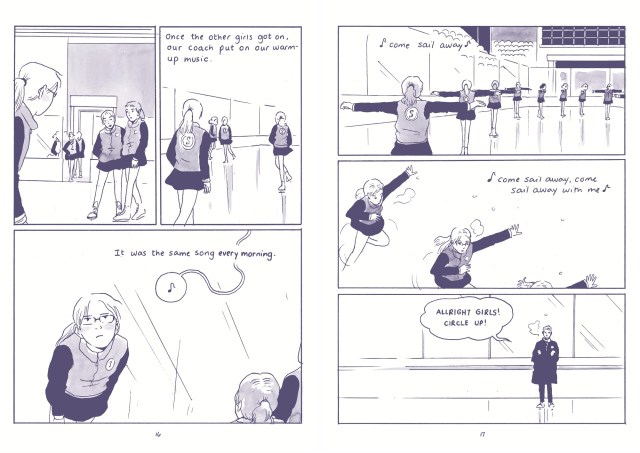 N: What, if anything, would a 16-year old Tillie think after reading Spinning?
T: Woah. This question is intense. All I can really think is that it would've changed me. I don't quite know how. But it would have changed who I was. Plain and simple.
N: I hear you're a fan of Studio Ghibli and Miyazaki—which makes a ton of sense. Who are some of your favorite artists/comics right now? Do you have any artists/comics that you enjoy that might surprise your readers?
T: One of my favorite artists on twitter is Lee Kyutae who is a Seoul-based illustrator. His work reminds me how good art can be. As far as cartoonists go, I'm an avid fan of all of Jeremy Sorese's work. His work is so expressive. I really like people who's work is different from mine, I've noticed. And as far as anything that might surprise readers… well, this isn't comic related, but I'm obsessed with crime/detective novels. So much so that I dream that I'm a detective. I would be such a good detective, omg.
N: This is a super self-serving question — but how do you survive a book tour??? (And Spinning isn't even your first published book or your first time promoting, it's your fourth!) Share some advice!
T: Haha it is so hard!!! Ahh!! Ok but I have to think of something more productive to say than that. I try to go into all the travel already knowing that I'm not going to get shit done. At all. Email is going to disappear, work just can't happen. I've tried going into each event and festival and book store feeling like that was my only job for the day. It can get so overwhelming if you're trying to exist like you normally do while simultaneously being on the road. So if it's possible for you, screw all other work while you're traveling. Just be present and be on tour, nothing else. And, my god, try and get enough sleep. I politely leave all the late night parties as early as I can to get some shut eye. Luckily, the information that I go to bed early seems to have spread. So now sometimes booksellers are like "Isn't it past your bedtime?" And I'm like "Yes. Yes it is."
N: Has a reader's response to Spinning ever struck a cord in you?
T: There was a father that thanked me for existing. Literally. He didn't even care about the whole author/book part of it. He just thanked me for being here. For doing my thing, for sharing what I can. That completely broke my heart. And he had a daughter who had recently come out. I was just crushed. In a good way.
Thanks for the great questions Ngozi!!!!! <3
---
New Releases (November 8)
Batgirl and the Birds of Prey #16
Paper Girls DLX Ed Vol 1 HC
Adventure Time Comics Vol 3 TP
---
Welcome to Drawn to Comics! From diary comics to superheroes, from webcomics to graphic novels – this is where we'll be taking a look at comics by, featuring and for queer ladies. So whether you love to look at detailed personal accounts of other people's lives, explore new and creative worlds, or you just love to see hot ladies in spandex, we've got something for you.

If you have a comic that you'd like to see me review, you can email me at mey [at] autostraddle [dot] com