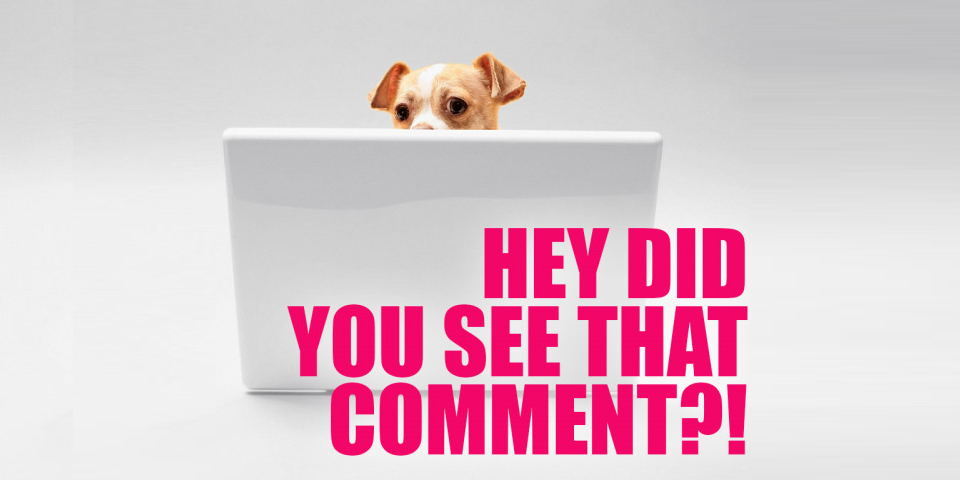 Sex Benching is the new Glove Lunching, didn't you know?
Friends! Pals. Lights of my life! Next week is A-Camp, and I am freaking out! If you're going to camp, and you're freaking out, I'm here for you; also if you're NOT going to camp, and freaking out about THAT, I am absolutely here for you! At this time, I'm going to go ahead and ask you to remind me that I cannot buy another jean jacket, I do not have the MONEY for a jean jacket, please and thank you! I can't wait to see some of you on the mountain in the valley, and I can't wait to return to all of the rest of you the following week!
Anyway! This week, Reneice made Pride cookies.
Molly reviewed Kristen Arnett's Mostly Dead Things, the book I would absolutely be reading at camp if I ever had time to read at camp.
Taylor wrote about hunting as a black, queer woman of color.
Courtney wants you to go on a casual date!
It's nearly June – want to host a Pride meet-up in your city for Autostraddle dot com?
Anon reviewed the Womanizer, which apparently remains – to this day! – the best sex toy with the worst name.
Valerie Anne (hilariously) reviewed The Perfection, the most bananas horror movie I have ever seen, that also happens to be queer!
THIS SERIES IS A LOT AND I LOVE IT: YES NO MAYBE: Intergalactic Aliens and Magical Dildos.
And then there were your comments!
---
On Femme Brûlée: Rainbow Sugar Cookies:
The First Responder Award to Katie: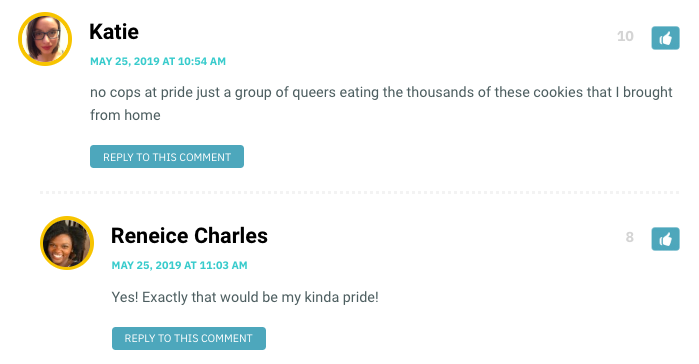 On "To L and Back" L Word Podcast Episode 108: L'Ennui:
The Neutral Milk Hotel Award to thatottergirl:
On Chill or Be Chilled: 10 First Date Ideas for When You Want to Keep It Casual:
The Early Admission Award to Caitlin:

On Janelle Monáe Is This Week's Modern LGBTQ Trailerblazer #WCW:
The Extra Strength Award to Amanda ling:

And on BREAKING: Cara Delevingne and Ashley Benson Bought a Sex Bench, Excuse Me, Coming Through!!
The Warm, Hard Facts Award to Julie, Kristana, and Deor: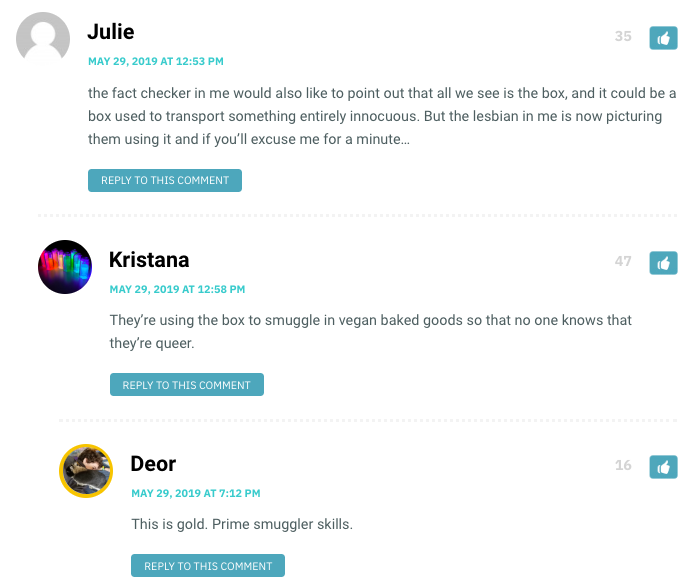 And the Paparazzi Is Dead / Long Live the Paparazzi Award to Blackmar and Laura:
And the Try It Award to Snaelle:

@floralprintdress if you need help moving that bench into your place for the review, dm me." width="696" height="161" srcset="https://www.autostraddle.com/wp-content/uploads/2019/05/Screen-Shot-2019-05-30-at-7.03.28-PM.png?w=696 696w, https://www.autostraddle.com/wp-content/uploads/2019/05/Screen-Shot-2019-05-30-at-7.03.28-PM.png?w=640 640w" sizes="(max-width: 696px) 100vw, 696px" />
---
See a comment that needs to be here? @ me! I'm [at] queergirl on Autostraddle and [at] queergirlblogs on Twitter.