Yall, somehow Pride season is right around the corner and I cannot believe it! It really snuck up on me this year. Probably because all the terrible news is making time move in strange ways for me. I know I'm not alone in that and it makes me really thankful that It's almost Pride, 'cause that means its almost time for A-Camp which I could not possibly be more excited for! Time to see my amazing friends and fellow writers from the site, bake cupcakes in my cupcake crop top, be in community, and share five beautiful proud days of queer life together.
This is absolutely my favorite holiday of the year. I am so proud to be a black queer woman, and while I do celebrate that year round, I celebrate a little harder during Pride. The first time I kissed a woman was during Pride, I came out during Pride, and every year I learn a little bit more about myself during Pride so it feels more like an anniversary or the mark of a new year than January 1st for me. Pride season's approach also means it's almost time for rainbow treats and your queer Gemini friends birthday parties to bring them to! This year I suggest you show your Pride with these adorable, soft, buttery, rainbow sprinkle adorned sugar cookies!
While you could go big and make a rainbow layer cake or a funfetti cake, that's a major time commitment and you've got awkward ex encounters to struggle through at Pride events and those aforementioned parties, so finding the time to bake a cake is likely off the table. That's completely okay, 'cause these are pretty much the cookie version of those cakes but with more butter flavor which I of course see as a win. I also love the crunch of the sprinkles within the wonderfully chewy crumb of the sugar cookies. It brings a smile to my face every time I take a bite. Part of that smile is definitely caused by how amazingly grateful I am that it's my job to make and eat these cookies, and possibly be part of your Pride celebrations if you bake them as well!
These cookies are also just so fun to make. Rolling the dough in the sprinkles is definitely as fun in adulthood as it was as a child. Plus now we can put on as many sprinkles as we want. These could be sprinkles with a side of cookie. Do you. There's a little cream cheese in the batter to keep the cookies moist but I'd also recommend spreading a little of the extra cream cheese on top. I'm weak just thinking about it. A scoop of ice cream, swirl of whipped cream, and an extra shower of sprinkles on top of a warm cookie or two is also an excellent choice. I'd say making these cookies is the most excellent choice but that's actually being proud of who you are. The cookies are happy to come in second.
Ingredients
1 1/2 cups (180g) all purpose flour
1 teaspoon baking powder
1/2 teaspoon kosher salt
1/2 teaspoon baking soda
1/2 teaspoon cream of tartar
1/2 cup (113g) butter, softened
3/4 cup granulated sugar
2 tbs cream cheese, softened
1 large egg, room temperature
1 teaspoon vanilla extract
1/4 teaspoon almond extract
1/2 cup sprinkles plus more for rolling
Makes 18 – 24 cookies
1. Preheat oven to 350° F. Line two baking sheets with parchment paper or silicone mats and set aside.
2. Combine the flour, baking powder, salt, baking soda, and cream of tartar in a medium bowl and whisk to combine. Set aside.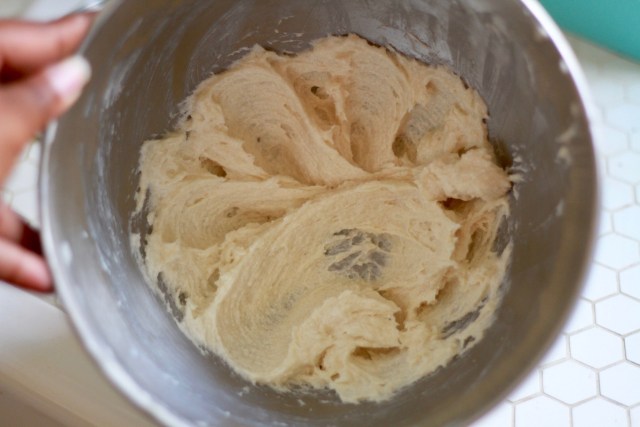 3. In a large bowl, cream together the butter, cream cheese, and sugar using a hand mixer or the paddle attachment on a stand mixer on medium speed until light and fluffy, about three minutes.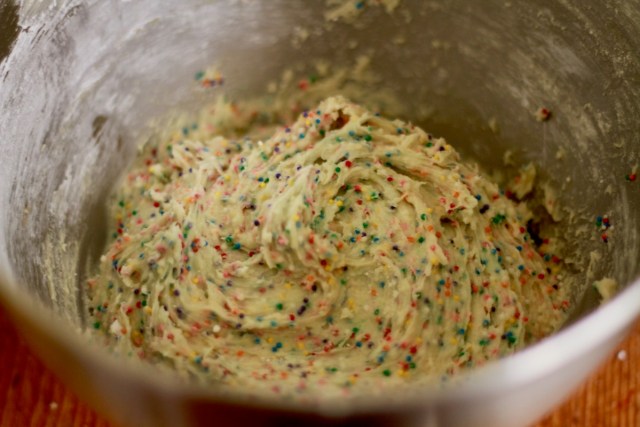 4. Add the egg, vanilla and almond extract to the creamed butter and mix just until there are no dry spots left in the batter, then gently fold in the sprinkles.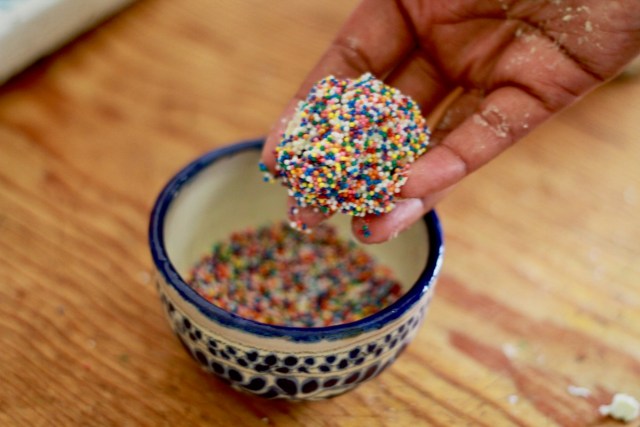 5. Use a tablespoon or small scoop to make balls of dough, then press the tops into the extra sprinkles. You can also roll the entire ball of dough in sprinkles if you really wanna live a bountifully sprinkled life.  The size of your scoops here will determine how many cookies you get. Generous tablespoons will yield 18 large cookies, precise ones will yield 24 medium cookies.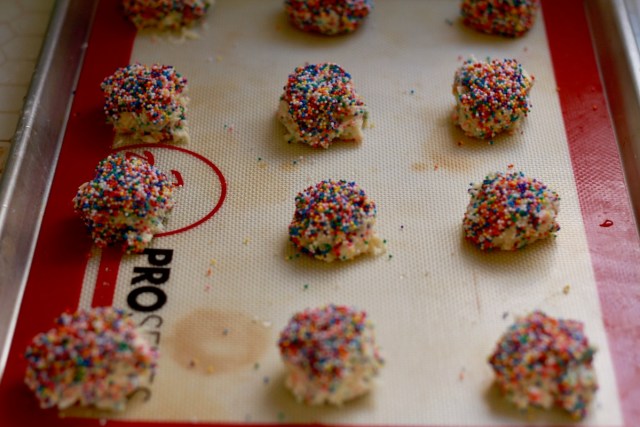 6. Place 12 cookies on your lined baking sheets leaving 2-3 inches of space between them, then place in the fridge to chill. You have two options here, Chill for 30 minutes for thinner cookies (my fav) or an hour or more for  thicker cookies. You can chill the dough in the bowl before scooping the cookies if you'd like, it's just more effort to scoop that way. The balls of dough can also be frozen at this point and saved for later!
7. Once your dough has chilled, bake for 10-12 minutes, just until the edges start to brown. Repeat this step for the remaining cookies if you're using one baking sheet for both batches.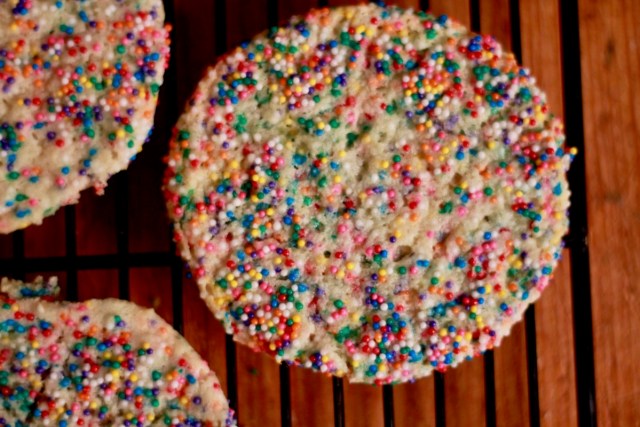 8. Transfer to a cookie sheet and let them cool for just a minute! So they wont fall apart!
9. Transfer to a plate for serving, then devour.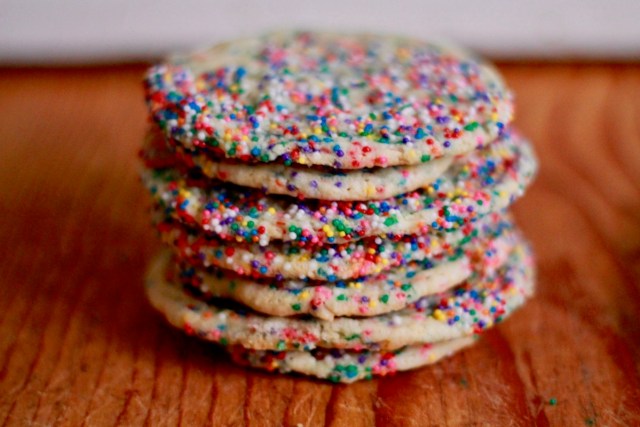 10. Happy sugar cookie-filled Pride!