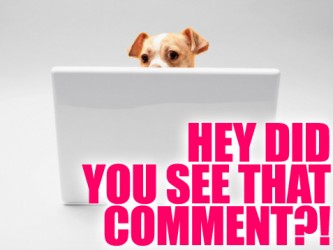 Hello and welcome to the express edition of the comment awards. It's just like the local comment awards, except it goes faster and gets stuck less. This week's highlights include an episode each of Pretty Little Liars and The Real L Word, not to mention the infamous Lamanda Interview. Lizz is living with roommates now and has adjusted her behavior accordingly. Meanwhile, Carmen broke up with Facebook, Vanessa was thinking about baby names as Vanessa is wont to do, and Kate thought a little bit about what she (and possibly other masculine-of-center people) might want for their b-day. We also had real talk about abusive relationships, and Todd Akin being a total dick. However, Andrew Shirvell (who created a gay attack blog) was ordered to pay up for for his idiocy and Fonseca interviewed lesbian trailblazer Jewell Gomez! All the while, we are up to $80K and Rachel will now be living in the lap of luxury! (JK, but, you know, she'll be making more money.)
On NSFW Sunday Is Thinking About Sex, Duh:
The Discovering Your Roots Award to CocoRosie:
"First, vanilla is derived from the same Latin word that brings us vagina."
mmm, really? No wonder I've always had a major sweet tooth. 
On Andrew Shirvell Ordered To Pay $4.5 Million For Anti-Gay Attack Blog:
The "Say Anything" Award to Jessy:
Radical Homosexual Lobby sounds like a new method of hotel decorating.
Also, isn't standing outside a guy's house at 1am taking pictures a little junior high school psycho. Did he bring a boombox and play Bon Jovi songs, too?
The Didn't You See The Movie Award to emma:
Andrew, dude, he's just not into you, let him go.
On It's Not Me It's Them: On Wanting to Break Up With Facebook:
The Now That's What I Call Spam Award to kaylalee:
 i am from Egypt, i was dating a girl for over 3 months, everything was going fine till we went for picnic, there she met with her ex, through t out the week we spent there, i never new he was seeing her ex, when we came back her behavior change totally, i began to see strange changes in her, she began to find fault in every means to split up from me in other to get back with her ex, so one very morning we had a conflict and she told me that she is no longer interested in our relationship any more, that she is tired, she packed and left me after 3 weeks i saw her with her ex, i became so angry, i broke down in tears, i felt like killing myself because all what we had was like a dream, i loved her so much and needed her back into my life so i went into serious searched in the net for relationship advise there i mistakenly came across some testimony about a spell caster how has helped many people get back there lover so i contacted him and to my surprise prophet harry casted a spell and the next 3 days, my lover came knocking on my door telling me that she is sorry for what she did, that she wants me back and that she wants to be with me and no other person but me, in my whole entire life i have never seen such like this spell, i never new spell can bring back my lover in 3 days, if i knew i would have done it long time ago before going through this heart break, big thanks to prophet harry
kaylalee
On The Real L Word Recap: Lost In A Bush (That's What She Said):
The Did They Ever Tell You What Happened To Narcissus? Award to Mandisa:
For everyone/the one person feeling sorry for Romi – please remember that at the end of this episode she says, with a completely straight face "Sarahara is consumed in herself." And then they show Romi walking away and her unibomber sweatshirt has that stupid photo of her kissing her own doppelganger. WTF?!?!?! How many pieces of clothing does she own with her own face on it???