Hello and welcome to the sixth recap of the third season of Showtime's hit series, The Real L Word, a 30-minute sitcom about a spunky young girl with pigtails, day-glo leggings and multi-colored outfit situations who is abandoned in a Chicago shopping center by her mother and subsequently adopted by Henry, the kindly manager of the building she'd found to squat in. Eventually she opens a hoppin' burger establishment at the local mall and throughout the series deals with tough pre-teenage and teenage issues such as buying your first bra, being a tomboy, bullies, getting trapped in an old refrigerator, dodging Child Protective Services and fighting swamp monsters.
I don't know about y'all, but I'm ready to rock this recap! Not really, I'd really rather discuss how the fuck True Blood is gonna wrap up their crazy-ass season in next week's finale, right? Jesus. Also we interviewed Lauren and Amanda, a.k.a. "Lamanda."
Anyhow, this week The Real L Word treated us to yet another Dinah Shore-centric hour of sapphic solipsism, in which someone curled up and took a nap on wet asphalt, someone twisted her ankle stepping off a curb, someone passed out on the bathroom floor for three hours mid-day and someone met Miley Cyrus at The Coffee Bean. Hey, who wants to see a sexy picture of Vero?
Sorry about the lateness of this recap, Intern Grace had a special weekend which led to me not getting all the screencaps 'til this morning (Monday), and also because of the cram she didn't have time to give them all cute names. We apologize and have nothing but love for you and each other forever and ever as so it was written, amen.

We open in the sweltering wildlands of Palm Springs, California, where an enormous group of intoxicated lesbians are enjoying each other's nipples while rocking softly to the beat of insufferable pop music. Also, Kacy and Cori are re-entering the world they've shunned for many moons in the most violent way possible.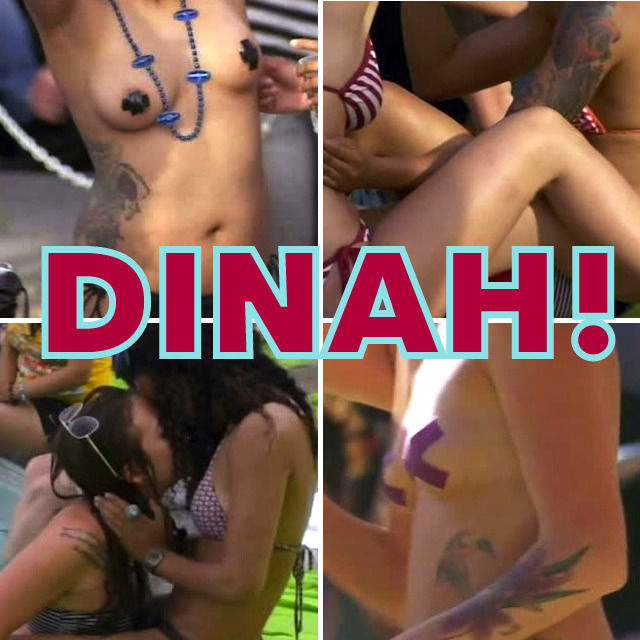 DINAH!
Kacy notes that Dinah appears to be "like a club" but "during the day."
Kacy: "It was a little bit like walking into an alternate universe."
Cori: "Where men did not exist, and neither did clothes. I felt out of place with my clothes on."
Tell it like it is, Nikki Weiss:
The two well-insulated ladies make their way through the hordes of women not dressed for winter and are stopped by Real L Word fans who wanna take pictures with The Celesbians Kacy and Cori. Oh wait — is everybody here clear on the definition of "Celesbian"? Let me refresh your memory:
Get it? Okay, good. So, as I was saying, Cori & Kacy are spotted by fans amid the throngs of gyrating g-strings and roped into a Kodak Moment.
And thus KayCor are forced to grapple with the inevitable questions:
Fan #1: "I'm planning on getting pregnant myself."
Cori: "Really?"
Fan #1: "But like, when we saw that episode with you guys doing like, that thing, like did it work?"
[awkward pause]
Cori: "Uh, it did work. I lost her at five months."
Fan #1: "Oh G-d, that's the worst feeling in the world, I can't imagine."
Fan #2: "But keep trying."
Womp womp.

Back in Le Chateau De Lamanda & Whitney & Sarahara, Sara and Lauren are sticking colored pencils into their eyeballs while Amanda informs Lauren that she heard from a girl who heard from another girl who heard from Hunter Valentine that Kiyomi lives with her girlfriend. But Lauren heard from Kiyomi herself that the "thing" with Ali is "sorta done."
Amanda: "But every girl says that."
Lauren: "Duh! It's not like I'm like 'Oh! I believe you!'"
Amanda won't let it go and Lauren reassures her that she'll get this whole fascinating mess cleared up, and Whitney says that as Lauren's friend she'll support whatever decision she makes. That's easy for Whitney to say 'cause unlike Amanda, she hasn't ever found her arm halfway up Lauren's vaginal canal… yet.
Everybody laughs and explodes and turns into ghost ninjas.

Meanwhile, Kacy and Cori are still perched precariously on the lips of the mouth of hell, wondering what the hell they're doing at Dinah Shore.
Kacy: "It's not that I'm not happy to be here but it's just like, I would rather be at the hospital, exhausted, knowing that in a month we were gonna have a baby."
Cori: "I feel it too, it's hard. We're not where we're supposed to be."
Kacy: "We can get there."
Cori: "Dinah!"
Kacy: "I wonder if anybody else is having the same conversation that we're having right now."
Cori: "I think we're the biggest Debs here."
At this point, the couple makes the only decision one can really make under such circumstances:
Kacy: "We're gonna drink through it."
Kacy takes one sip of what's likely a $9 cup of fruit punch and basement-shelf tequila, declares it horrible and then declares herself drunk. Let's rock!

We then return to the Main Pool Area, where Somer and Donna are smooching, Laura's carrying Vero around like a baby kangaroo, Sara's kissing Amanda, and Somer is doing her very best to adapt to her surroundings.
I believe Dinah is especially challenging for New Yorkers, who would never, not ever, not in a million trillion bazillion years, intentionally attend an event of this nature on their home soil.
Based on the six years I lived in New York City, I'd say that many New York lesbians tend to be the type that haven't bothered buying a swimsuit in five years and only dig out the two-piece when somebody forgets how long it took to get to Coney Island last summer and ropes everyone in to a repeat excursion.
Somer: "Dinah, it's not normally you know, my bag of tea or whatever — cup of tea? I don't drink tea."
But Somer's happy to be there 'cause of the Hunter Valentine gig. Laura asserts that Hunter Valentine plans on rocking everybody's bras off, which sounds neat.
Back on The Other Part of The Dinah Pool Party Area, Romi & Kelsey show up and are greeted with open arms by KayCor, who ask how the Dinah Dingbat Dating Game went and Romi explains how, once again, the universe's axis lay between Romi's legs and the entire world just revolved around her, being mean, like witches sticking carrots in people's faces.
Romi: "Lauren signed up to go on a date with [Kelsey]."
[pauses, dramatically]
Romi: "They set us up. I'm like, can you guys get away? Why are you always there? and I just stood there watching the girl that I hate sign up to go on a date with my girlfriend…. it's just — the nicest way to put it is that they're very bully-ish."
Kelsey: "They're just bullies guys, it's really sad."
Romi interviews that she's so glad Kacy & Cori are at Dinah, 'cause it's nice to be around a "nice couple." The implication is that Romi is nice and mature, and all the other girls are bitchy and immature, which is a valid point (about the bitchiness and the immaturity), but also who gives a fuck.
Meanwhile, said bitchy girls are exploring the swelling sexual tension inherent in every group of mojito-scented Dos-Equis-chugging hot lesbians in bikinis!
Lauren: "I don't know why I'm sucking on Sara's earlobes but Dinah fever is in me."
Sara comes in her pants and Whitney's pumped for "a big orgy later tonight." The theme will be "The Story of O."
Whitney: "I'm kinda turned on by the thought of you [Sara] getting it into Amanda, not gonna lie."
Cori is wasted and stuffs her head into Kacy's bosom and all is sunshine and beauty.

Cut to a number of hours earlier and later wherein it's time for Hunter Valentine's performance! Romi spies the band preparing to perform and is disturbed by their presence.
Romi interviews that she doesn't know who Hunter Valentine is. I hope they know who Romi is, 'cause she hates it when people don't know who she is.
Romi: "…based on the fact that they are friends with Lauren and Whitney and Sara, G-d knows what they said about me, so I'm not gonna walk in and watch somebody perform that's just gonna think I'm like, this bitch."
One of the many hazards of Being The Center Of the Universe is that at rock concerts, all the musicians are really thinking about is you, because duh, everybody is thinking about you. Like you wish you could just enjoy a performance but the performers are like, obsessed with you. You know? That's what it's like to be Romi, the Atlas Of the Modern World.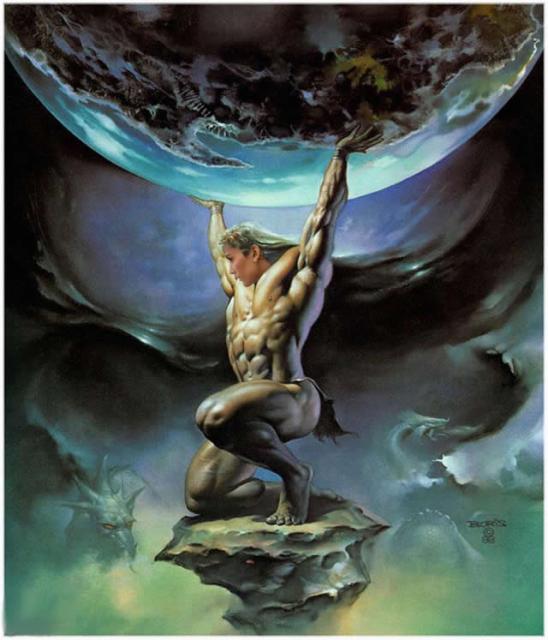 Romi dramatically yanks Kelsey through the crowd like she's Justin Bieber and zips into her room, anxious to the max. "Let's just order," she says. Music to my ears!
Oh, these are ladies after my own heart, really. I love hotels and 95% of the time would rather be drinking/laughing/smoking with my friends in a hotel room, rolling around on sheets we're not responsible for laundering, than be outside in the sticky-sweaty sunshine with People Who Enjoy Socializing.
While Romi and Kelsey debate which incidentals they'd like to consume, Hunter Valentine gets ready to rock in the sweltering sunlight of the Dinah mainstage.
The Drunk Lesbians enjoy the show but perhaps nobody's enjoying the show quite like Lauren's enjoying the show:
Lauren: "When I first met Kiyomi I thought she was attractive but then they go on stage and they play, she was so hot, and then hearing her voice, it was like, wow."
Truth: there is nothing sexier than watching your loved one play a musical instrument, which is one of many reasons why all my girlfriends have been excellent instrument-players (the primary reason is "coincidence"). Look, even Amanda likes it:
Or maybe not.
Turns out that seeing Kiyomi rock out with her cock out gets Lauren hard like Swiss Chard:
Whitney: "I could practically see Lauren's full-on erection for Kiyomi just waving in the wind by the end of the performance she like, blew her load on herself."

As you're already aware, Kelsey & Romi have retired to their hotel room, sneakily foiling the CIA-implanted chip in Romi's left thigh that enables them to follow her with spider trackers.
So, Cori's trashed. Which is actually a huge relief because she seems happy, at last. All of them do, all four of them.
Kacy: "When Cori gets tipsy, she has an alter ego and uh, Romi gets introduced to partial Coco. Coco At dusk. Kelsey got bent over, Coco style. It's happened to all of us. She doesn't really know you unless she's bent you over and slapped your ass."
Indeed: Coco Lite, beautifully wasted, thrusts Kelsey into a prone, stomach-to-the-mat position in which Coco Lite can properly smack Kelsey's ass like she's ready for some Canyon Yodeling, if you know what I mean.
Romi: "She's making you a bottom, baby."
For your reference, this is Coco Full-On:
Then Kacy interviews that "you looked light, for the first time in a long time you just looked light," and Cori says that she felt light. She felt light!
I think that's the thing about Dinah — it's so grotesque and over-the top, and its attendees are so uproariously irresponsible that anything, any kind of behavior at all, is automatically deemed sensible because there's no way what you're doing is less acceptable than what anyone else is doing, anywhere. It's a giant rollocking excuse to just let go of absolutely everything. You can't feel guilty for kissing a girl you just met or getting super-drunk when two strangers with tequila fumes radiating from their pores are making out on-stage without shirts on while others wrestle topless in a kiddie pool drowning in vegetable oil.
You just let go, and then you feel light. Cori deserves to feel light. So does Kacy. Sookie should give them some light:

Pages: 1 2 3See entire article on one page