This pasta is more or less an excuse to eat pints of cherry tomatoes. It's basically perfect for this time of year — filling enough to work as lunch or dinner, light enough that it still tastes summery, and quick enough that you don't have to have the stove on for too long. Also you get to make your own breadcrumbs, which feels sort of fancy (also: delicious). 
TOMATO SHRIMP PASTA
Adapted from Fine Cooking.
Ingredients
For the breadcrumbs:
2 tbsp. olive oil
1/2 cup breadcrumbs, raw (finely chop some sourdough if you have it, but any bread except raisin will work)
1 1/2 tbsp. flat-leaf parsley, finely chopped
1 1/2 tbsp. mint, finely chopped
freshly ground pepper
Kosher salt
lemon
For the pasta:
2 tbsp. + 1/3 cup olive oil
2 tsp. flat-leaf parsley, plus extra for garnish
1/4 tsp. red pepper flakes
4 green onions (whites and greens separated and finely chopped)
1 lb. cooked shrimp
1 lb. spaghetti or spaghetti-like pasta
small regular onion, finely chopped
3 pints cherry tomatoes
several handfuls of arugula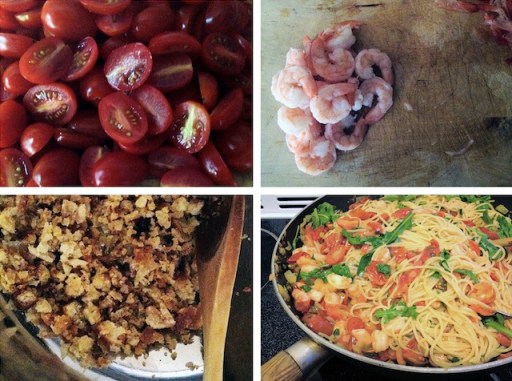 Directions
1. In a large bowl, combine 2 tbsp. of olive oil, 2 tsp. of parsley, red pepper flakes, the tops of the green onions, and the shrimp. Stir to coat, cover with plastic, and marinate in the fridge for about 20 minutes. When you have about 10 minutes left, start bringing a large pot of salted water to a boil.
2. While you wait for the shrimp to marinate and the water to boil, toast the breadcrumbs. In a small pan, heat 2 tbsp. of olive oil over medium heat. Add the breadcrumbs and stir frequently until they start to brown after a minute or so. Transfer to a bowl to cool, and add 1 tbsp. of parsley, the mint, ground pepper to taste, and a pinch of salt.
3. In a large pan, heat 1/3 cup of olive oil over medium heat. When hot, add the rest of the green onions and the small regular onion and cook until lightly browned. While you do that, add the spaghetti to the pot of boiling water and cook until less well done than al dente, or for about five minutes. Add the tomatoes to the pan and cook until they start to soften.
4. When the pasta is done, use a mug or measuring cup to scoop out about 1/2 cup of pasta water and drain the rest. Add the spaghetti, the shrimp, the arugula, and 2 tbsp. of the pasta water to the pan with the tomatoes and onion, and toss over medium heat for about 1-2 minutes, until the spaghetti is cooked and the shrimp is warmed. Add a few more splashes of pasta water occasionally to keep things moist. Remove from heat.
5. Transfer to bowls, season to taste with pepper, salt, lemon, and additional red pepper flakes, top with breadcrumbs, and garnish with parsley. Serve.