My initial impression of Lauren Bedford Russell and Amanda Leigh Dunn was "Hair? HAIR!" There's something about a girl who knows how to make a frosty 'do look fabulous, and if you aren't thinking about dyeing your hair bubblegum pink by the end of this interview, you are not paying attention.
Getting everyone to covet your coif isn't an easy task, nor is joining the cast of The Real L Word in its third season and managing to win the affections of a very particular fanbase. Lamanda has done both. Entering your television screens/hearts by way of a New York to L.A. crossing, the pair are accomplished ladies with accomplished resumes. Lauren's jewelry line Lyon features totally beautiful pieces, as well as charity collaborations that put communities first. Amanda is the owner of Cross Street Productions, a marketing and PR firm that has worked with such clients as MTV, Valentino and W Magazine. Amanda has also had a hand in a number of charity organizations, including Cinema For Peace and Music Unites.
Brains and beauty, ladies. And they understand the value of undressing.



Lauren: So this Skype video isn't actually going to be online?
Kate: No, I'm typing up the interview.
Lauren: So we can take off our clothes.
Kate: Honestly, I'm not even wearing pants right now. But obviously we should keep our clothes on for professionalism. I'm supposed to be a professional.
How did you guys initially get involved in the show?
Lauren: This is always the first question.
Amanda: Lauren's friend wanted to interview for the show, and she hooked Lauren into it. Lauren was hesitant about it, but then she decided to do it.
Lauren: My friend's really badass. She's a really cool chick, a musician, and I said, if you're gonna do it, then sure, I'll try out with you. Some factors ended up preventing her from doing it, but she told me to go for it.
Amanda:  Two weeks before I moved out, Lauren found out that she was on the show.
Lauren: I literally found out right before we started filming. It was like, guess what?
Amanda: When I decided to do it with her, it was really funny because they told us they would start filming from the second I land. And I thought, oh, huh.
So you were thrust into it headfirst?
Amanda: Yeah, we just got thrown right in. It was touch down, and go.
Lauren: No time to breathe.
And you had seen the show before, or were aware of it?
Amanda: Didn't see it, actually.
Lauren: She had never watched it. But don't tell anyone.
Amanda: Don't say that!
Lauren: I'm just saying. When she came out to L.A., and that information first came out, I was like, really? Really?
Amanda: No! She asked me if I wanted to do it. I thought if Lauren wants to do it, then it can't be that bad. But I had to admit that I had never actually watched the show. Our line producer said okay, here you go, better watch these DVDs.
Lauren: I'd watched the first and second season and half of the third. Wait! I watched the first season and half of the second. I totally watched the third season before I filmed it.
What did you think of the first two seasons? Love, hate, indifference?
Lauren: For me, that's where I saw the opportunity. Without putting anyone down, I thought that they could show a lot more, and a lot more excitement, and a lot more fun. And something real. I don't see myself as super feminine on the inside. I think I'm feminine on the outside, and that could maybe help the feminine girls to come out. I want to help the girls that I was when I was trying to come out that didn't see gay girls out there who looked the way I did.
What is it like having reality television cameras in your life all of a sudden?
Amanda: It's really weird. It's really funny actually because Lauren and I had made this decision before we started filming. We said we're not going to drink on camera, we're not going to be obnoxious, we're not going to be dramatic, we're not going to hook up with anybody. We're just going to showcase our businesses and that's it. But seriously, after a week of that you realize you would literally blow your brains out if you had to spend four or five months of your life being a robot all the time, not doing anything.
Lauren: What ends up happening, and I think this happened to the other cast members too, you're so aware of yourself at the beginning that you end up overthinking it.
Amanda: And also the weirdest thing is that sometimes you don't realize you're on microphone.
Lauren: At the beginning, I'd be constantly checking for it. If I burped, I'd be like, sorry! And then I'd realize it wasn't there.
Amanda: Eating and going to the bathroom are the two things that are the most awkward. I would eat a lot. And going to the bathroom – we couldn't unplug it.
Lauren: At the beginning I was so weirded out that they could hear me peeing, and I kept trying to take the mic off. [The film crew members] were like, stop, you're going to break your mic. We really don't care about your pee.
Obviously that didn't make it on the show. I don't think I've seen anyone pee yet. I've seen people in the shower.
Lauren: Oh god, the shower.
Amanda: Let's not talk about the shower.
How do you feel about the way the show is portraying you so far? You said you came in with a certain idea of how you would act and be seen, and I assume that's changed. Right now we had a few clips of your business but we've seen a lot more about the sexual tension and relationship.
Lauren: It's probably confusing for everyone. We talk about this a lot, and people are going to watch the show and take away what they want to take away.
Amanda: Here's what you have to realize: Lauren and I have been friends for years, basically forever. We've been through relationships with other people, and we've looked out for each other through so many things. There's never been tension or a power struggle – it's just us being us. People will either understand that or they won't. I think people have trouble understanding how a relationship like that could work.
Lauren: This is a moment in time for us, and I don't know how that will translate on the transcript. It's interesting to be able to watch it, because we don't know what's going on. There's a lot of clips they've only shown as teasers, so I imagine people are like "When are they going to do this? Why haven't we seen that?wp_postsWe don't know where they're going to put what, so we don't know how people are taking the versions of us they see on the show.
So what should we know about you guys that The Real L Word leaves out?
Amanda: We have a brain, we are intelligent people.
Lauren: I think they showed a part of my business and what we do in our careers, but there's only so much they can show. A lot of it won't make it in. There's an awesome scene coming up that I hope they can put in, and it's hard because I don't know if it's going to make it on the show or not. We see it when you see it, just a day before, so we are in the same position as you.
Amanda: It's a surprise.
Lauren: Yeah.
Amanda: I definitely think what they don't show is that we are really career driven people and that we are very educated. We're much more involved in the community than they've put on the show. I wish they could showcase what I do in the community, what we care about.
Lauren: I hate when people say they're driven, but that's actually the best way I can describe myself.
Does your family watch the show?
Lauren: My family is super awesome. My mom is always like, what's happening next week? And I'm like, er…
Amanda: My family is very conservative and very private. They like that about themselves, so that's how it is. But my siblings are supportive of it – I'm really close to my brother, he's fantastic about stuff. I think it's wild for them, the way the show is showing this side of me. My parents don't have a problem with me being gay, but it's the booze and the cattiness and the way you speak around your friends. If anyone films you around your close friends, you're going to sound different than giving an interview. They're slowly getting more comfortable with it.
Is there anything you'd consider a highlight this season?
Amanda: Dinah is really funny.
Lauren: Dinah is hilarious.
Amanda: This was my first Dinah!
Lauren: It's funny, and there's good moments. It's probably going to be my favorite part of the season.
Amanda: We're all there together, the whole East Coast versus West Coast in one place, so you can finally see that dynamic. And you can see all the stupid shit we do.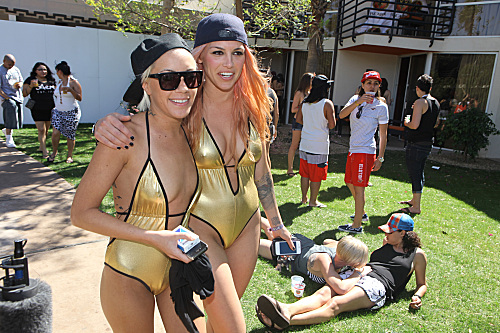 Have you seen The L Word?
Lauren: Yeah!
Amanda: All of it.
Do you interact with Ilene Chaiken at all?
Amanda: Yeah, she's really cool.
Lauren: She's really sweet. Anytime we do something with Showtime, she's always there with us and so supportive.
Amanda: She gets a really bad rap. Like, they always blame her for everything.
Lauren: No way. Really? I don't believe it.
Amanda: No, totally.
I have to be honest, people are hard on her.
Lauren: Well, I don't read that crap. I just look at the person for the person.
Amanda: She's super concerned with making sure everyone is comfortable and that we're not being mistreated or misrepresented. She's actually really nice, and actually gives a shit. She has a really rad idea for the show, and when she thinks about it in her mind, it's supposed to be a really good thing for the community. She means well. She wants to make a good show that's representative of the community.
Lauren: And the topics this year are stirring it up.
Amanda: Like men. With women.
Oh yeah, there's that.
Lauren: Yeah, there's men on a lesbian show.
Never thought I'd see straight sex on The Real L Word.
Lauren: There you go. It's stirring things up.
Amanda: All stirred up.
Next: Discussion of scissoring.
Pages: 1 2See entire article on one page