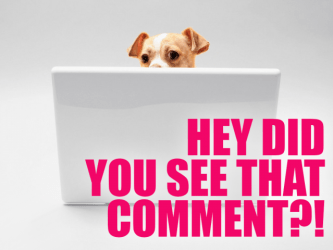 Happy Friday, sunshines! Did you all sleep well? Last night I dreamed I was flying to A-Camp from Moscow and the airline forced me to send all my luggage by mail instead of checking it. I was like, "This is going to be sooo expensive because eight bottles of vodka, ya'll." I hope my sleeping brain continues to think I'm a southerner living in Russia because that's good dreaming material.
Anyway, it's time for us to step into our time machine (not really, but if we hit $200K in the indigogo campaign we're getting one) and remember what we learned this week…
In "women we wish were queer" news, Jennifer Beals debuted a new webseries, Miley Cyrus got an alternative lifestyle haircut and Kristen Stewart was defended by Jodie Foster in a pretty weird blog post. In "girls who are officially queer" news, Megan Rapinoe (and the USWNT) won gold, so naturally we celebrated with a gif party. Then Brittani wrapped up our olympics coverage and the closing ceremonies inspired Vanessa to explain why Girl Power is Forever. But let's be real, the Olympics aren't really over until you've read Julie and Brandy's live-chat of the events.
Riese recapped a particularly bitchy episode of TRLW Word and med school rookie Lizz recapped Pretty Little Liars 309. Then Carolyn, our in-house chef, whipped up Roasted Beet and Goat Cheese Salad and we had an indiegogo Get Baked sale! And aren't you all excited about the debut of Lez Liberty Lit? It's a new twice-monthly literary post by Carolyn and Riese!
This is the point in the comment awards post when I say to myself, "Carrie, Autostraddle published so many articles this week and it's really hard to fit them all in one space when they're each so special. Also, your laundry is done and the tea kettle's been whistling for over two minutes so get your shit together." But then I see things like the cute new faces of team Autostraddle and get my second wind.
As usual, Crystal had some spot-on recommendations for improving your life, like Patti Smith poetry readings and Phasefest 2012. Rose checked out Otakon 2012 and learned lots about gender and sexuality in anime and manga. Rachel updated us on the complicated ongoing Lisa Miller / Jane Jenkins custody battle and Laura explained how prospective VP Paul Ryan is terrifying. If Romney wins I might just move to Sydney. Speed-dating superstar host Gabby offered grieving advice straight from the heart and Alex made a sure-to-lift-your-spirits Robyn dance video to celebrate our fundraising.
If you're in New York, you should check out the Free Pussy Riot! public reading at Ace Hotel tonight. And no matter where you are, you should watch this Pussy Riot! support video that Peaches made. Oh, and today is Rachel's birthday! Isn't she the best? Tell her so!
Now let's pay homage to our comment award winning lovelies…
---
On Alex's Mindblowing Call Your Girlfriend Video:
The This Is Our Business Plan Award to MerryMagdaline: "Wow. This is my first comment (after much lurking) because I have to say, that video did NOT disappoint. Off to make my first donation because Alex literally just blew my mind and my panties off."
The Refer to the Above Comment Award Award to Erin: "I watched the video and then, in a haze of lust, mechanically handed over money to the indiegogo campaign. Way to play to our weaknesses, Autostraddle. Well done."
The Testimonial #3 Award to blue: "i'm usually a cynical bitch on here, but that was the shit."
On Julie & Brandy Do The Olympics:
The Best Ever Response to a Comment About Pizza Award to Pand: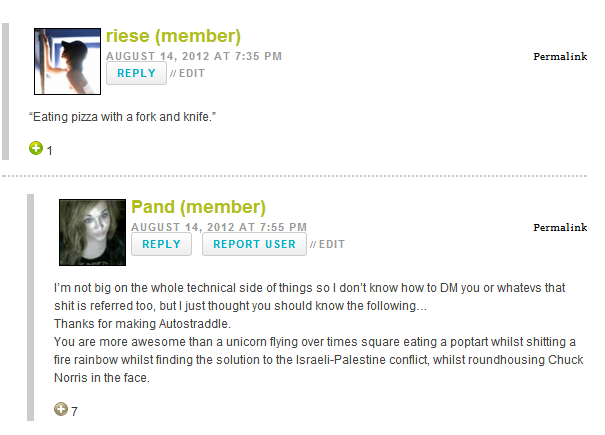 The And All I Got Was This Stupid Comment Award Award to Robin: "I did almost drown because of synchronized swimming. Really."
The Triple Team Award to AnnaY, Bostongrrl and kd15: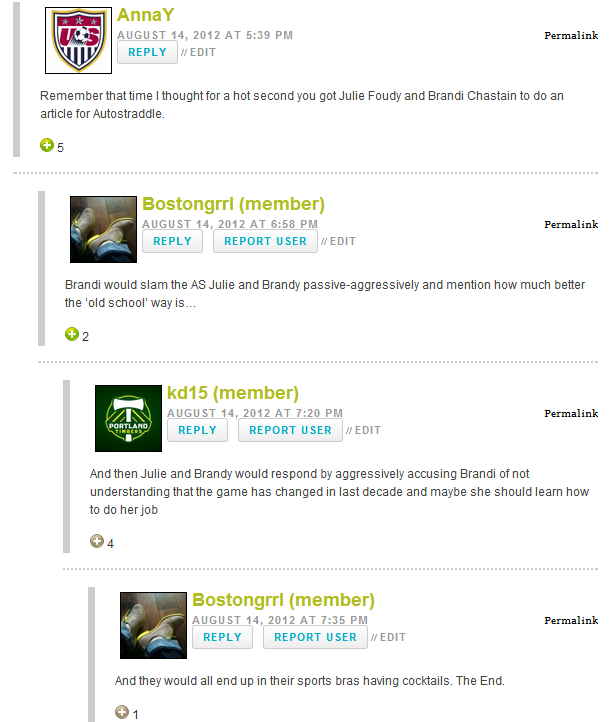 On Everyone One Loved The Spice Girls:
The Girl Power Award to Launa: "The Spice Girls weren't allowed in my house growing up. My parents thought their skirts were too short. I learned what "lover" meant because of the talk my parents had with me about the song. Apparently there's no reason to say "lover" if you're married, so they were talking about the *premarital sex*.
Still, I was obsessed with them. I'd listen to their music at school and play with their barbies at my friend's house. I formed an all girl band in my elementary school and wore platform shoes and my hair in the Baby Spice pigtails. I thought they were beautiful (even in those short skirts my parents hated so much) and risque and I liked that I could "rebel" in pastel blues and pinks and a smile. It's the first time I remember really going out of my way to question and oppose some of the rules I was brought up with, and that little inner, thinking-person's rebellion became crucial to my independence and existance later.
It's funny to me today that the Spice Girls were so influential on my life in such a drastically different way than they were for other people, but they did change me for the better. I'm glad they're still around."