Happy fucking birthday Kaki King!
There, I said it! Yelled it across the interwebs because why wouldn't you celebrate the lovely guitarist's birthday? I was a bit late to the bandwagon and only discovered her in 2007 when she popped up on Tegan and Sara's The Con. (What am I if not a walking, talking stereotype?) As soon as I saw her play in Knife Going In, I had to cyber stalk her — I mean buy her albums.
Chapter IV: Knife Going In – The Con DVD
…Until We Felt Red, Everybody Loves You and Legs to Make Us Longer were payed relentlessly as I studied that year. Given that I know nothing about guitars, I would send her Youtube videos to my musically talented friends and say, "Look! She's amazing. I can't tell you the exact reason why but she is!" As they puzzled over her fret-tapping and guitar slapping I simply danced around in the background — as I am apt to do.
"Gay Sons of Lesbian Mothers" from …Until We Felt Red
My fondest memory of Kaki King was when I convinced my friend to accompany me to the Biltmore, a club by my house. I knew if anyone saw her play, they'd immediately be turned onto her music. She sat on her stool and simply stated that she wouldn't play until everyone else was seated as well. So, like the good little children we were, we sat cross legged at her feet as she pulled out one elaborate guitar after another and explained the story behind each piece.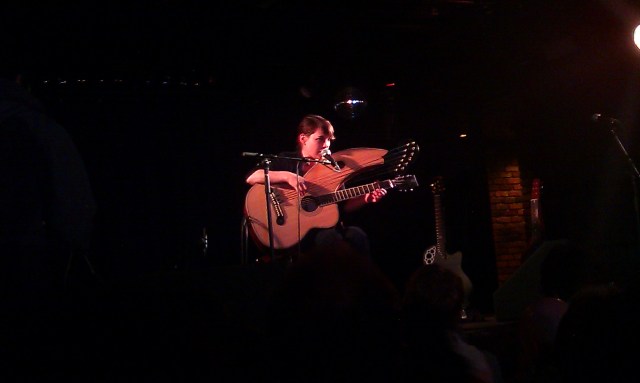 I'm not alone in my appreciation, I swear.
Carmen
I was a freshman in college and I was feeling super overwhelmed by my life and I had started sleeping less and throwing empty plastic bottles at my closet door to release spare aggression. And the Mountain Goats and Kaki King had this song, "Black Pear Tree." Listening to it was like sitting in the middle of the planet right there at the core and I remember still today to this day that it was how I felt two years later sitting in bed with a carton of ice cream writing poetry and coming out to myself.
The Mountain Goats feat. Kaki King – Black Pear Tree

Fonseca
I was an 18 year-old baby gay when I discovered …Until We Felt Red. I immediately fell in love. King's body, covered in crimson yarn, quickly became my desktop background and the last thing I thought about before bed. Her acclaimed flat-picking did not reel me in; her vocals did. On an album full of acoustic tracks, the tenderly sung "You Don't Have To Be Afraid" and "Yellowcake" felt accidental, as voyeuristic as eavesdropping on someone singing in a shower. I wanted more of that.
"You Don't Have to Be Afraid" from …Until We Felt Red
At 19, I slipped a note into a girl's pocket that read,"be good to yourself."
"Life Being What It Is" from Dreaming of Revenge

Hansen
Can I just say that Kaki King is hands down the best sex music of all time? You don't even need a sex playlist. You just need Kaki King. Unless you can't have sex with your partner while listening to Kaki King because you just visualize how cute Kaki King is, because that's problematic.
Lovestoned Cover from Mr. Timberlake
Whitney
Kaki King, Kaki King — I saw her on the cover of Acoustic Guitar Magazine when I was 14 years old and magically gravitated toward the cover. Lip ring. Intense eyebrows. Cocked head and aggressive stare. I bought the magazine, and immediately afterward, King's album Legs to Make Us Longer. Legs is a completely instrumental album, and it surprised me — I didn't think music without words could be so emotive. The crescendos in "All the Landslides Birds Have Seen Since the Beginning of the World" and the inhumanly possible hand-percussion in "Ingots" became the soundtrack to my adolescence.
King's music connected with me because I started playing guitar around that time. I was 14 years old, seriously gay and in the closet. King was a female guitarist, and the only other female musician I had been listening to then was Michelle Branch. When I found Branch modeling topless on the cover of Maxim, I felt a deep-seated sense of disappointment and disconnect. The images of King were different — she was always intense, focused, lost in the music. There was an almost swaggery, masculine way she held the guitar, had complete mastery of it. I had never seen that kind of ownership in music coming from a woman until then. It was inspiring.
It wasn't too much later when I read an interview with King online, and found out she was gay. It felt like electricity when I read it. It was that sense of recognition, of Hey, she's like me that made me feel less lonely, less unmoored. I had a friend buy me King's Everybody Loves You and listened over and over to "Happy as a Dead Pig in the Sunshine" and the wonderful musical climax to "Joi." King's albums became my road music, my private earphone music, the music I shared with my fiancee when we first met. In fact, she remembers wondering if I was gay until I brought up Kaki King. "There's this artist, Kaki King," I think I said. "She's a gay guitarist. I think you'd like her." And my fiancee did — she still has the Kaki King mix CD I made her on her computer.
"Happy as a Dead Pig in the Sun" from Everybody Loves You
So yes Kaki, everyone does indeed love you! Have a fucking happy birthday.