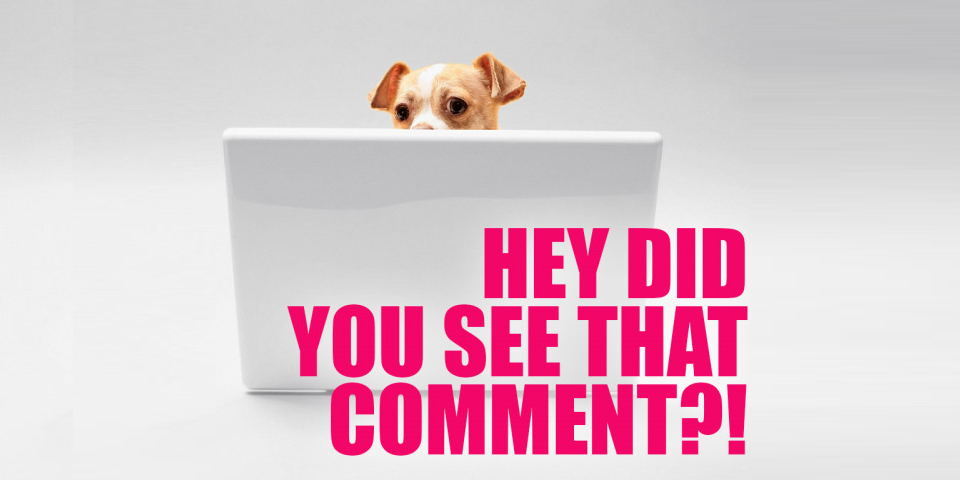 Hi, sweet pals! I love you! Get ready to dust off those birthday hats, because we're (still) celebrating a very special occasion. This week, the glorious, weird, shiny-haired, hardworking fever dream we call Autostraddle.com turned ten years old!
Autostraddle changed my life in a million important ways. So many of you understand, because you were right there alongside me on your own journeys. When I first came to AS, I joined with the name Queer Girl and used a cartoon as my profile pic because I wasn't out in my real life and I was terrified that someone might somehow find me online. I didn't have queer friends, I hadn't dated, I wasn't able to talk to my family about any of the things that were affecting me. I was stuck and scared.
Five years later, all of those things have changed. Every single part of my life is different and better, in ways that were unimaginable before I found AS.
I'm out, now. To everyone. And I'm surrounded by wonderful friends, by a queer community who lifts me up and centers me and helps me remember that I'm not alone, every single day. That process of learning to be comfortable in my own skin, of learning to trust people with my important truths, it was all so inextricably linked with Autostraddle, with all of you, with this glorious community of weirdos. I can't imagine it any other way.  My name is Darcy, and I don't have to hide the parts of myself that are Queer Girl, anywhere I go.
Happy Birthday, Autostraddle. You're a goddamn miracle. And every single one of you is part of it. That is why I say I love you, nearly every week! Because we are all the miracle, together. Together, we are why I still believe in the internet as a force for good. Because of Riese, because of every writer, every person who comments. Because of you.
And! You sent us birthday cards and told us how you met us, Reniece made us a birthday cake, and Riese, Cee, Laneia, and the rest of the team unveiled an a m a z i n g yearbook that features so much history, tidbits, pieces and photos from the past ten years!
In other news, Heather loved Captain Marvel, and you can too!
Kaelyn wrote about some ways to make activist spaces safer for everyone.
Hello, yes, this is extremely relevant to your interests: It's Time to Recognize Holland Taylor's Supreme Domme Energy. Correct.
Gaby Dunn has a graphic novel coming out, and Autostraddle has an exclusive look for you!
Rachel wants to help you to practice safer sexting.
If you haven't yet heard of Juliantina from Amar a Muerte, get ready for them to be your new fave queer couple.
Here is a bunch of the team in their favorite boots! This was so pure!
Because life just turn, turn turns, and because they love us and know exactly what we need, KRISTIN AND RIESE ARE LAUNCHING AN L WORD PODCAST! This is not a drill! The name is perfect, the theme song by Be Steadwell is ridiculously good, they are all perfect humans, and I cannot fucking WAIT to listen to this.
And then there were your comments!
---
On FRIDAY OPEN THREAD: When Did You Find Autostraddle And What Happened Next?
The Romcom We Deserve Award to Max: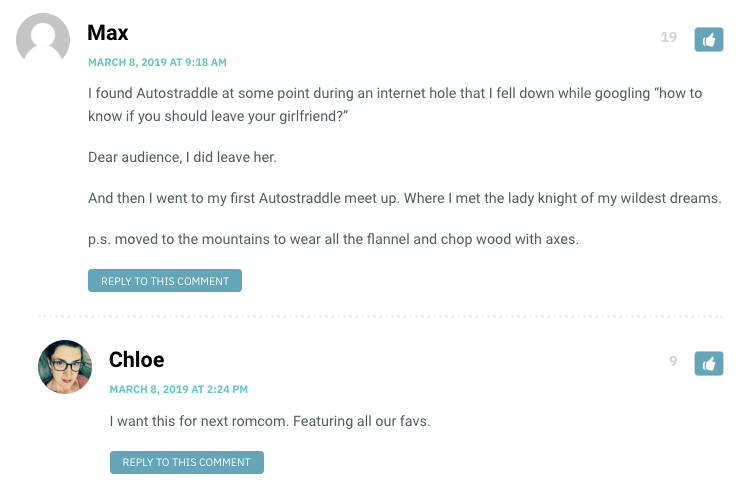 On Here's an Exclusive First Look at Gaby Dunn's New Graphic Novel, "Bury the Lede":
The BOOM! Goes the Dynamite Award to
On Foolish Child #41: Foolish ACE Child:
The Castles In The Sky Award to Noodlesforever:

On No Filter: Hayley Kiyoko Meets Her Hero!
The Family Tree Award to Snaelle and Jane (click through for all of them!):

The Stef "Minimal Sunlight" Schwartz Award to Stef:

And the SATC Power Lesbian Episode Award to Cleo: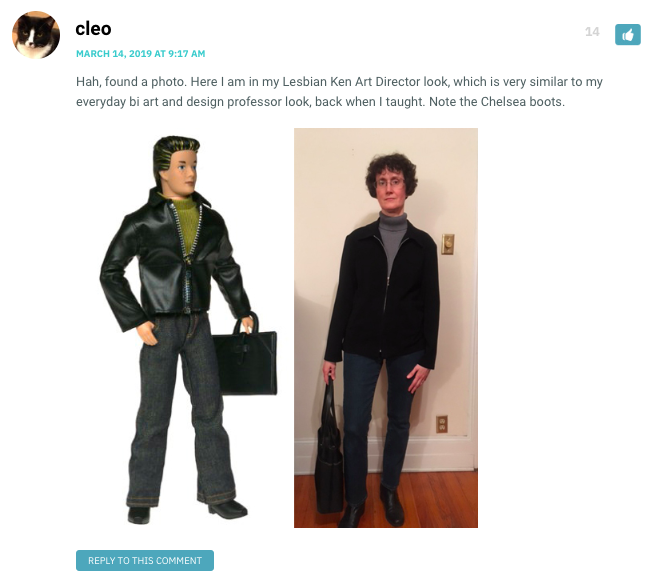 On Soccer Legends Ali Krieger and Ashlyn Harris Are EnGAYged!
The Representation Matters Award to Liv:
And on USC Associate Athletic Director Donna Heinel Is Gay, Did College Admissions Crimes:
The Donna Martin May Not Graduate Award to Donna M: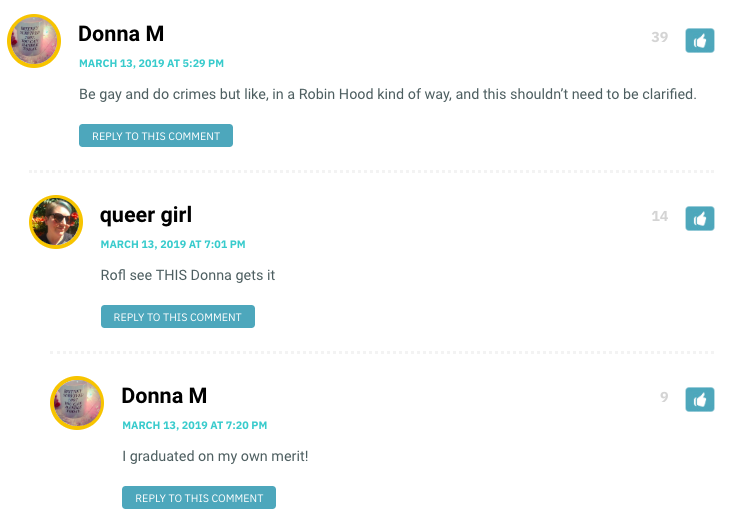 ---
See a comment that needs to be here? E-mail me! Queergirlblogs [at] gmail.com.