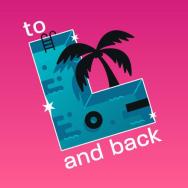 Land ahoy! I am pleased to bring to you today a "teaser" for what will undoubtedly be eventually considered as one of the most important, groundbreaking, forward-thinking podcasts in the history of lesbian civilization. "To L and Back" will undertake the important task of recapping every single episode of "The L Word," one by one! We will be doing so just in time for The L Word reboot, which currently feels like a gathering storm on a distant horizon, but will undoubtedly eventually feel like a cool outdoor shower in the French countryside.
For Season One, the podcast will be co-hosted by me, Riese, and one of my very best friends, Kristin Russo. You may know Kristin from such enterprises as the "Buffering the Vampire Slayer" podcast, Everyone is Gay, co-directing A-Camp and hosting "Getting In Bed With Kristin" for Autostraddle dot com.
Other talent involved in making this dream a reality include Be Steadwell, who recorded our theme song, and Carra Sykes, who illustrated our logo.
This whole enterprise was Kristin's idea and then she asked Twitter if they wanted us to do this podcast and twitter said yes. This is a verified method to determine whether or not it makes sense to invest in a thing during a very shaky moment in this company's existence, right? Of course it is! LIVING LOVING LAUGHING LUXURY LESBIANS!