Mild spoilers below for Captain Marvel! 
If I were a man invested, even subconsciously, in propping up a patriarchal society where women, even subconsciously, Know Their Place, Captain Marvel would terrify the pants off of me. Which is why MRA Reddit started review bombing it weeks before it was released. And why half the reviews from professional male critics — who take up 100% of the top spots on Rotten Tomatoes' Captain Marvel landing page — basically say, "I don't get it." And why the dude sitting beside me in the theater at the opening show in New York City got up and moved, with a loud huff, to the other side of his girlfriend when I cackled first and loudest during a scene where the robot voice of a threat-scanning device ranked Carol's cat, Goose, as "high" and "human male" as "low to none."
There's an interview with Brie Larson during the Captain Marvel press tour where a male reporter from Yahoo! asks her if the scene where a man tells Carol to smile was added after the first promo photos were released and men on the internet complained that she wasn't smiling enough. With a clenched jaw, Larson says, "That was already in the movie. We'd already shot that… That's just a depiction of the female experience."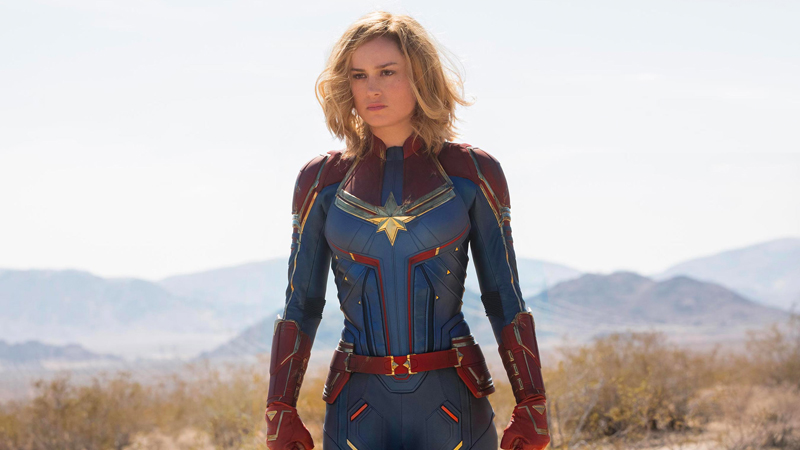 The female experience, in fact, is woven inextricably into the fabric of Captain Marvel. From childhood to high school to boot camp to flight school to outer space, Carol Danvers was knocked down, physically and metaphorically, by the men surrounding her — and she got up and she got up and she got up. And she became the most powerful superhero in the Marvel Cinematic Universe, the one upon whom the fate of all the other superheroes, and humanity itself, rests. That's how she came to us: When Iron Man and Hulk and Captain America and Thor and Dr. Strange and Spider-Man failed, in the closing tag of Avengers: Infinity War, Nick Fury called for the most capable hero he knew: Carol Danvers.
Like all origin stories, Captain Marvel is about how Carol got her powers and how she learned to use them. Also like all origin stories, Captain Marvel is about how the love of a good woman empowered our hero to overcome her fears and her trauma and save the world. Marvel's first solo film about a female superhero boasts some of the best action sequences I've ever seen; it is also straight-up written, directed, acted, filmed, and edited like an epic love story between Carol Danvers and Maria Rambeau. They keep saying "best friends," but the score and the lighting and the dialogue and the camera angles and the fact that they are essentially raising a child and a cat together says something different.
Maria trained alongside Carol, flew alongside Carol. She saved all of Carol's things after she disappeared; and her daughter, Monica, knows, by heart, the story behind every single one of the childhood photos Carol left behind. Maria doesn't hang out on earth, fretting for Carol's safety when she jets off to space to fight the bad guys; she's her kickass co-pilot (and we haven't seen the last of her daughter either). The mightiest superhero in the galaxy is a woman who doesn't need a man because she already has a woman (and, in fact, a black woman who can fly fighter jets and spaceships)? Yeah, that might also be why straight white men "don't get" this movie.
The other essential feminist component of Captain Marvel is also a theme in Wonder Woman, in large part because it was baked into the original comics by William Moulton Marston, a man who sincerely believed matriarchal rule was the only way to save humanity from itself. Carol's mentor (also a woman, but no spoilers) tells her she's not working to figure out how to win wars; she's working to figure out how to end them.
In addition to the action stuff and the True Love stuff, Captain Marvel is a buddy comedy between Carol and Nick Fury, and it's his origin story a little bit too. There's a lot of ground to cover. Decades, really. Captain Marvel has to introduce Carol, infuse her with powers, teach her distinguish the good guys from the bad guys, anchor her humanity in love for another human, showcase her saving the world for the first time, and connect her with the genesis of the Avengers and their current battle. All of those factors combine for a slow start, but once the movie got going, it left me breathless.
During the first end-credit scene (there are two; stay for both), the man who moved to the other side of his girlfriend because the feminist energy coming off me in waves was freaking him out, yelped in delight. Carol Danvers had won him over. But she wouldn't care. Carol Danvers has nothing to prove to any man. Captain Marvel wasn't made for him; it was made for me and you and every little Monica Rambeau who's dreamed of the power to punch a nuclear missile out of the sky, or to wipe the smirk off the face of a man who told us to smile.