HAPPY BIRTHDAY AUTOSTRADDLE!!! Hey everyone, did you know it's Autostraddle's tenth birthday? 'Cause it is, and I was given the extreme honor of making the birthday cake!
The concept for Autostraddle's birthday cake has taken many twists and turns.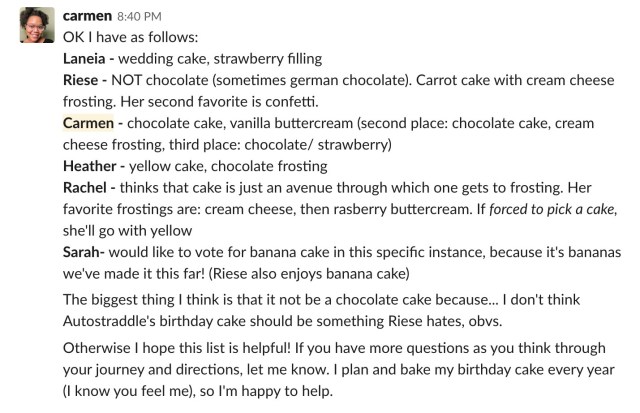 Being asked to make a cake to commemorate a birth is one of the biggest compliments a baker can get, so know that I'm very very excited about this cake. I really put my heart in it, ESPECIALLY since the occasion is celebrating the ten beautiful successful years this incredible site has been queering our lives for the better!
In this climate when queer publications are dropping left and right, it's so important to note just how special this birthday is. Ten years y'all. It is absolutely time to celebrate and eat so so so much cake. Specifically this cake which is a collective representation of each Autostraddle senior editor's cake preferences. They gave me their favorite cake and frosting flavors and votes for cream cheese frosting, white (or yellow )cake, and berry filling well… they took the cake! Plus Riese mentioned Funfetti, and as a big fan of putting sprinkles in and on things, I went ahead and included that too. Resulting in the official Autostraddle 10th birthday cake: funfetti with vanilla cream cheese frosting and strawberry filling!
This site really knows how to pick a cake! I'd say I don't even have to tell you how good this cake is, but it's my job, so: THIS CAKE IS REALLY GOOD. It tastes exactly the way I remember birthday cakes tasting as a child, specifically the homemade ones that are full of love and butter and frosting that doesn't taste like chemicals cause it's pumped full of commercial food coloring. The crumb is nicely dense and moist with playful little crunches here and there from the sprinkles which I love. The filling is so bright and refreshing and lightens up the cake just the right amount so those creamy swirls of vanilla cream cheese frosting blend right in rather than overwhelming the cake or making it too sweet to get through a piece.
Judging by the rate at which I decimated this cake after I made it, I don't think you'll run into that problem. At all. I would stay at a party a solid two hours longer to wait for this cake to be served. Luckily you don't have to wait cause you can bake one and celebrate 10 years of Autostraddle right along with us! Then make it for your birthday and the birthdays of all the people you love.
HAPPY BIRTHDAY AUTOSTRADDLE!
---
For the cake:
3 cups cake flour
4 teaspoons baking powder
1/2 teaspoon salt
1 1/2 cups granulated sugar
6 tablespoons butter
6 tablespoons shortening
1 1/2 teaspoons vanilla extract
1 cup milk
6 egg whites
1/2 cup rainbow sprinkles
For the filling:
1 1/2 cups strawberries
3/4 cup sugar
3 tablespoons water
3 tablespoons cornstarch
1 tablespoon lemon juice
1/4 teaspoon lemon zest
pinch of salt
For the frosting:
4 cups powdered sugar, sifted
2 8oz blocks cream cheese, room temperature
2 sticks unsalted butter, room temperature
2 1/2 teaspoons vanilla extract
pinch of salt
1. Preheat your oven to 350°. Coat two (or 3 if you have another) 8 inch cake pans in butter, then flour and set aside.
2. In a large bowl whisk together the flour, baking powder, and salt and set aside.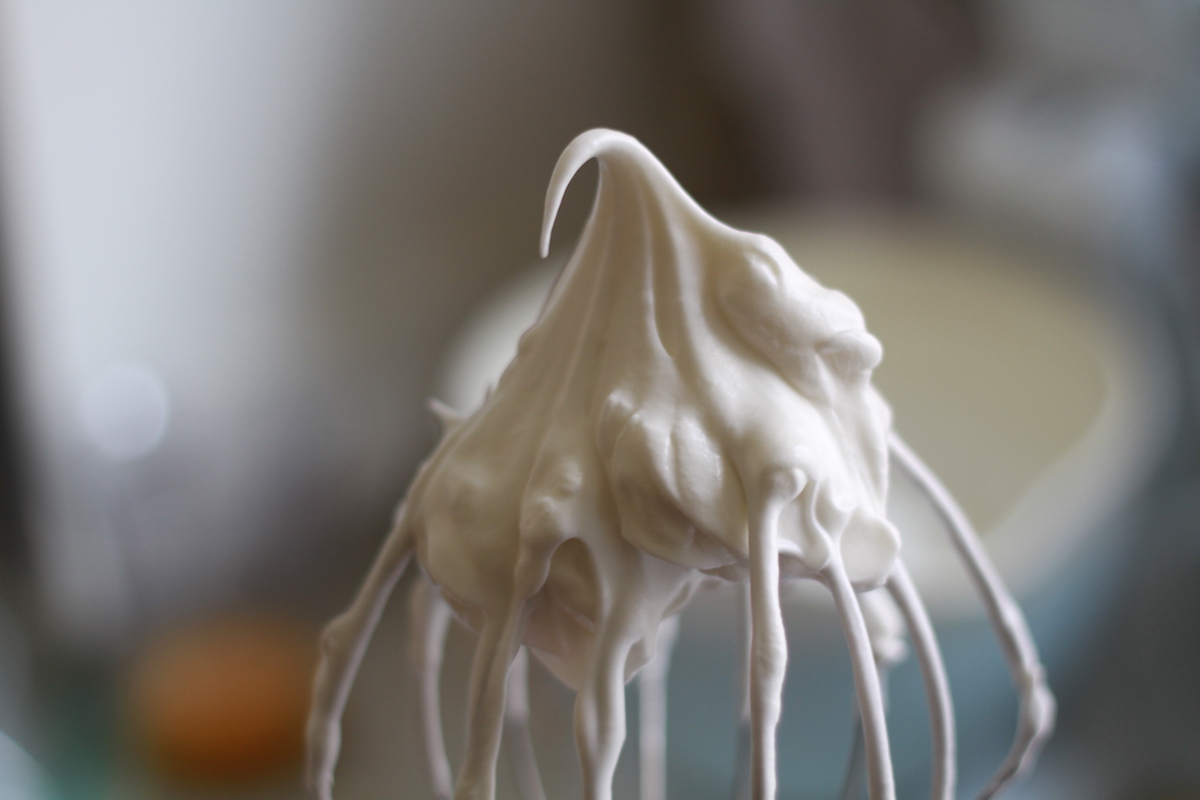 3. Using hand or stand mixer with the whisk attachment, whisk the egg whites and 1/2 cup sugar together on high until they're fluffy but firm, and the whites stay standing on the whisk ("stiff peaks") then set that aside as well.
4. In another large bowl or the bowl of a stand mixer fitted with the paddle attachment, cream together the butter, shortening, 1 cup of sugar, and vanilla extract by mixing on medium until light and fluffy, about 2 minutes.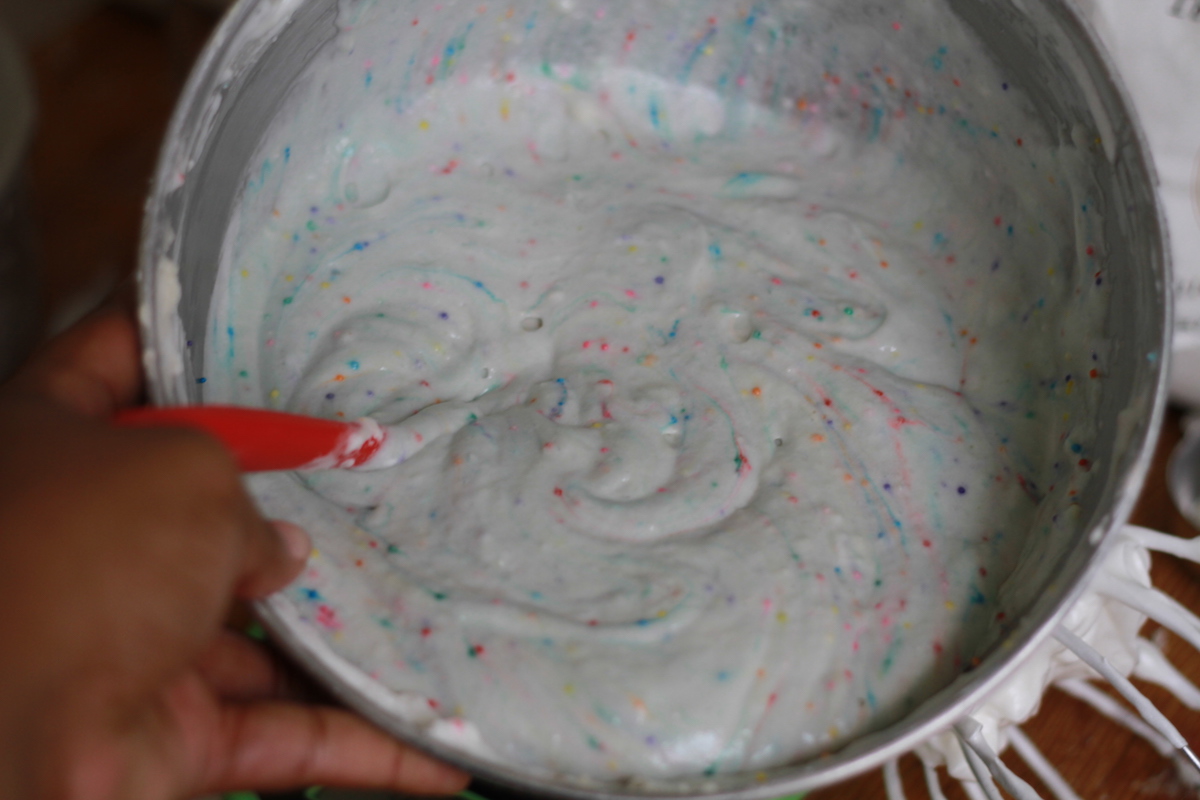 5. Now add the flour and milk to the bowl in three batches, mixing and scraping down the bowl between each addition. Lastly, gently fold in the whipped egg whites and sprinkles until everything is mixed in and there are no dry spots in the batter. You'll want to stir as little as possible once these are added especially if your sprinkles are runny like mine.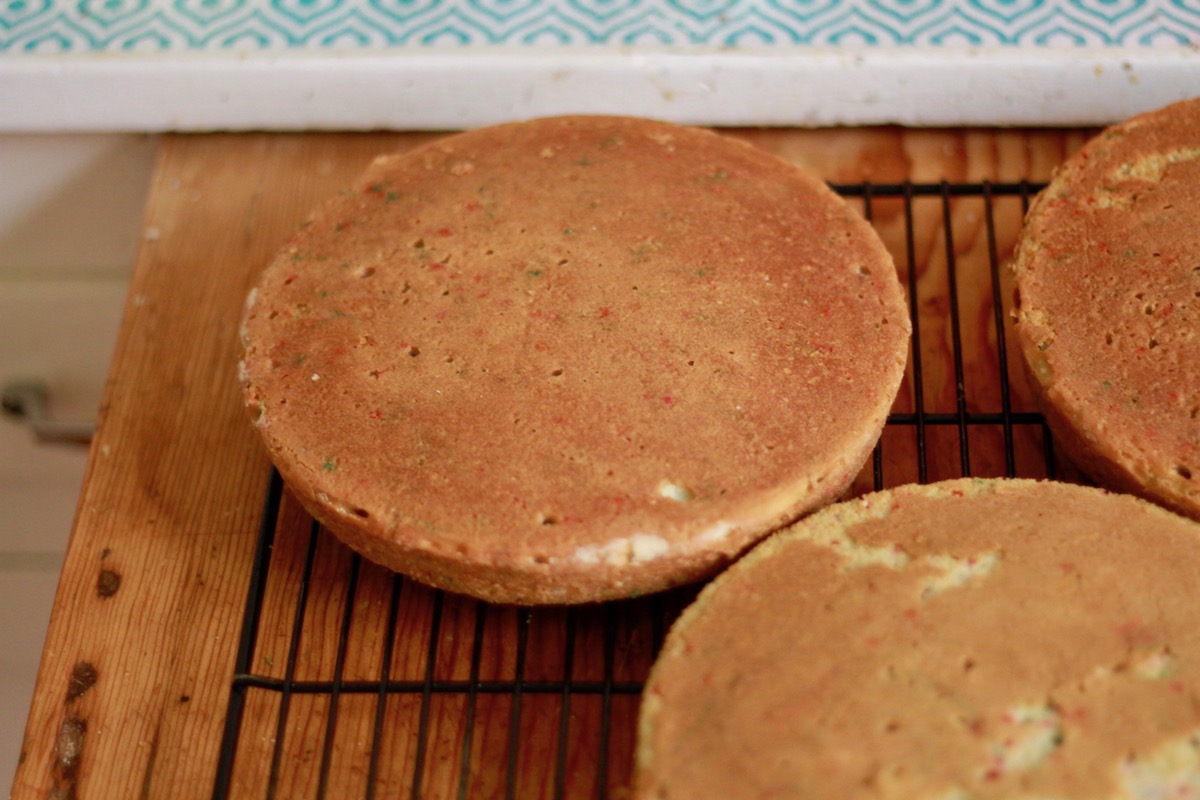 6. Divide the batter evenly in three and fill your cake pans. If you have two pans just leave the third portion in the bowl until you're ready for it. Bake at 350° F for 25-30 minutes (check them at 20) then remove from the oven and allow to cool for 5 minutes before turning out to finish cooling on a baking rack. If you need to bake the third layer, wash and dry your cake pan then repeat baking process. Allow all cakes to cool completely before frosting.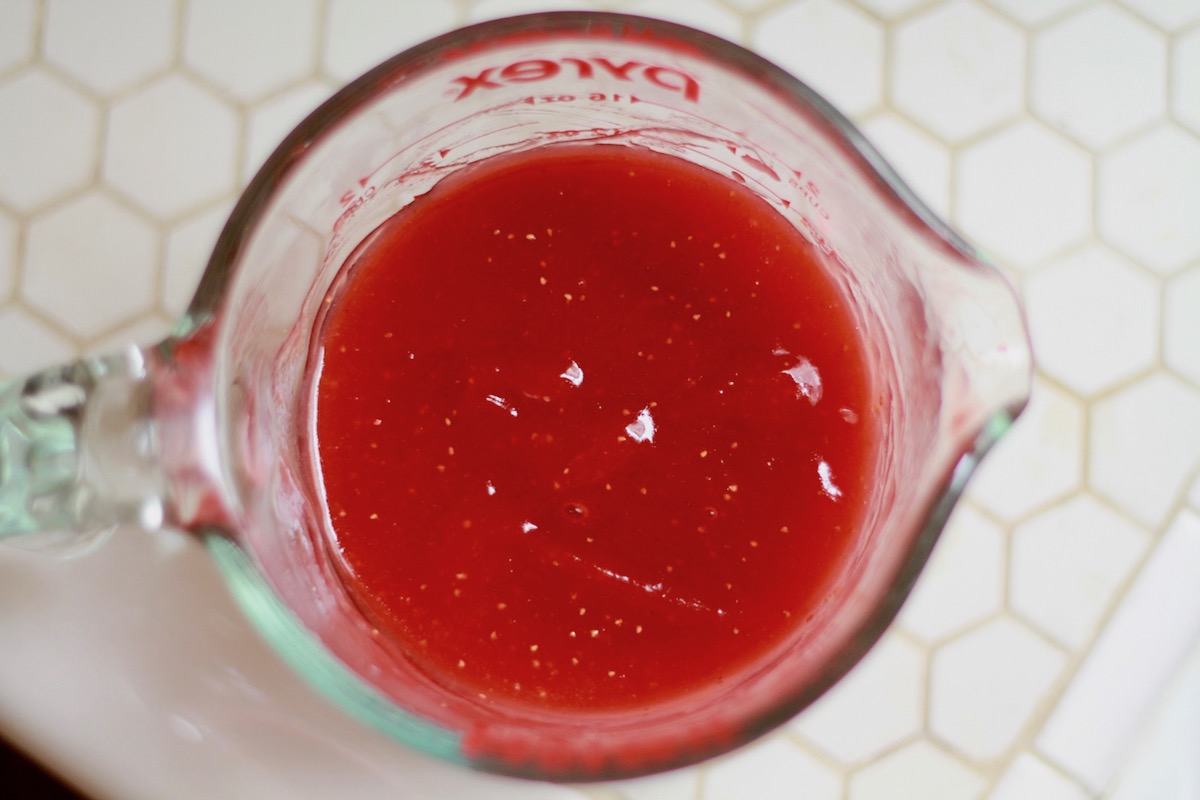 7. Make the strawberry filling! This is super simple, just pour all the ingredients into a sauce pan, and cook over medium heat stirring continuously until the mixture thickens substantially, about 5-10 minutes.

8. It should be so thick that it fully coats a spoon, and that same spoon can stand straight up in the filling. Allow to chill in the refrigerator until completely cold, about an hour.

9. While the cakes cool and the filling chills, it's frosting time! This is also simple, just throw the room temp butter, cream cheese, vanilla, salt, and sifted powdered sugar into a large bowl, and mix on medium low speed until the frosting is smooth and thick. If you keep finding yourself swooping your finger through the bowl, you've done it.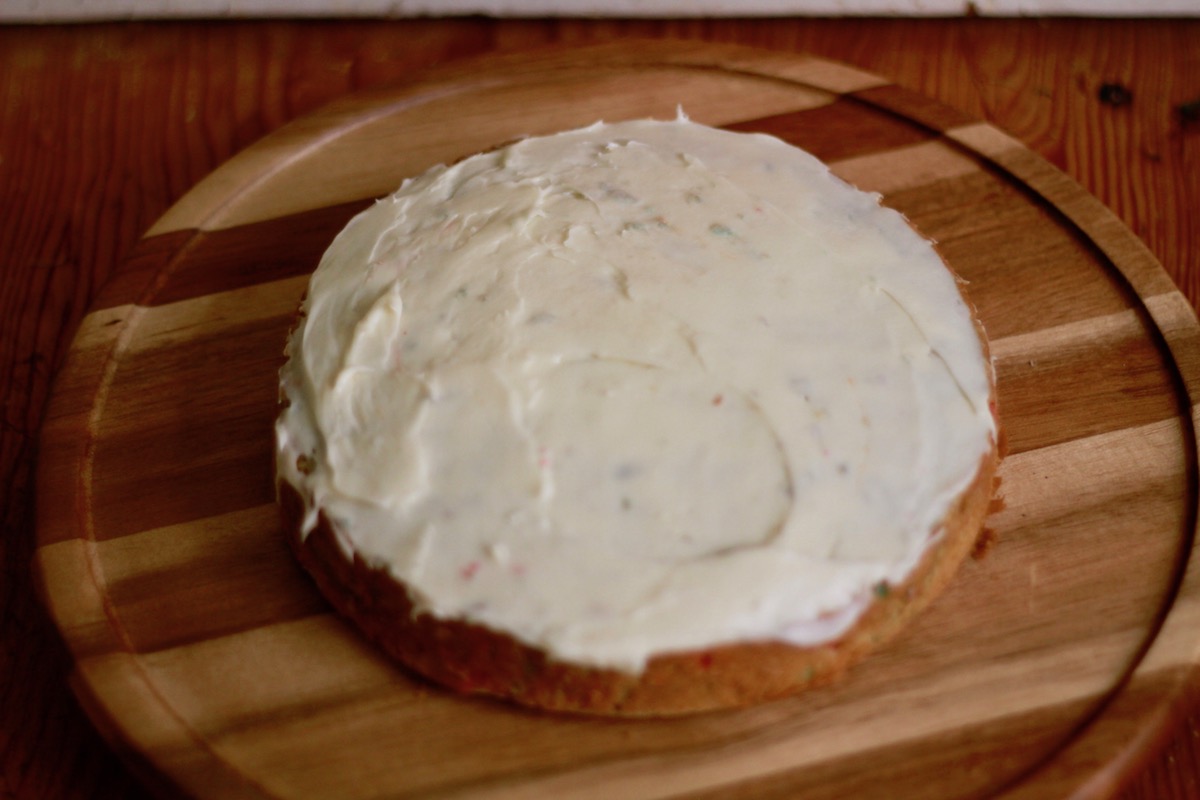 10. Once everything has cooled down bring the cakes and the filling to the frosting party. If you have anything flat that spins I highly suggest using that to frost the cake, it'll make life easier. First are the layers. Spread a small amount of frosting on the bottom cake.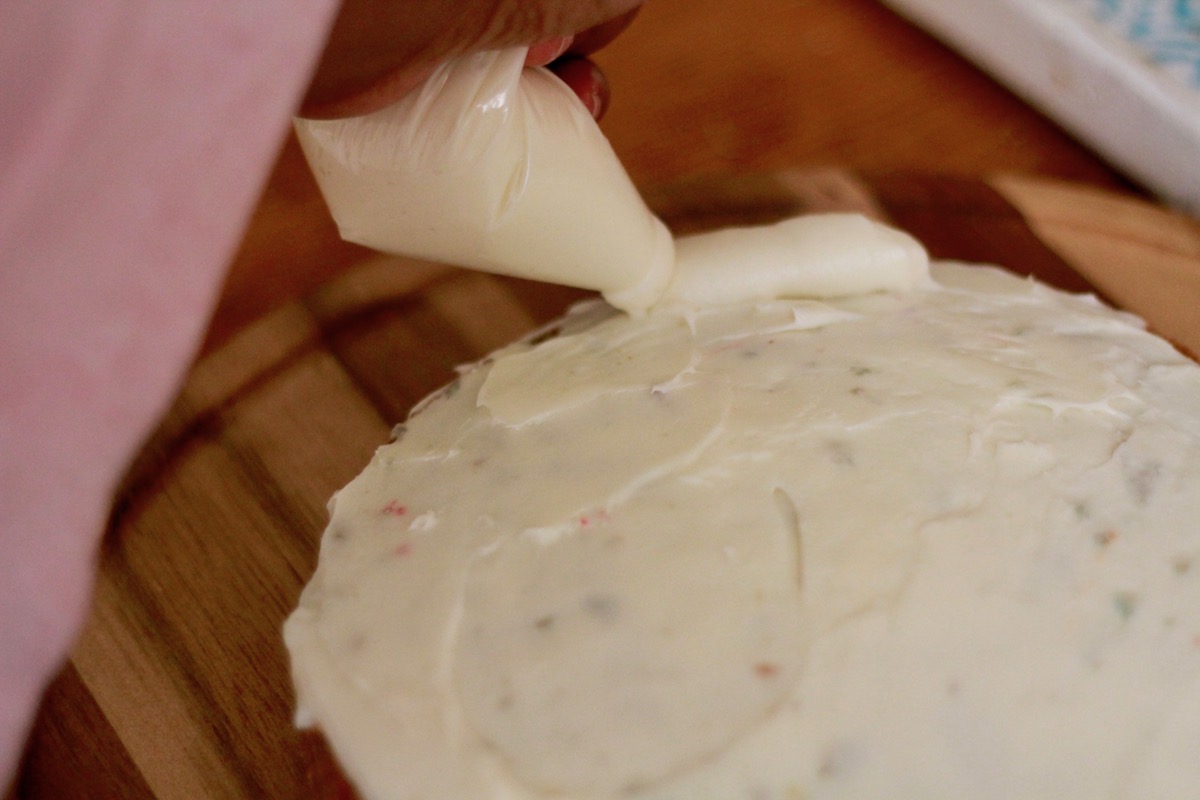 11. Then using a plastic sandwich bag with the corner cut off, pipe a barrier of frosting around the edge of the cake.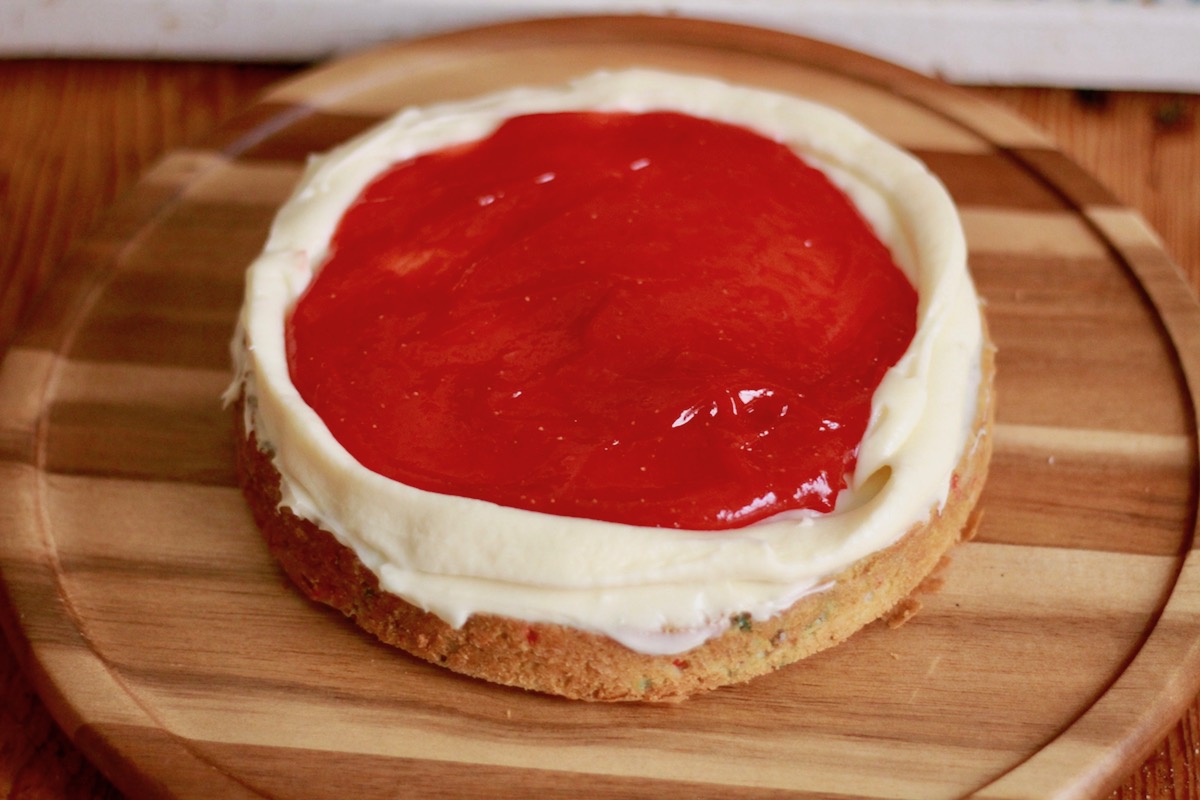 12. Fill that barrier with half the strawberry filling.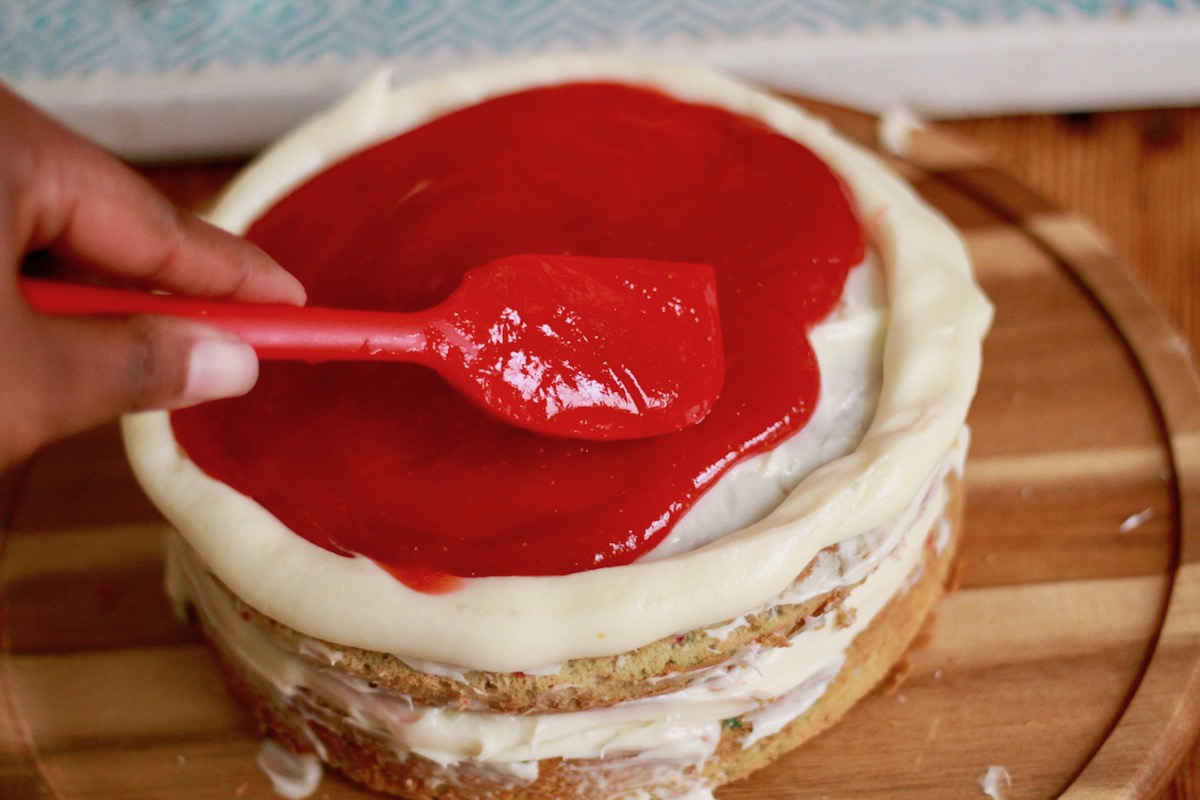 13. Then lightly ice the bottom of the next cake layer and place it on top to seal in the layer of filling. Repeat steps 12-14 with the remaining filling and cake layer.

14. Now it's time for the crumb coat. The goal here is to coat the entire cake in a thin layer of frosting that will set and prevent crumbs from ruining your final frosting job. So using the excess that smooshes out the sides from your layers, and about a cup more of frosting, coat the cake and fill in any cracks then chill for 20-30 minutes.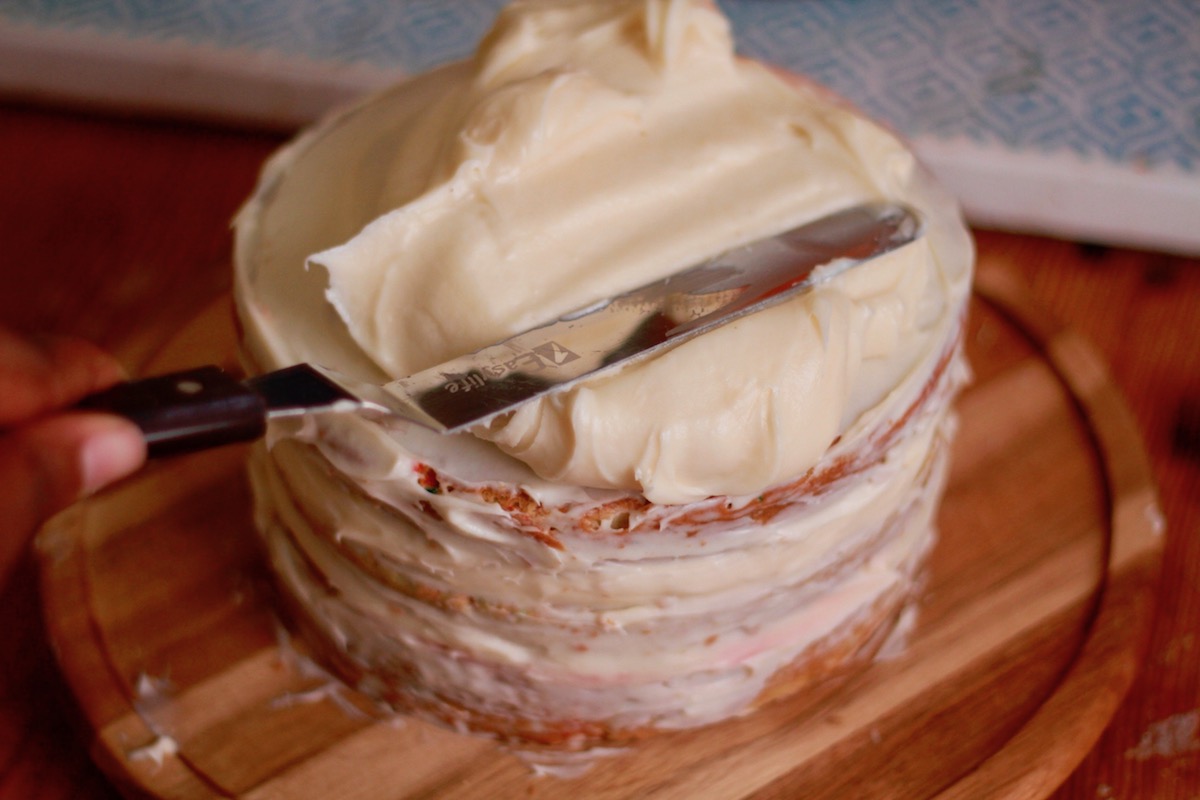 15. Once the crumb coat is set, pour the rest of the frosting on top of the cake, and go to town! I find it easiest to again, have the cake on something that turns and using an offset spatula, press down and slightly out on the top of the cake while turning it.

16. Then I coat the sides with the overhang from the top.

17. If you wanna keep things simple and elegant, you can add the candles and stop here.

18. I'd definitely support that.

19. But this is a birthday, and sprinkles bring me joy AMD I'm in charge so if sprinkling sprinkles all around the sides of the cake is the turn up you're looking for too, live that dream.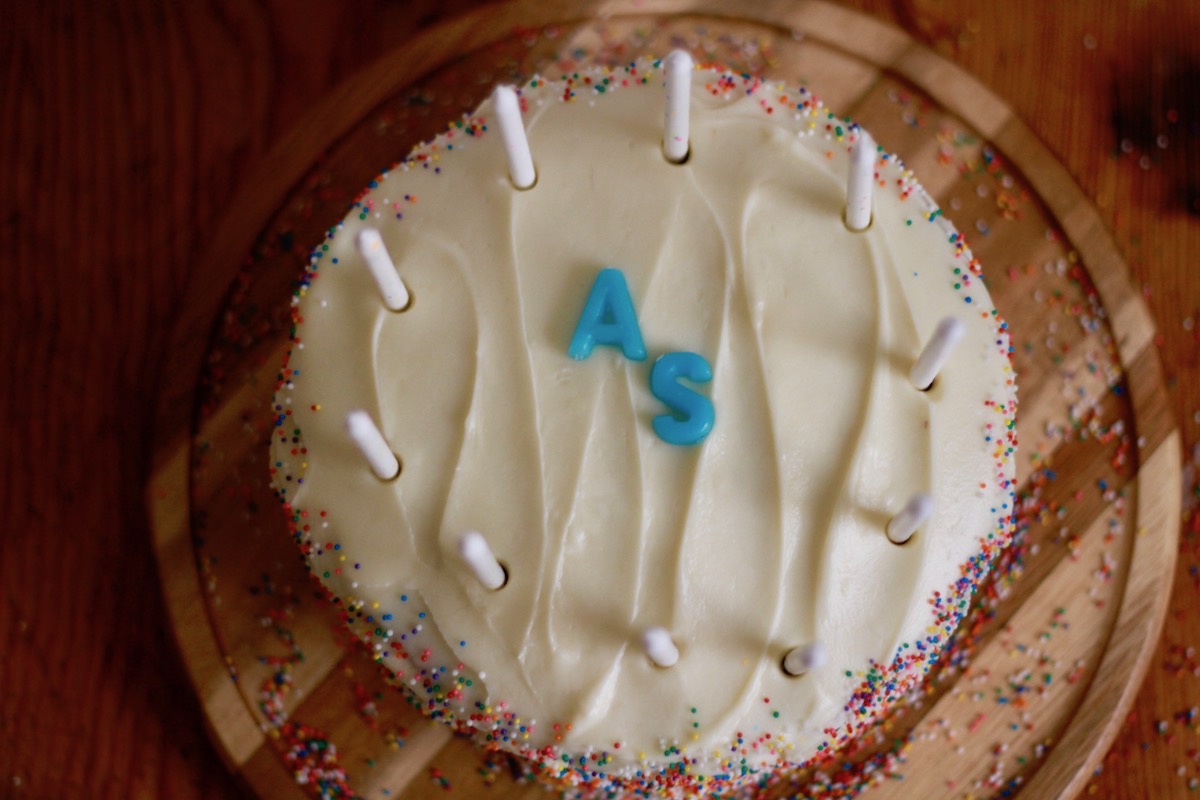 20. It's a real cute dream.
Happy Birthday Autostraddle! Thank you for ten years of talking, laughing, loving, breathing, fighting, fucking, crying, drinking, writing, winning, losing, cheating, kissing, thinking and dreaming. So excited for ten more!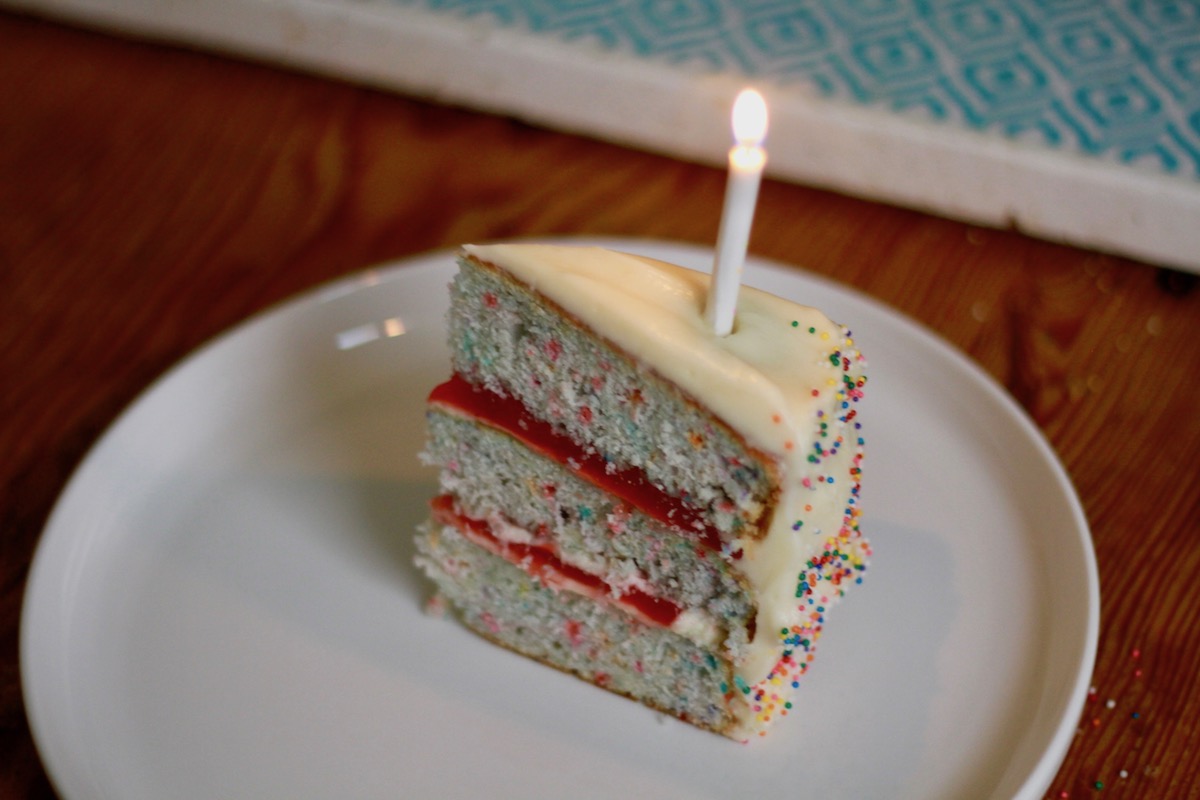 Now make a wish Sweet Birthday Baby! 🎈
---