If you're a queer woman on the internet you probably already know about the new ship of dreams in town, but if you don't, please allow me to introduce you to Juliantina! Juliantina is the ship name of Juliana and Valentina – a queer couple from the Mexican telenovela Amar a Muerte, which is, essentially, a story about love and destiny, with occasional turmoil and violence. What's not to love about that combo!
The two women who encompass these characters, Macarena Achaga as Valentina Carvajal and Bárbara López as Juliana Valdes, take the show to another level. Their instant chemistry, from the moment they meet in episode 11, sets the tone for the entire telenovela. Destiny and ultimately the love that blossoms between the two supersedes, and transcends, the very idea of how love works! From instant best friends to lovers, Amar a Muerte get's Juliantina's story right! And for a Mexican telenovela to do just that is a feat in itself, since Mexico, like most Latin American countries, is very religious. To have a network put this kind of love story on air — not just as a ploy for ratings, but as an actual story line — is amazing.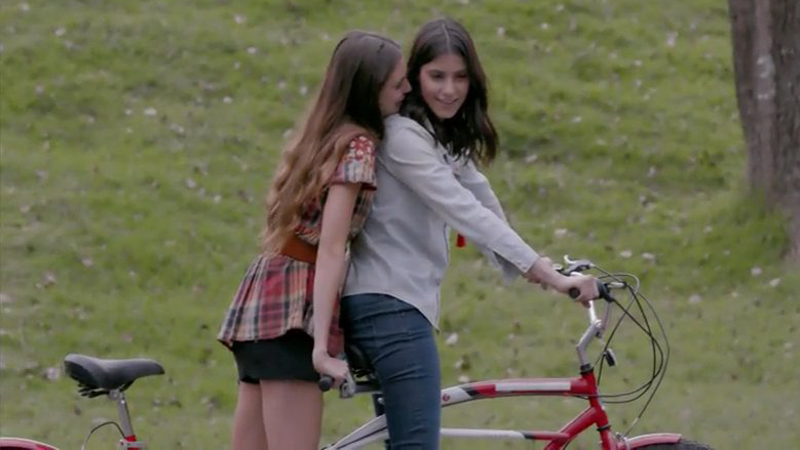 Here's a quick backstory of the two: Juliantina began as a friendship. Juliana is the daughter of a hitman who is on the run from the cartel that hired him. Juliana and her mom, Lupita, moved to Mexico, broke yet determined to get away from the cartel and to start their lives over. Valentina, is the daughter of a successful, rich, and powerful media mogul. Upon her father's murder, she spirals into a deep depression with alcohol as her coping mechanism.
It's Juliana who first sets eyes on Valentina. She's walking with her mother, talking about finding a job, and right as they're crossing the street, Valentina walks by with her very unsupportive, full of himself, selfish boyfriend, Lucho (but I digress). Juliana, immediately noticing how sad and despondent Valentina looks, can't help but stare at Val. At this initial quick sighting from Juliana's perspective, you can sense the beginning of an attraction. However, it's not until the meeting in the park that the deal is really sealed.
Valentina is sitting on the bench, crying, lamenting over her father's death and Juliana, remembering her from earlier, comes over and introduces herself. At that moment, the sparks fly. From their simple introductions to each other, you can feel the chemistry starting to emanate from the screen. The magic of their connection is palpable. From that point on, the audience knows that these two are something, that they are meant to be in each other lives, some way, somehow!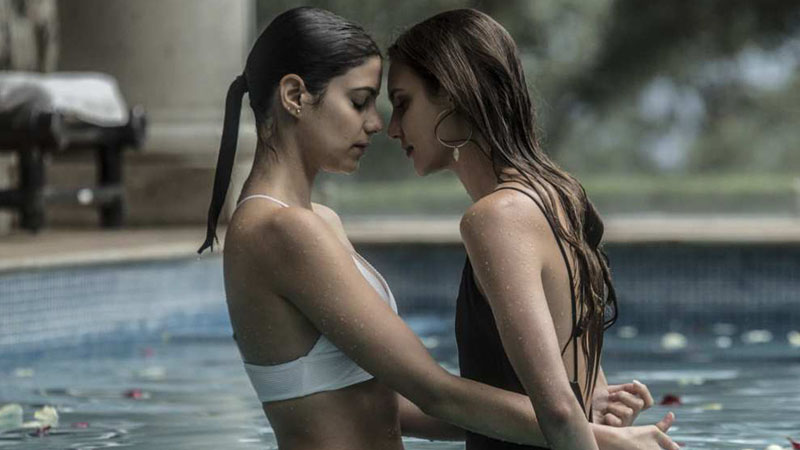 Throughout the show, Juliana and Valentina go through their ups and downs, some more ridiculous than others, as this is a sci-fi telenovela. They go through some real and honest times as well. Homophobia is tackled and brought to the forefront immediately. Amar a Muerte takes the time to deal with the topic. I found it particularly refreshing because it seemed genuine. And this coming from a telenovela was, to say the least, quite shocking to see.
Going back and re-watching the series, I kept revisiting Juliana and Valentina's first kiss. Juliana's mother had been kidnapped by the cartel who employed her father. Knowing the stress Juliana was in, Valentina invites her over to her house, to relax and go in the pool and to get away for a moment. As they're in the pool, Valentina reiterates that this will be a good time to take Juliana's mind off of what is happening. She asks her if she wants to practice her floating again (this was not Juliana's first time in Valentina's pool). Juliana reluctantly agrees and Valentina helps her stay afloat. She floats next to Juliana for a few seconds before a laughing fit ensues.
After they both come up out of the water, still laughing, Valentina has an intense look towards Juliana. They both pull closer to each other. They slowly make contact. The kiss starts off awkward before the connection quickly takes over! The entire scene is about two-and-a-half minutes, but the kiss only lasts for a few seconds. However, in those few seconds, nothing short of pure magic happens on screen. In that moment the show turns a major corner from being just another telenovela to being a major game changer in the telenovela world. I'm not sure the show or the actresses knew, at that moment, what they did and what was about to happen — the moment Juliantina became a worldwide sensation/phenomenon.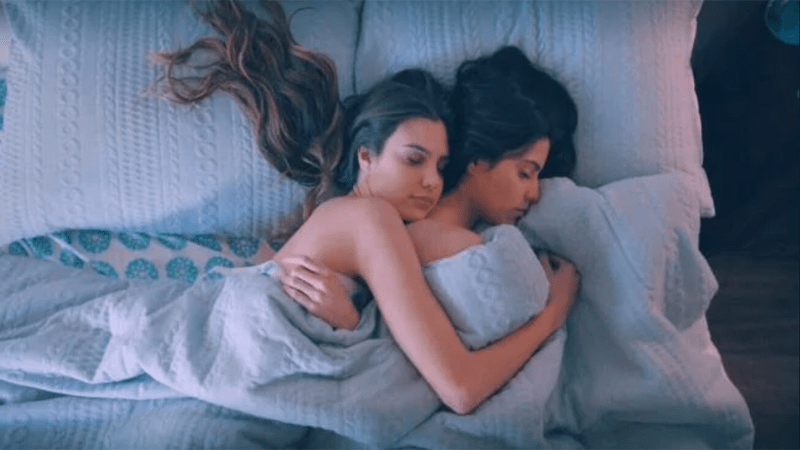 From the slow burn leading up to the kiss to the actual deed, it was by far one of the best first kisses by any couple I have ever seen on screen. It was nervous, slow, tentative, purposeful, intentional. It had so much meaning and power behind it. The very natural, organic way it unfolded was an art in itself.
In the end, Juliantina is not just another queer love story. It has layers. It was written with intention. Their love never comes off as forced or made to seem super sexual. And each kiss, each love scene is done with care and honesty. It all feels genuine and real and, in those moments, engages the audience in a way that makes it all okay, even if it's not okay in their own lives. To see this on screen was very validating.
Both actresses, Macarena Achaga and Bárbara López, gave it their all with each scene. They left no doubt as to how they wanted to portray these characters: with love, realness, and honesty. It was beautiful to watch. And they are just as amazing off-screen as they are on screen. They've taken their roles in LGBTQ history very seriously. They are constantly posting support and love on all their social media outlets and the fans, myself included, have taken to them even more.
In the end, it all boils down to love. Having the freedom to love without labels. To be yourself. Juliantina did that for me. I don't look at gender as a basis to decide if I am or am not going to fall for a person. Love without limits. Amar a Muerte and Juliantina gave that to me and I will forever be grateful for the show, the writers and these two amazing souls who portray this wonderful relationship.
Juliantina fans have started a campaign for a spin-off, which you can read more about here.