​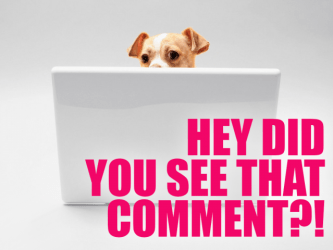 Hello darlings! Welcome to the last installment of the comment awards before May camp! By this time next week a bunch of us will be having feelings and getting high (in elevation at least) together. Not trekking up the mountain? Don't worry, the Autostraddle kittens are busy working on plenty of content for next week!
Let's not get ahead of ourselves, a lot happened this week too. We won another thing as Minnesota's Senate voted in favor of marriage equality! And where you were when you found out Zoe Saldana might be on our team? (I was at my desk eating a stale apple cereal bar.)
Maliaka is leaving the prairie and has a lot of feelings about it. Lizz is on the leather jacket bandwagon and Gabrielle has recommendations for work clothes that go beyond the button-up. Resident cyborg/tech aficionado Taylor reported on mixing business with pleasure after wearing Google Glass on a date. (A must read for nerds and OKCupid adventurers alike.) Finally, Riese and Alex met Adam Lambert and other queeros at the 2013 GLAAD Awards in San Francisco!
---
On Listling Without Commentary: 18 Things Found In The Wrong Places While Organizing A-Camp Supplies:
The Shots of Inspiration Award to Mori:


The My Body My Self Award to Alex:
On I'm A Trans Woman And Not Interested In Being One of the "Good Ones":
The Mic Drop Award to TrinaB: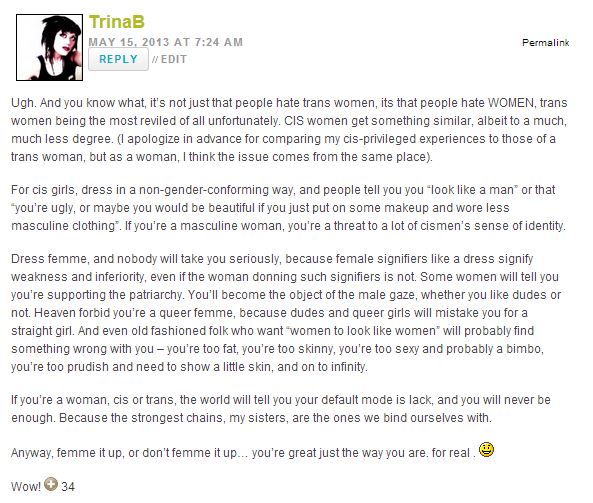 On Why Grey's Anatomy's New Story Arc Is A Pretty Big Deal:
The Better Late Than Never Award to Sela:


On Girl Power In Eurovision: Ten Songs Charting The Evolution:
The Best Out of Context Comment Award to red she said:


On More Than Words: Dyke Pt 2:
The BOTP Award to Daphne:


On Zoe Saldana Is Bisexual Maybe, Definitely Wants To Raise Your Gayby:
The Heartthrob Award to Nerns and Whatifiguredout: 

​​
---
See a clever, hilarious or thought provoking comment around this website-ship? Email it to me at: carrie [at] autostraddle [dot] com!