Welcome to the twelfth installment of More Than Words, where I take queer words of all sorts and smash them apart and see what makes them tick. Every week I'll be dissecting a different word, trying to figure out where it came from, how it has evolved, where it might be going, and what it all means. It's like reading the dictionary through a prism. Feel free to send word suggestions to cara@autostraddle.com.
Header by Rory Midhani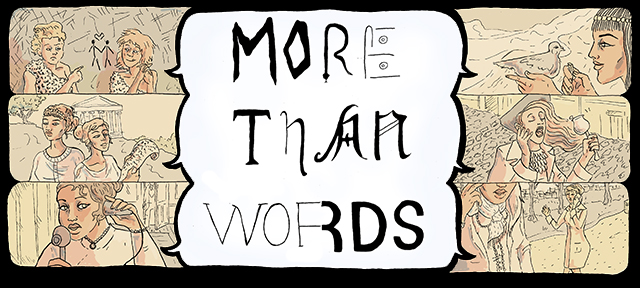 When we last left dyke, she was unsure whether she was the descendant of a Greek goddess or only slightly better than a sheepdagger. Over the next hundred years or so, the word settled into its basic definition of "a masculine woman," but as always, even if its technical meaning stayed the same, the accompanying connotation was in the mouth of the speaker and the ear of the listener. In the 1960s, opponents of the Women's Movement used the word to dismiss and intimidate feminists. Alison Bechdel and her friends began referring to one another as dykes a few years before Bechdel decided to call her comic strip "Dykes to Watch Out For" in 1983 — "at that moment in history, many lesbians had begun to proudly identify themselves as "dykes" as a way to remove the stigma… if we could re-define the word in a positive way, our thinking went, we could also change peoples' negative attitudes about lesbians… assuring [the word's] frequent appearance in print felt to me like a kind of linguistic activism." With the advent of ACT UP in the late 1980s, "dyke" (along with "queer" and "fag") began being used as terms of pride, that in-your-face quality (the one sharp syllable, the hard 'k') repurposed as a statement of self-affirmation. As scholar, activist and ACT UP member Dr. Deborah Gould remembers, in the early 1990s, "lesbians in ACT UP and elsewhere began wearing t-shirts with the words "Big Dyke" emblazoned in enormous and bold typeface across the front." As of 1996, at least one publisher considered the word "dyke" more "contemporary and relevant" than the word "lesbian."
While researching this column, I noticed that all of my best sources were suspiciously well-written, tidy, and similarly formatted. In fact, they were all bookended by the same chunks of legal jargon. Intrigued, I switched from investigating the history of the word "dyke" to investigating the history of these histories of the word "dyke." What I found was a case study (literally!) on reclamation, complete with personal histories, differing views, controversy, The Patriarchy, motorcycles, and interns. Here's what happens when a group takes a process that's traditionally cultural and personal and decides to push it through legal channels.
On July 4th, 1976, a small group of women rode their motorcycles to the San Francisco Pride Parade. One or another of them was visited by a cheeky muse, looked around, and waxed briefly poetic about what she saw — dykes on bikes, of course. The name stuck, partially thanks to a San Francisco Chronicle reporter with a good ear, and as their numbers grew, the group became more formalized. They adopted an official name, the Women's Motorcycle Contingent, in order to "make the group appeal to all woman motorcyclists," though most groups still used the catchier nickname around family. As the group expanded, they expanded its syntax in turn, sandwiching the two together into "The Women's Motorcycle Contingent Dykes on Bikes" (SFWMC), a slangy in-group term preceded by its own more accessible definition. As SFWMC secretary Soni Wolf says, "the display of pride exhibited by the Dykes on Bikes motorcycle contingent in the Pride Parade is literally earthshaking." Hundreds of bikes rattle the streets and stir up a tailwind for the marchers that follow. But by the time the rumble reached the U.S. Patent and Trademark Office (PTO), it was mistaken for a roar of controversy, offense, and even hate.
Dykes on Bikes tried to trademark their own name in July 2003, twenty-seven years after that first burst of inspiration struck, because a clothing manufacturer was horning in and the bikers wanted to save the phrase for noncommercial use. By this point the organization had twenty-two nationwide chapters, over four hundred members, and a bunch of sweet collectible pins. They filed a patent application and coasted until February 2004, when the PTO rejected their application, saying that "a reasonable person of ordinary sensibilities would recognize that the term "dyke" is disparaging and objectionable to lesbian, gay, bisexual, and transgender communities." Seems a little unwarranted, as these dykes — certainly reasonable, if containing some extraordinary sensibilities — made up a sizeable lesbian community, and were clearly not feeling disparaged. Something was going on here. A 1913 Webster's Dictionary, which weight was slowly bending whatever shelf it sat on into submission, had taken precedence over actual testimony from a group of those best equipped to judge the word.
After the initial rejection, Dykes on Bikes appealed. With help from Brooke Oliver Law Group and the National Center for Lesbian Rights, they called in the big guns. Attorneys cried foul, speculating that concerns over "the public at large" were just censorship masquerading as fellow-feeling ("Oddly, they did grant a trademark for the Bravo TV show "Queer Eye for the Straight Guy" last year"). Activists, scholars, and linguists (and high-profile dykes of all pinstripes, like Bechdel: "I'm not sure which of those three categories I fall under, though I have been told I'm good with my tongue") submitted testimonials "demonstrating that the LGBT community considers the name "Dykes on Bikes" to be a positive, empowering and affirming term." They sent in pictures. Home videos. Statements from "self-identified dykes with and without bikes." But was the PTO touched? Were they excited to be the sudden center of all this fascinating hashing-out?
Nah. After reading through it all, they upheld their original decision and decided the word was "vulgar" as well. K. Alex Ilyasova, in her article "Dykes on Bikes and the Regulation of Vulgarity," argues that this sudden intensification is less about the word and more about the whole idea: "The main thing that makes "Dykes on Bikes" vulgar to the PTO is the same thing that makes it "vulgar" to mainstream society, and to some within the riding community: the women's explicit association with motorcycling and their unflinching and unashamed display of their masculinity… it is about the audacity of some of these masculine women to make explicit what has been implied for so long — that they exist." The US, consciously or unconsciously, doesn't want to be a place where gender gets blended like that, and so its legal representatives — like patent officers, who are basically the nation's Official Namers — put their hands over their ears and red-stamp everyone who tries. Eventually — after lawyers appealed to the Trademark Trial and Appeal Board — the PTO reversed their decision and "Dykes on Bikes" was granted a trademark. It subsequently survived a couple of appeals one from someone who called it an "Anti Male Hate Riot"). As of 2008, "Dykes on Bikes" is legal, baby.
It's too bad it took so long. But the court documents, especially those twenty-six expert testimonials, are some of the greatest breakdowns of word reclamation I've ever read. They weave history and cultural criticism in with media studies and personal testimony, and serve a secondary role as mini-biographies of great minds. You've got former ACT-UPer Dr. Deborah Gould, who has "been identifying as a dyke for over 15 years," fighting alongside Jesse Sheidlower, male slang expert and author of a book about the history of the word "fuck." Lexicographer Ronald R. Butters runs through precise definitions of the words "disparaging," "derogatory," and "offensive" (and a brief historical aside about the increasing sensitivity of dictionary makers) before declaring that "Dykes On Bikes" is not any of those. Meanwhile, legal intern Rebecca Bodfish contributes "fifty different magazines, videocassettes, and books relating to lesbian culture which used "dyke" in the title" that she found on "the Google search engine." Author, professor, and former Lavendar Menace Karla Jay remembers proposing the name "Dykes with Tykes" to a group of lesbian mothers at a conference in 1975 and being "met with cheers." Writer and activist Judy Grahn recalls how she "began reclaiming gay and lesbian words and experiences in teh 1960s," and clinical psychologist and self-identified dyke Dr. Shara Sand describes how her patients use the word when speaking privately.
Above all, you have more than two dozen people eloquently defending the lesbian community's individual and collective right to self-definition — both by taking the time in the testimonials to personally self-define, and by arguing eloquently for the necessity of being able to do so. Bechdel, in my opinion, puts it best:
"Our community has engaged in intense, thoughtful, and nuanced debate for many years about the words we use to describe and identify ourselves, and we have come up with many creative and liberatory solutions. But more importantly, we have arrived at a common understanding that the language a person chooses to describe her own identity must be regarded with the utmost respect."
The US Patent and Trademark Office, in an attempt to protect a disenfranchised group, disrespected them instead. In doing so they underestimated the power of a group of made up of, in Judy Grahn's definition, "powerful, independent women capable of defending themselves, who are also lesbians in sexual orientation." And, luckily for all of us, really good with their tongues.