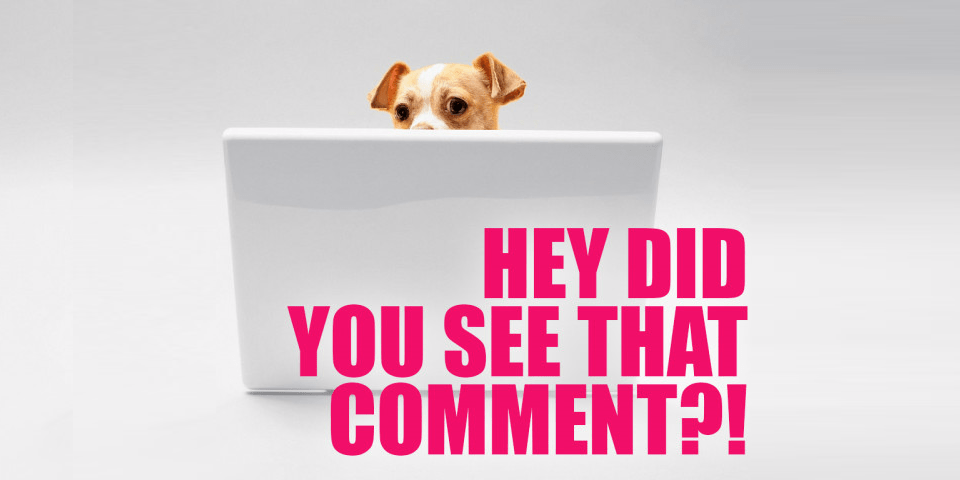 Hi there, fireflies! We've got a Double Double this week as we award not one but TWO weeks of comments! What a party!
Week before last, Em brought us this gem: 8 Ways Publix on a Saturday Night Is Exactly Like Going to the Club. I lol'd.
Drew reviewed Men I Trust, by Tomi Parrish, which was truly stunning.
Nico wants you to boil your Christmas tree!
Sai spoke to Jacqueline Toboni about Magic Mike and this season of Gen Q. I'm not jealous! This isn't jealousy!!!
Read this, from shea: Finally — A Rainbow That Feels Like Home.
I helped out a reader who's in love with her straight best friend. Who! Among! Us!
Need to do some Christmas shopping? Here are 85 LGBTQ+ places to shop!
Stef wrote about that mystical and alluring endangered species, the Lesbian Bar.
For this week's Gutter Talk, Niko would like to introduce you to Octopus Pie!
Brittney Griner is home. Brittney! Griner! Is! Home!!!!!!!!!
Rio brought us a vulnerable comic about parenting.
Vanessa is a bride on a budget, and last week she went to her first bridal expo!
Drew spoke to Daniel Sea about their reparative L Word reunion.
Dani Janae helped out a reader who felt unlovable after a really bad date.
Three of our writers talked about the queer and trans takeover of skateboarding! I love this!
And from Shelli Nicole: My Mama, My Partner, and My Bestie Dressed Me for the Holidays.
And then there were your comments!
---
On Quiz: Who's Your Dream Celesbian Couple?
The Not Boring! Award to gay_and_boring: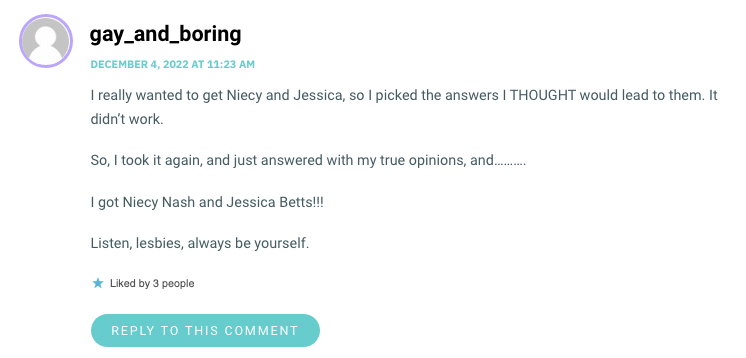 On Mini Crossword Is Getting into Position:
The Pussy Puzzle Award to jenesaiswha:
On Jacqueline Toboni Talks Rosie, Role Models, and Going Full Magic Mike in Gen Q:
The Trick or Treat Award to Natalie:
@saishabazz, and I know I speak for the TV team when I say all we want is to see pics of that Halloween costume." width="744" height="463" srcset="https://www.autostraddle.com/wp-content/uploads/2022/12/Screen-Shot-2022-12-08-at-11.02.03-AM.png?w=744 744w, https://www.autostraddle.com/wp-content/uploads/2022/12/Screen-Shot-2022-12-08-at-11.02.03-AM.png?w=640 640w" sizes="(max-width: 744px) 100vw, 744px" />
On Guessing Game: Masc Rhythms:
The Stone Butch Availability Award to DreamboatSupreme:
On How I Went Broke and Then Broke Even in TikTok's Dabloon Economy:
The Spruce Goose Award to Deli Twotone and Pallas:
On Autostraddle's Favorite Lesbian, Bisexual and Trans TV Characters of 2022:
The World of Our Own Award to marnie:
And on Word Search: What's Your Baggage?
The Must Love Dogs Award to Sophia, hihello, and Sally: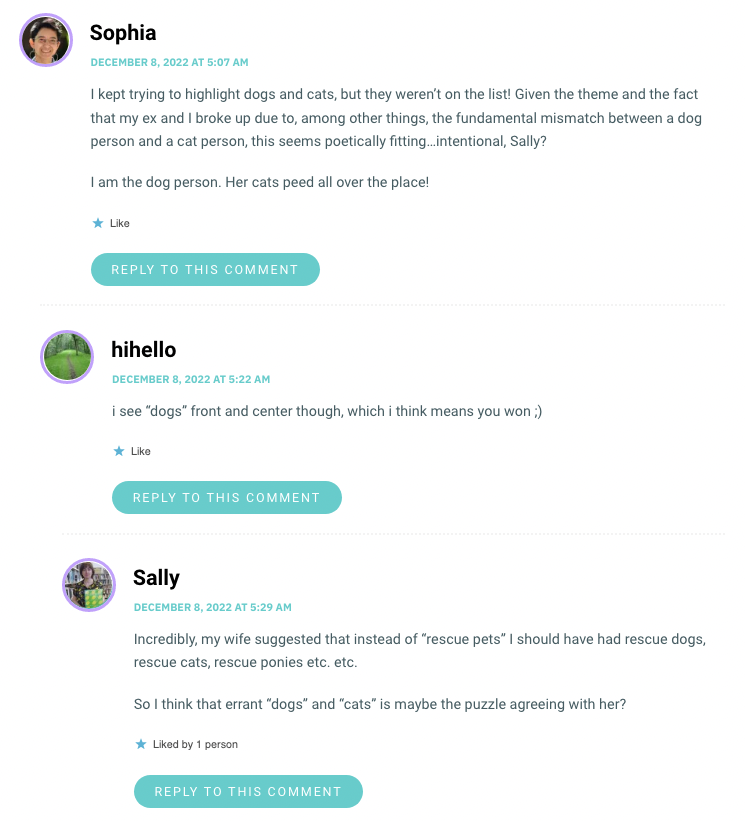 On Brittney Griner Is Home in Texas, Here's What's Next:
The Free and Safe Award to Ayo:
On REI Gave Us The Gift of Giving This Holigay Season:
The Craft Services Award to kiana:
On No Clue What Happened on "Leopard Skin" but Carla Gugino as a Mean Queer Psychic Domme? Yes:
The Wettest Witness Award to Sollemnia:

On President Biden Signs Respect For Marriage Act Into Law:
The Safe and Sound Award to Maddie:
On No Filter: How Lesbian Jesus Stole Christmas:
The Game Night Award to Amy Fix:
On A Convo on the Queer & Trans Takeover of Skateboarding:
The Sk8er Girl Award to Vidney Tuesday: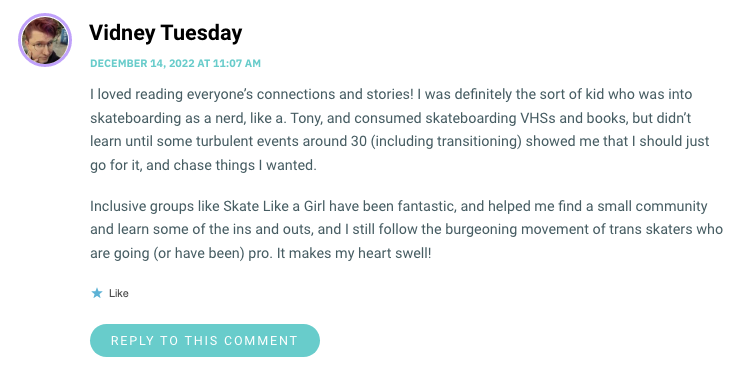 And on Pop Culture Fix: Netflix Axes "Warrior Nun" After 2 Seasons:
The Amazon, Listen Up Fruits Award to spoenk:

---
See a comment that needs to be here? Let me know! Tag me [at] queergirl or email me, darcy [at] autostraddle.com.