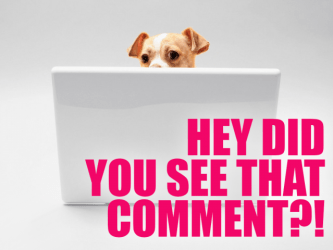 Hello Earth campers! Your outfit looks great today.
This week Carmen and the team talked travel rituals, Hansen got down with dark chocolate recipes and Grace made the perfect playlist for Walking to Target Like A Mother-Effing Champ. Speaking of Grace, Lumberjanes #4 is out and full of yetis and friendship high-fives.
Elicia talked about getting rid of shorts shame and our brilliant Mey interviewed Laverne Cox! In other wonderful news, a Florida judge overturned the same-sex marriage ban, legalizing marriage in Monroe County (aka the Florida Keys) and Kristen Stewart dressed in drag for a Jenny Lewis video.
---
On White Gay Man Publishes Epically Stupid Response To "Stop Stealing Black Female Culture":
The Boo Indeed Award to bra:

On Pretty Little Liars Episode 505 Recap: The 100th Episode Was The Actual Worst:
The Like So Shiny Though Award to Emily:

On Unashamed to Be Fat: Wear Shorts, It's F*cking Hot Outside!:
The <3 Award to Alyssa: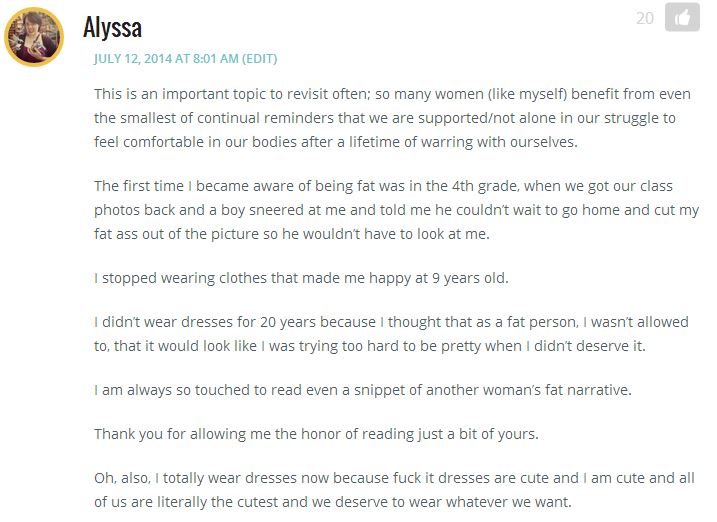 On 30 Ways To Treat Yourself With Dark Chocolate:
The Come On, Science! Award to Angela:

On This New Jenny Lewis Video Involves Kristen Stewart and Anne Hathaway in Drag:
The Beyond Brooding Award to Erin:

The It's Almost Like She Went To A-Camp Award to Keely:

The Not Gonna Break For You Award to Blackmar and Sadie Edwards: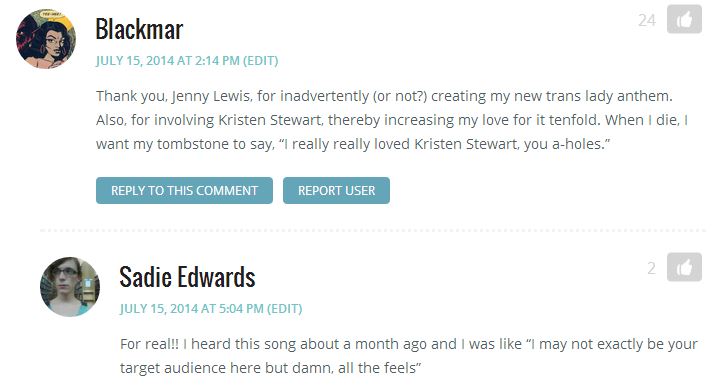 On Friday OPEN THREAD: This Is Your Captain Speaking:
The Praise DinoJesus Award to Jack:
---
See a clever, hilarious or thought provoking comment around this website-ship? Email it to me at: carrie [at] autostraddle [dot] com!