Issue #4 of Lumberjanes, in a lot of ways, really takes the story to another level. So far we've seen the Lumberjanes fight "monsters of the week" that are all leading to something bigger, but we haven't gotten the impression of a "Big Bad" villain or recurring character who isn't someone we were introduced to in issue #1. That all changes in this issue.
After their previous adventures, the girls have started putting some clues together and realize where they need to go to try and solve this mystery. They've talked Jen into leading them on a nature hike so that the can sneak off and go to the "tower by the lake." Jen is busy pointing out all the cool plants she finds and trying to make sure the girls don't get into any more trouble like they did on the canoe trip. Lumberjanes first run into a group of yetis. Now, these aren't Bigfoots (Bigfeet? Maybe Bigfoot is the plural like sheep and sheep?) like you would normally find in the forests of America, but instead the first one has a fancy mustache and a tattoo on its chest. They also complain about their jobs, have swoopy hair cuts and listen to Walkmen. Basically they're hipster Yetis. This is probably my favorite take on yetis I've ever seen, and I've my fair share, as I went to college where one of the world's leading Bigfoot and yeti experts, Dr. Jeffrey Meldrum, teaches.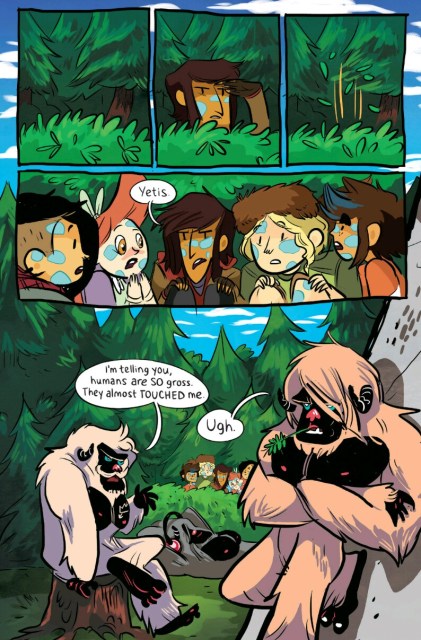 The first time the girls run away from the Yetis, they land right in a patch of soft poison ivy (don't worry, the Yetis come back later). Just when Jen is getting mad at them again, they're rescued from the poison ivy from a mysteriously appearing group of scouts from the nearby boy's camp. These boys already seem a little strange, with their appearing out of nowhere and then being perfectly well-behaved cookie bakers and tea servers, but things get extra weird toward the end. Just when the Lumberjanes have found out the secret of the "tower by the lake" (which I'm not going to spoil here), something overcomes the boy scouts and they start to chase the Lumberjanes away. The end of this issue has a ton of really great action, and some great surprises, but I don't want to give away everything about it here, but let's just say that Molly has an awesome moment where she gets to step up. We're introduced to a couple of new characters in this one. One of them is Barney, a boy at the camp who quickly befriends April. He's nice, sensitive and is immediately willing to help the girls distract Jen. The other is the boy's scout master. He's quite the opposite of Barney. He's mean, thinks it's a shame that the boys are baking and drinking tea, and looks like might be a main villain for the girls. I mean he's got the look (eyepatch and oozing masculinity) and the attitude (he thinks girls are gross), so I'm hoping we see more of him later.
It's nice to see the story developing as much as it is. The stakes keep getting higher and higher. Just when the girls think they've solved the mystery of the tower by the lake, they get a brand new Big Bad, who is sure to really mix up the dynamic of the comic. So far Lumberjanes has mainly been Man against Nature (or really Girls against Supernatural) and it will be really interesting to see them with a clearly defined villain who is in more than one issue. We also get to see a really nice moment between April and Jo that really highlights their wonderful friendship. I'm always here for great representation of female friendship in fiction. Jen also figures out that all the far-out stories the girls have been telling are actually true. So it will be really nice having her be there alongside the girls from here on out. Plus, there's just some really nice world-building in this issue. I seriously cannot wait for each new issue of this comic to come out. Out of all the comics I regularly read, this is the one I'm most excited for. And I'm not just saying that because I know some of the creators. If you want to read comics, but you only have five dollars to spend each month, this is the comic you should be reading.
---
Hey nerds, it's me, Grace Ellis, one of the Lumberjanes writers. In the back of the print editions of each month's Lumberjanes, we publish a mixtape that one of the scouts made because it's fun and because I'm a huge fan of weird character building techniques. This month was Jen's playlist, and unfortunately for Jen (and the rest of you), Ripley painted all over the bottom half of the song list, rendering it partially illegible. Well never fear, dear readers, because Mey asked if I knew what the rest of the songs were supposed to be, and GUESS WHAT, I DO, so here is the complete, official, canon version of Jen's Perfect Camp Mix.
Jen's Perfect Camp Mix
Gravity Falls Main Title Theme

Summertime – Audra McDonald
(You're So Square) Baby, I Don't Care
– Cee Lo Green
Waterfalls
– TLC
Just A Girl
– No Doubt
Nobody Knows Me At All
– The Weepies
I'm Beginning To See The Light
– Ella Fitzgerald
Bad Girls
– M.I.A.
Spice Up Your Life
– Spice Girls
Come On – Josie and the Pussycats
Don't Stop Believin'
– Journey
Here Comes The Sun – The Beatles
It Won't Be Long
– Evan Rachel Wood
Just One Of The Guys
– Jenny Lewis
Up Above My Head, I Hear Music In The Air
– Sister Rosetta Tharpe
Relax Max
– Dinah Washington
Lady Marmalade
– Christina Aguilera, Lil' Kim, Mya & Pink
Love On Top
– Beyoncé
Sally Ride
– Janelle Monáe
Rocket Man (I Think It's Going To Be A Long Long Time)
– Elton John
Put Your Records On
– Corinne Bailey Rae
The Only Place
– Best Coast
Wake Up
– Jenny Owen Youngs
---
Comic Releases (July 16)
Adventure Time #30 (Boom!)
Buffy the Vampire Slayer: Spike Into the Light HC (Dark Horse)
Ghost #6 (Dark Horse)
Batwoman #33 (DC)
Birds of Prey Volume 4: The Cruelest Cut TP (DC)
Harley Quinn Invades Comic-Con International San Diego #1 (DC)
Supergirl #33 (DC)
Supergirl Volume 4: Out of the Past TP (DC)
Lady Zorro #1 (Dynamite)
Powerpuff Girls Classics Volume 4: Picture Perfect TP (IDW)
X-Files Classics Volume 4 HC (IDW)
X-Files Year Zero #1 (IDW)
Rat Queens #7 (Image)
Wicked + The Divine #1 (2nd Printing) (Image)
Wicked + The Divine #2 (Image)
Black Widow #4-6 (2nd Printing) (Marvel)
Black Widow Volume 1: The Finely Woven Thread TP (Marvel)
Elektra #4 (Marvel)
Ms. Marvel #6 (Marvel)
She-Hulk #6 (Marvel)
X-Men #16 (Marvel)
Princess Ugg#2 (Oni)
---
Welcome to Drawn to Comics! From diary comics to superheroes, from webcomics to graphic novels – this is where we'll be taking a look at comics by, featuring and for queer ladies. So whether you love to look at detailed personal accounts of other people's lives, explore new and creative worlds, or you just love to see hot ladies in spandex, we've got something for you.

If you have a comic that you'd like to see me review, you can email me at mey [at] autostraddle [dot] com.