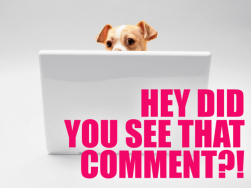 Hi there toaster strudels! How are you doing? It's one million degrees outside where I live. Are you keeping hydrated? I just had the best plum of my life, so I'm gonna be riding that high for at least another fifteen minutes. (It was a black plum. The Babadook brought it to me.)
This week, Mal had some important things to tell us about NYC Pride.
Wynonna Earp is back, and Valerie's recapping it for us! I am excitant!
Erin watched Claire of the Moon, and also a youtube video about hobby-horsing. I can't even with Erin this week. She's kind of perfection.
Reneice had this dispatch from the LA Resist March.
Ali's got our day-drinking needs covered, in the classiest of ways.
Did you hear? The L Word cast got together for some laughing loving fighting f*cking crying drinking dreaming… I mean, a photoshoot and interview. But who killed Jenny?
And then there were your comments!
---
On The Babadook was a Special Guest at A-Camp and These Are His Stories:
The I Like Big Bababutts and I Cannot Lie Award to Kris H:
On A List of Lesbian Moments from the 2017 Tony Awards:
The Visibility Matters Award to Laura:
On I Watched Lesbian Classic "Claire of the Moonwp_postsand Can Somebody Come Help Me Up:
The Hello Fresh Award to hihello:

The Sunken Place Award to Sally:

On The Top 5 Worst Songs I've Had Sex To:
The Party Rock Award to Nate:
The Jeff Goldblum Chest of Excellence Award to Merissa:
On Notes From A Queer Engineer: 5 Facts About Rainbows:
The Butterfly in the Sky, I Can Fly Twice As High Award to Katie S:
The I'm Circumbinary, You're Confused Award to QueSarahSera: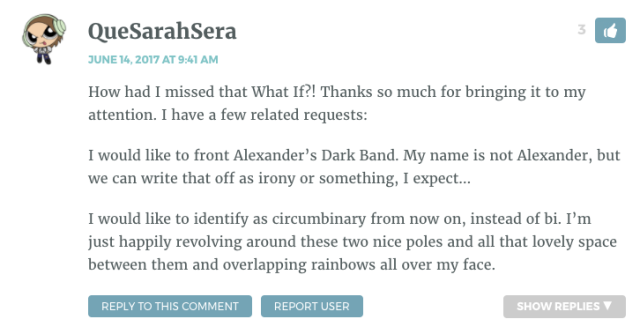 On We Are All These Hobby-Horse Girls:
The Rein It In Award to Kristana: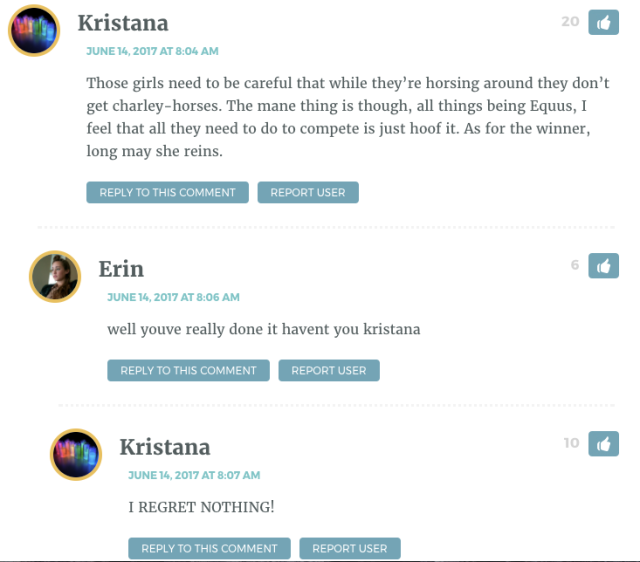 On No Filter: Stephanie Beatriz And Gaby Dunn Begin The Gathering Of The Bisexuals:
The BiCon Award to Arcadia, Andrea and Carmen SanDiego: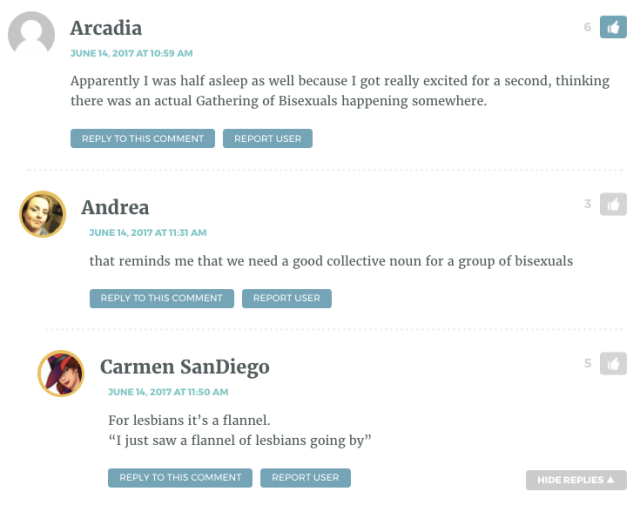 And on Lesbian Bar Names of the Past, Ranked:
The Birth of Napster Award to Molly Priddy:

---
See a funny or amazing comment that needs to be here? E-mail me at queergirlblogs [at] gmail [dot] com!