"Are there alcoholic beverages allowed at a horse show?"
"Yeah. [name redacted] always wanders around with his coffee mug, filled with what we call an 'adult beverage.'"
And then I discovered we were bringing other adult beverages too. I don't generally go to horse shows—I only went to a handful when I rode horses as a child, even. But I'm staying with a family for the summer, and here, when the family runs a horse farm, we go to a horse show every once in a while. I figured I might make a portable cocktail to bring along with us. I'm not particularly into horse shows, after all, but I am into mixing drinks, so this should be a fun challenge for me! Especially since my bar is still mostly in boxes! I went to the easiest-to-reach box and pulled out…grenadine. Uh. Okay. There's some, uh…bourbon. Oh, and I remember packing my soda siphon up yesterday, so that's in the fridge…
Oh! Adult beverage! How about we make a grown-up Shirley Temple? After a little bit of googling, I discovered that this does, in fact, exist. It's called a Lady Shirley. Here's how you make it ahead and transport it to your alcohol-allowed outdoor event.
What you need: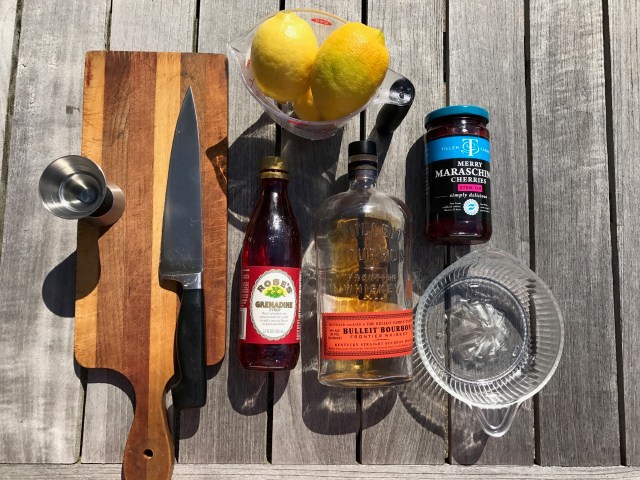 6 oz. bourbon (I'm using Bulleit)
6 oz. lemon juice
4 oz. grenadine
a handful of maraschino cherries, preferably with the stems still on
a bottle of seltzer or a full siphon, to be transported separately
a large Nalgene bottle
venue-appropriate cups
First juice up your lemons by cutting them lengthwise. Wait, no, scratch that. First, take advantage of the beautiful day by taking all your drink-making supplies outside. THEN juice up your lemons by cutting them lengthwise.
Dump your Bourbon, lemon juice and grenadine into the nalgene bottle. Screw the top on and shake it up. We're not putting ice in because we don't need this drink chilled, not yet. I made this about three hours before we'd actually drink it.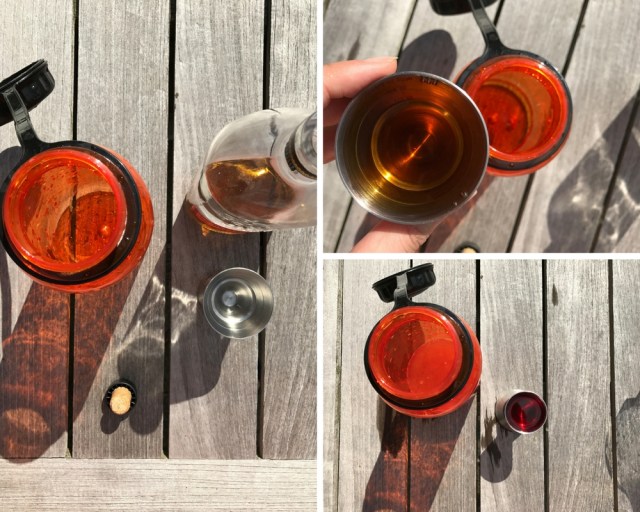 After you shake it up, stick a handful of maraschino cherries to get all boozy in there while it sits. Because now it's going to sit. It's going to sit in the fridge until you leave for wherever it is that you're taking this. Make sure you're chilling your seltzer at the same time. Pack the nalgene and the seltzer separately and, when you get there, pour the cocktail into your venue-appropriate cups.
A word about the cups—usually I prioritize glass-wear and the experience of drinking and garnish and making it look pretty. Usually, I make my drinks look as cute as I can. But y'all, sometimes venues don't allow glass even when they do allow alcohol. And here's how I feel about that—this drink isn't near as pretty as other drinks I make, it's true. See, it's in a wax cup. But, if you think about it, the same thing is being prioritized here: the experience of drinking. The good part of this drink isn't how good it looks, but rather the experience of having your cocktail in a picnic environment.
May your outdoor fun be blessed with good cocktails and, a word of warning, this one tastes like childhood drinks BUT IT STILL HAS ALCOHOL IN IT REMEMBER THAT AND DON'T HAVE A WHOLE BUNCH AT ONCE PLEASE.