The LA Pride parade has been the staple of the city's yearly pride celebrations — providing an uplifting and energetic space of celebration for the LGBTQ community — since its beginning in 1970 in homage to the Stonewall Riots. This year however, a break from tradition occurred and the parade was replaced with a protest, the Resist March, in direct response to the current political climate and need to unite and fight against Trump and his administration. Around 30,000 people came out to fill the streets of Hollywood, waving rainbow flags, holding signs, chanting for equality and marching for resistance.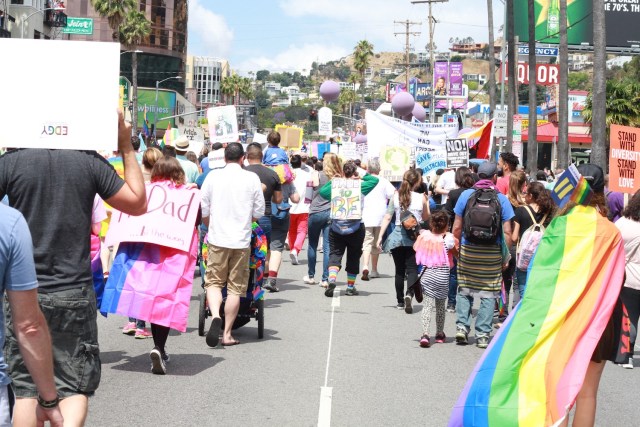 Brian Pendleton, the organizer of the march, cited the Women's March following Trump's inauguration in January as inspiration for Resist March and curated a political powerhouse lineup of speakers for the event including Mayor Eric Garcetti, House Democratic leader Nancy Pelosi, and Reps. Maxine Waters and Adam Schiff. Members of groups Black Lives Matter and the Translatin@ Coalition also graced the stage and called for intersectionality, equality and action.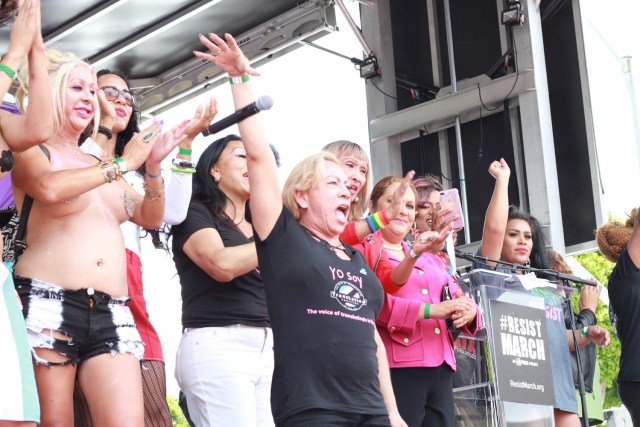 Of course it wouldn't be LA pride without appearances from celebrities, and there were many, including Ru Paul, America Ferrera, Chris Rock, Margaret Cho, and Adam Lambert.
Each of the speakers denounced Trump's actions and policies, and stressed the importance of continuing to resist any and all forms of oppression. Mayor Garcetti expressed that "We need a president who is focused on fixing our streets, not sending out tweets." Waters ended her remarks with a chant calling for impeachment, and Lambert focused on unity, saying "the only way our rainbow is a motherfuckin rainbow is with all the colors shining equally."
Attendants of the Resist March also had meaningful and diverse motivations for participating in the march and protesting for pride rather than watching a parade.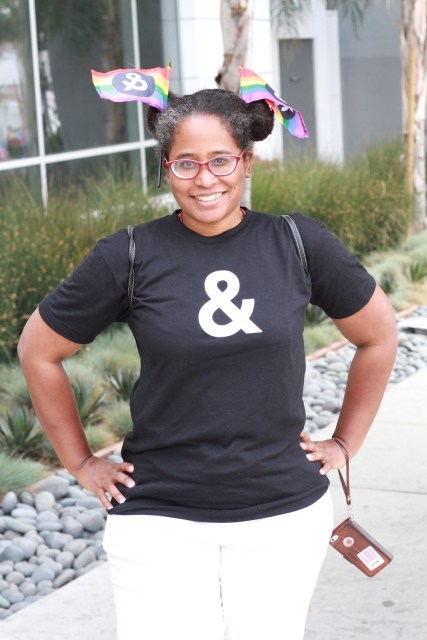 Janet Quezada, pictured above, shared her reasons for marching, stating "I'm a Latina, I am a lesbian woman, queer woman, I am a daughter of immigrants, and to me this is about resisting together. Using all of our identities in solidarity […] to fight back against oppression. It's something that our ancestors have been doing for a long time, we've been resisting in the struggle for a long time so this is about showing pride in that resistance. It feels really great."
Jonathan (left) and Luka (right) chose to march together in solidarity for their communities. "I'm gay, I wanted to support myself and my fellow gays," said Jonathan, and Luka echoed similar sentiments. "I'm trans, so I'm here to make our voices heard and stand up for our people."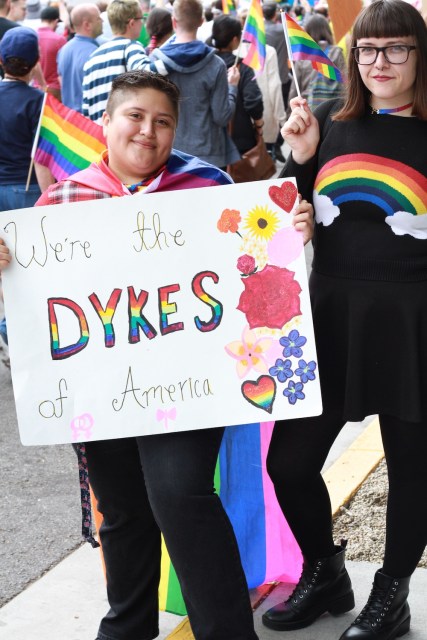 Courtney Smith (left) was excited when she found out the parade was a march instead, and stated "I'm a lesbian and I recently became more open with myself so I decided to come to the march!" Clara Ramirez (right) came to use the march as a much needed opportunity to release stress. "I've just been angry and wanted to get into the streets and scream and get it out," she said, adding, "I also love the show of solidarity, and I've never been to LA pride, so a march for my first pride, that's exciting!"
Rachel Mason, a West Hollywood local, is one of many parents that brought their child along for the march helping to introduce younger generations to protest culture. "I grew up here and have been coming to marches since I was a kid myself. I believe in equality, freedom, and rights for queer people, and I'm appalled at this president. It's disgusting and sickening to me that we're in this place, I thought we would move forward. I'm happy to see that [the march] is merging politics and queer issues because they're not separate," she said.
Resist March attendees also did not disappoint when it came to protest signs and outfits: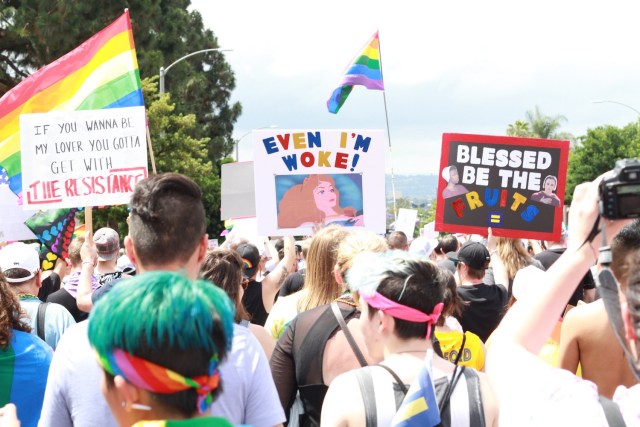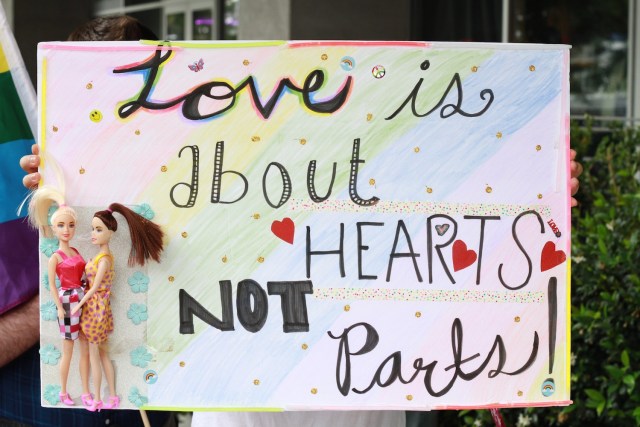 Despite the serious themes and messages throughout the day, the Resist March still had the fun, happy, colorful energy characteristic of Pride as it was clear that our celebration of LGBTQ lives is the ultimate form of resistance. There were smiles on every face, and the love and laughter present was the perfect reminder that no amount of force can crush the soul of the LGBTQ community. We know how to fight hate with love. We are the resistance, and as Ru Paul said while addressing the crowd, "we show them how it's done. With all the laughter, and music, and joy that we have as gay people, baby."