It's possible that if you've perused the internet lately, you may have come across mention of the Babadook's meteoric ascent as 2017's most prolific queer icon. Although the meme allegedly started via Tumblr and Twitter last October, this reporter has been personally trolling the Autostraddle staff with Babadook-related imagery since at least then. In November, I created a Babadook emoji for the Autostraddle slack team which appeared whenever anyone mentioned the words "sleep," "asleep," "dream," "dreaming," "dreams" or his actual name. He was a real hit.
Later, as the Babadook grew more comfortable with his sexuality (and SOMEONE who works here kept deleting my Slack prompts), he ventured out into other corners of the internet, gradually developing a massively dedicated gay following. Obviously, when May rolled around and it was time for the team to venture out to Wisconsin for A-Camp, our lil buddy tagged along. Babadook loves adventure! He was kind enough to take some time off from his relentless schedule as Grand Marshall of every pride parade ever in order to shoot us a couple of photos from his time in Mukwonago.
All photos are actually taken by Robin Roemer and/or Molly Adams.
---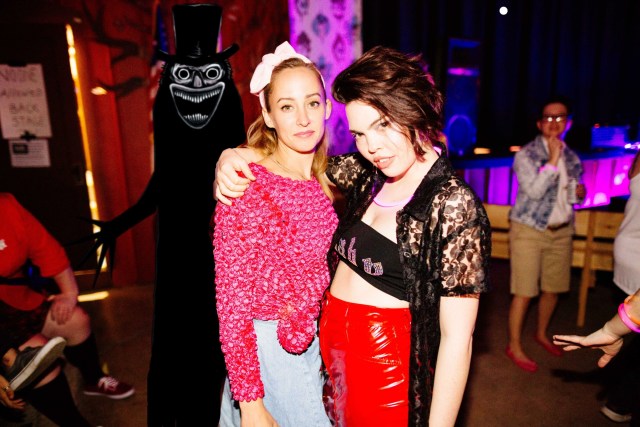 These three heartbreakers stormed the "Heaven Is A Place On Earth" dance, turning heads with their bold 80's-inspired looks.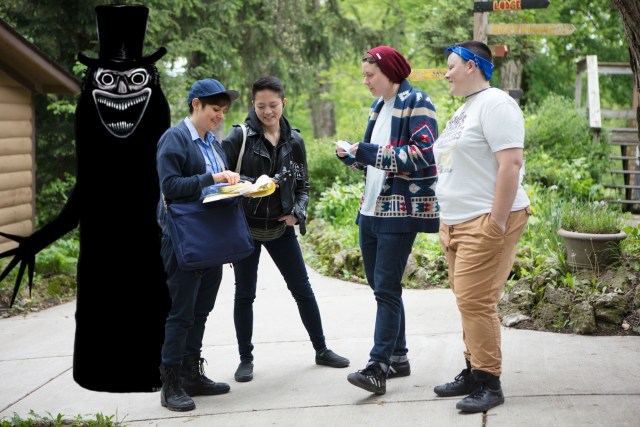 Babadook loved everything about camp – crafting, attending workshops, messing around in the teaching kitchen, bonding with his cabinmates – but he particularly relished receiving packages from our adorable unofficial mail carrier, Maggie. Did you receive an anonymous love note at camp? Maybe it was from the Babadook!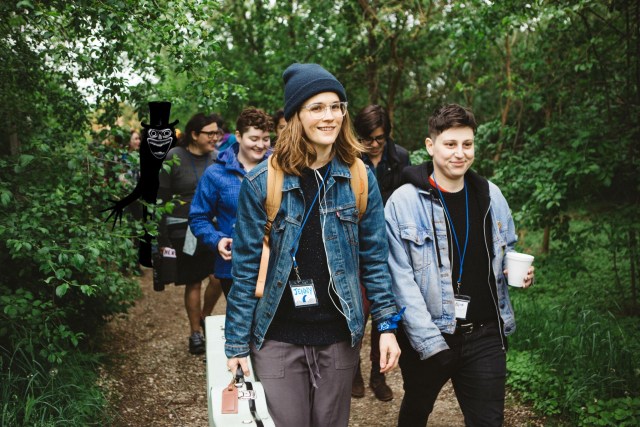 On the Music Hike, Jenny Owen Youngs and Mal Blum led a team of campers through the woods in search of adventure. Babadook forgot to bring bug spray, but he says it was worth it.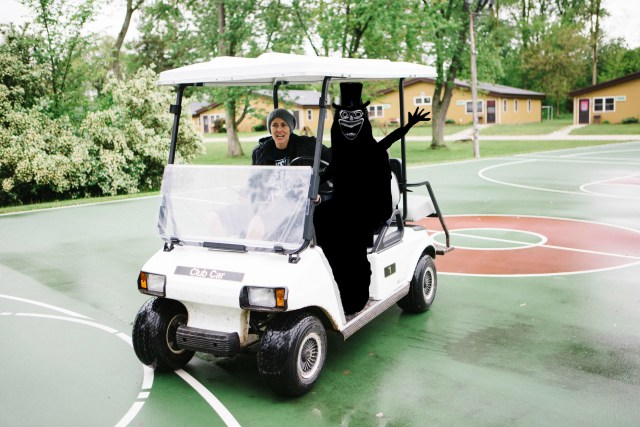 When he wasn't manning the accessibility shuttle, Babadook took our Program Support guru Megan O'Grady on a scenic tour of the campgrounds. She looks positively delighted.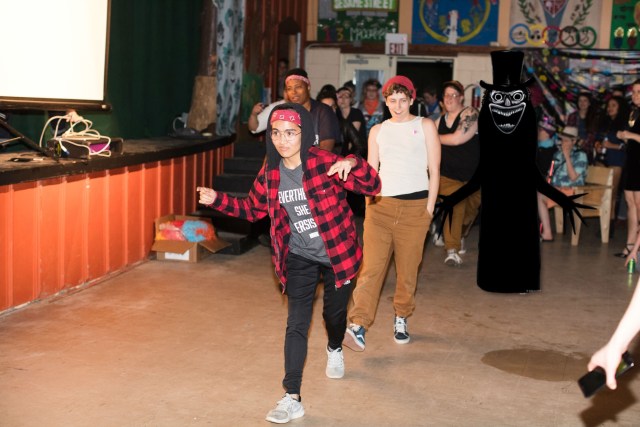 Who could forget the Babadook's classic performance with the masculine of center dance team as they writhed around to "Pony" by Ginuwine? I'll never be able to listen to that song without thinking of him ever again.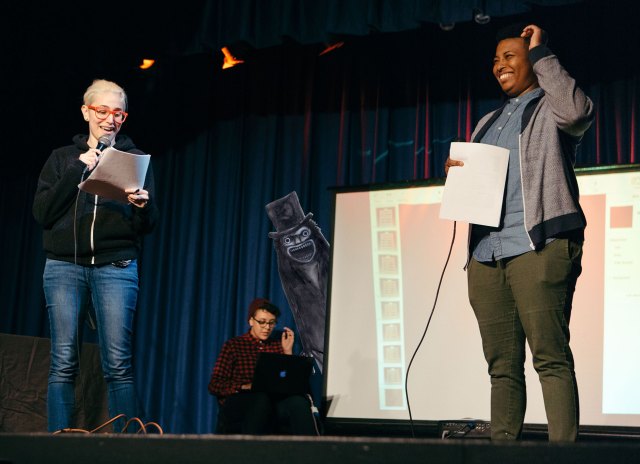 Special Programming Director Carly Usdin sent me this snap of the Babadook helping her set up production for Brittani Nichols and Gaby Dunn's game show night. He ran lights for most of the evening activities.
Still, my dude found the time to participate in game show night, even slithering onstage for an amazing lip sync rendition of "And I Am Telling You" with resident Autostraddle artist Alyssa. These two set tongues wagging when they were later spotted leaving Klub Deer together in what my sources tell me was an "intimate embrace."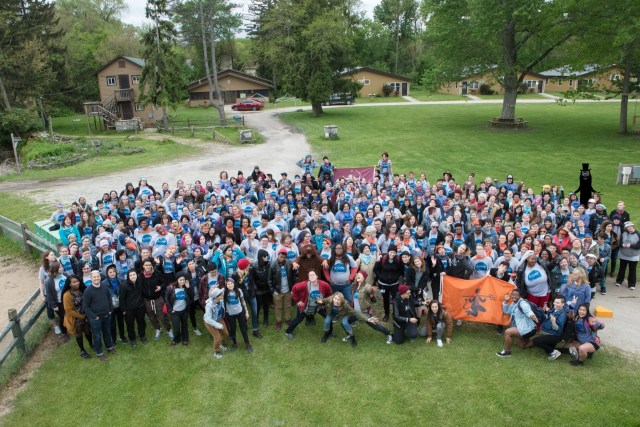 At the all-camp photo, Babadook stood in the back so he wouldn't block anyone else. Always super considerate, that guy.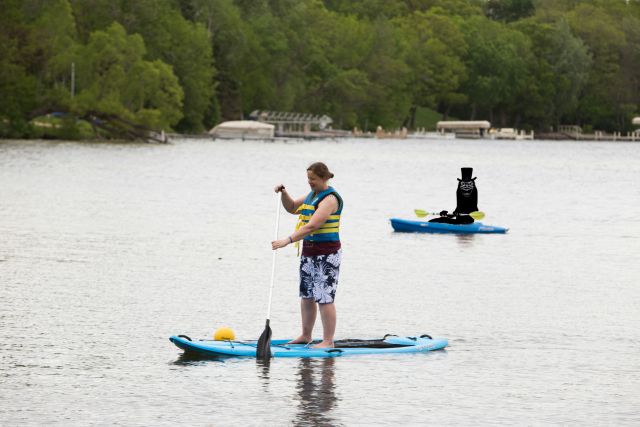 Babadook turned out for Autopaddle, taking a kayak out for a peaceful, reflective solo spin around Lake Beulah.

"I'M RIGHT OVER HEEEERE, WHY CAN'T YOU SEE ME, OOOOHHHH…" On the last night, Babadook showed off his more hidden talents by singing backup for the A-Camp Family Band – here, he performs Robyn's "Dancing On My Own" with fellow queer icons Alaina Monts and Mara Wilson. He really brought the house down!
If you have any other special memories with our pal the Babadook, please feel free to share in the comments.