29. Kristan Clever, Crossfit Athlete (Los Angeles, CA)
---
28. Amanda Moore, Model
"People tend to have this image of what gay is, especially when it comes to women. Just because I choose to love women and don't dress the part of a model doesn't mean that I'm not very good at what I do."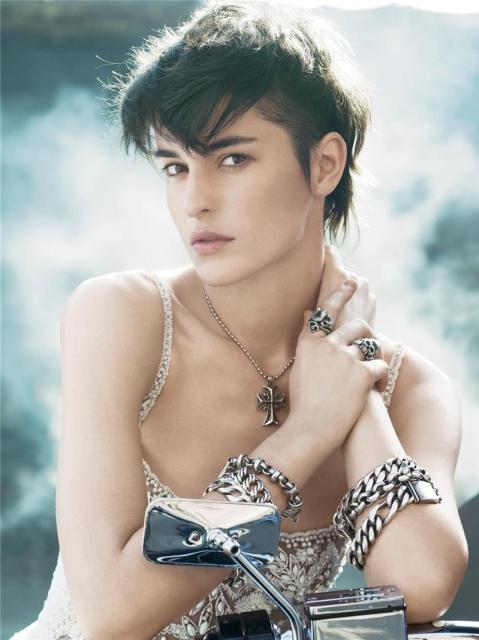 Amanda Moore wanted to be a basketball player. She grew up in a military family and attended high school in Florida and was eventually spotted when she accompanied a friend to a scouting event. According to Models.com, when Moore walked into the room at a larger event in Orlando scouts had convinced her to attend, "that face, when it walked into the room… made jaws, pencils, and all reserve simply drop. Agencies by the dozen clamored to sign her." Moore has basically been in all the fashion advertisements, walked all the runways for all the designers, appeared in all the fashion magazines and worked with all the photographers. In 2003, she appeared in New York Magazine's Sexiest New York Couples with her then-girlfriend, ex-Vogue staffer Kate Young.
---
27. Dalia Ali Rajah, Actress, Writer, Film/Internet/TV Producer, LGBT Activist & Life Coach (Los Angeles, CA)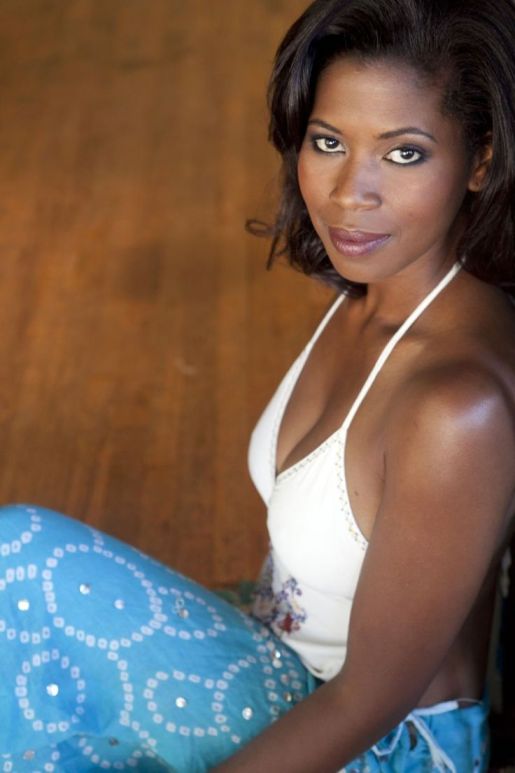 Dalila Ali Rajah, who you might recognize from the AfterEllen and SheWired webseries Cherry Bomb, where she talked about sex with other lesbians on the internet! Rajah has been performing since she was a kid, attended Spelman College and then an MFA in acting from California Institute of the Arts. She's also a spoken word and published poet and a professional Faerie Card reader.
---
26. Be Steadwell, songstress filmmaker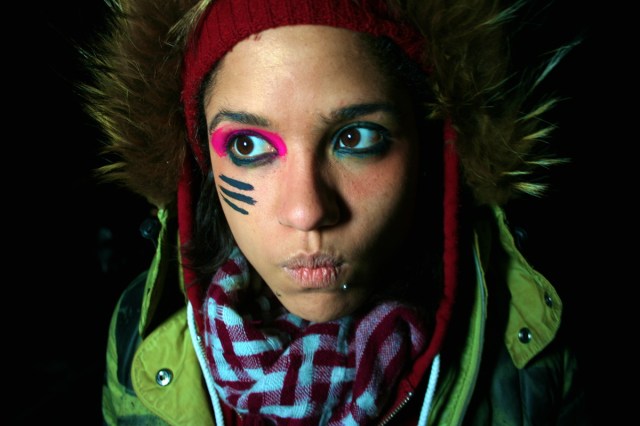 via besteadwell.com: "Be Steadwell is a pop and soul singer songwriter from Washington DC.  Redefining the love song in a modern context, Be's music is simple and infectious with an edge.  Be utilizes vocal layering and beat boxing to compose her songs on stage; captivating the audience with elaborate harmonies. Be is currently recording her third self-produced album and touring internationally. In addition to her solo endeavors, Be is a singer MC in queer pop group The Lost Bois.
Be's passion for music and music video production inspired her love for film.  Be has experience in cinematography, scriptwriting, and directing.  Be's films have been featured in festivals internationally including the Queer Women of Color Festival in San Francisco, the International Black Cinema Festival in Berlin, and the LGBT Video Festival in Toronto.  Be currently attends Howard University, completing her MFA in Film."
---
25. Cristy C. Road, Artist & Writer (Brooklyn, NY)
autostraddle interview // website
"Growing up happens within each heartbeat. We can't bestow, let alone understand, our changes, although they trigger our every gesture. We learn a lesson from every mistake, every apology, every assumption at love, every new friend, every lost friend, every reconciliation, every death, every bout of belligerence, every bad decision, every kiss, every fuck, and every failed attempt at starting that stupid punk rock band. And while we abandoned the idealizing of adolescent outcast culture, a harmless identity was still, never meant to be. And it wasn't invincibility, but we were surviving outside of those conditions we had fought off for years. In the end, we remained poised while doing what we were never meant to do. And people often told me that teenagers were never meant to love themselves." (via indestructible)

via croadcore.com: "Cristy C. Road is a Cuban-American Artist and Writer. Blending her political principles, sexual identity, and social inadequacies- Road lives to testify to the beauty of the imperfect. Her endeavors in illustrating and publishing began when writing a punk rock zine, Greenzine, for ten years. This eventually included narratives on race, gender, and eliminating oppression the punk and activist communities. She resumed to illustrate countless record album covers, book covers, political organizations, magazine articles, and more. Road has published an illustrated novel about high school, mental health, sexuality, and Miami entitled Indestructible, a postcard book entitled Distance Makes The Heart Grow Sick and Bad Habits, an illustrated love story about healing, drugs, gay nightlife and her telepathic connections to the destruction of New York City. Road's work has also been featured in the Baby Remember My Name: New Queer Girl Writing Anthology, Live Through This Anthology, Reproduce and Revolt, and countless other published works. She's toured nationally and internationally on her own, and with Sister Spit, an all-queer spoken-word road-show. She is currently working on a tarot card deck with Author, Michelle Tea, and her band, The Homewreckers. Her latest novel, Spit and Passion, a graphic novel about coming out, maintaining her Cuban cultural roots, and an obsession with Green Day was recently released this last fall. She hibernates in Brooklyn, NY."
---
24. Skyler Cooper, Actress (San Francisco, CA)
Skyler Cooper recently appeared on a very special episode of RuPaul's Drag Race with Julie Goldman and has also been featured in movies including The Owls, Insomniacs and Elena Undone. She's currently working on producing the short film Hero Mars, which she also stars in, about the "limitations of gender conformity and gender stereotypes from my experience as an androgynous person in the arts."
---
23. Brandi Andrews, Makeup Artist (Los Angeles, CA)
---
22. Judith Butler, Queer Theorist (Berkeley, CA)
tag // facebook // EGS page // judith butler 101 // books
"Let's face it. We're undone by each other. And if we're not, we're missing something. If this seems so clearly the case with grief, it is only because it was already the case with desire. One does not always stay intact."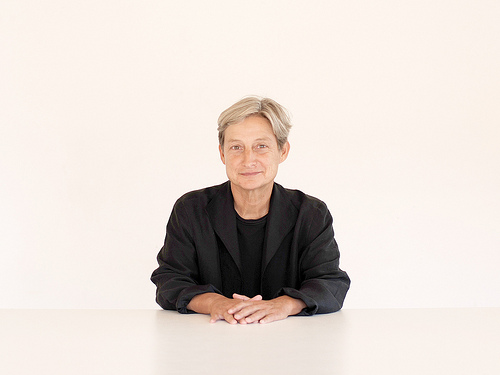 Judith Butler is Maxine Elliot Professor in the Departments of Rhetoric and Comparative Literature and the Co-Director of the Program of Critical Theory at University of California Berkeley, a graduate of Bennington and Yale, and the author of the groundbreaking work Gender Trouble: Feminism and the Subversion of Identity among many other books. She's also a passionate anti-war activist, a Jewish Voice for Peace, and the recipient of the Andrew Mellon Award for Distinguished Academic Achievement in the Humanities.
---
21. Jade Ellis, Singer & TV Personality, The X-Factor (The UK)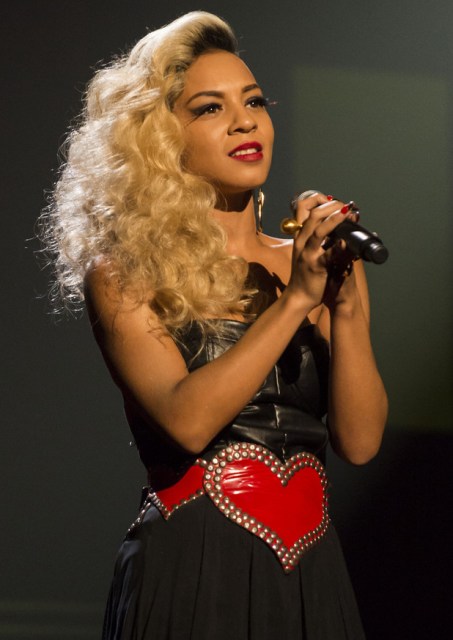 Jade Ellis totally called out The X-Factor UK judges for kicking her off the show despite her awesomeness: "I don't think the decision on Sunday was based entirely on the sing-off. The judges were thinking about their own acts. I believe I sang that song to a really high standard. The vote could've been tactical." In September 2012 she told the press that she'd been raising her six-year-old daughter with her partner of six years, Heba Elgam.
---
20. Elena Anaya, Actress (Spain)
Anaya's been acting since 1995 and is perhaps best known stateside for her work in Pedro Almodóvar's films Sex and Lucia, Talk to Her and The Skin I Live In… or for playing one of Dracula's brides in Van Helsing… or for her spot in Justin Timberlake's SexyBack video. Or um, Room in Rome.
---
Pages: 1 2 3 4 5 6 7 8See entire article on one page