TEN: An Interview Series
Ten questions with QTPOC community leaders, activists, artists, musicians, and others who inspire.
FCQ's Heidi Andrea interviews Cristy Road on her art, politics, and the complexities of the closet.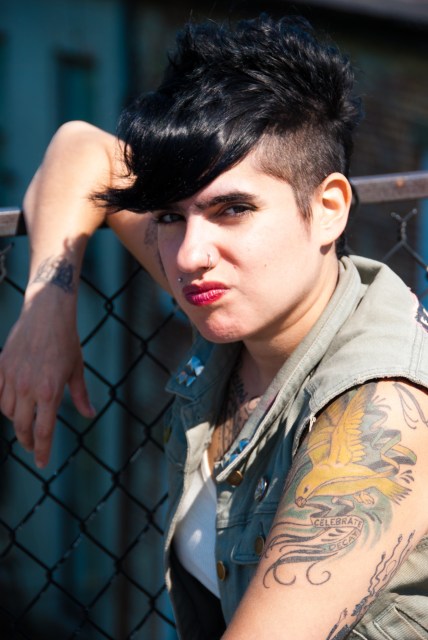 You mentioned that since I last interviewed you in 2005, a lot has changed about your politics. Can you say more about what direction your politics have taken and how that has affected your art?
C: Well, I'm 30 now and I think that people just grow and become less idealistic cause of challenges we face. I think that I had a lot of community-oriented goals, and I had a lot of stress as far as compromising my identities (queer, Latina, punk); so these utopian visions on punk and queer communities were not really something I could pursue, without falling into a trap or deep isolation. I think that what I've learned is that I need to follow movements that honor the things I care about, but also the things that I identify with. I got tired of feeling like the smelly punk as opposed to the sassy Latina — I found that feeling balanced, without compromising any of my identities, required this rigid critique of mostly-white queer communities, as well as mostly-male punk rock communities. A lot of my politics and communities have made me feel isolated and unsafe, so forming these connections over art and politics now requires an additional connection through trust and cultural collaboration.
Your new graphic novel, Spit and Passion, specifically addresses the issue of coming out as a person of Cuban ethnicity living in the United States. What has this meant for your own growth as a person, an activist, and artist?
C: The general idea of being in the closet is what urged me to find an alternative world; aside from my family/Cuban community and Miami in general. It was difficult to find other gay people who felt completely discomfited and had no interest in assimilating towards mainstream/straight culture. And although punk was heavily straight— it also paraded around "outcast" culture; and my discovery of punk included the discovery of a hugely queer punk scene in San Francisco/Oakland, CA. So basically, this inability to be out and this desire to exist somewhere outside of what I knew additionally sparked my interest in raising political and social awareness around gender and sexuality. That experience has snowballed through the years; urging me to raise additional issues of race and class. Of course it took a billion years of developing my art and my political aspirations, as well as challenging my occasional stints with burnout and self-hate, to fully merge all of my political values and articulate them in writing. In Spit and Passion, I don't even come out— the goal of the book is to shed light on the experience of choosing to stay in the closet because of the compromise I'm hesitant to make with my ethnicity. I eventually came out to my family when I was about 25. I realized all the reconnections that came before that were these subconcious actions designed to feel closer to my culture. Growing out my hair, getting a bunch of family-related tattoos, and eating meat and the food I ate growing up were all totally empowering and helpful tactics; but also completely redefined once I came out. As soon as I felt fully out and safe; I definitely started cutting off all my hair again (very gradually); but with a much larger awareness of gay visibility as opposed to "punk visibility"; which was my excuse for cutting off all my hair at 14. I must say that things feel pretty balanced now; despite the quirks and awkward dynamics that will always be there…
Your website's description of Spit and Passion describes it as a "graphic interpretation of a queer punk Latino (accidental) 'It Gets Better' campaign; in order to shed light on the painfully unwarranted and sometimes demonized experience of staying in the closet." I think as people of color, when we are in the closet, we often face a very white homonormative insistence around what 'coming out' is supposed to look like, and without larger networks of support, many of us struggle to figure out what that process should be for ourselves in the context of our own cultures, families, communities. Does your work confront this specifically, and how?
C: My work has always documented that disconnect, and how the most distinct things like finding a punk scene, to healing from abuse, are all connected to the insecurities that came from holding on to a culture that was only mine; while holding onto a queer identity that I seemed to share with a whole community of mostly-white people. Spit and Passion feels like a solid culmination of not just this process, but also the healing and closure that I came to feel, around the time I turned 27, when I finished taking these steps towards balancing my identity (eating meat, growing out my hair, looking like a femme quinceañera, getting a lot of family tattoos– to name a few).  The most important result of all this reconnection was coming out to my family; which was a long drawn out process that started at 25 and felt complete around 26/27.  I came to see coming out as an adult as valid and real, as oppose to cowardly or internally homophobic, by connecting with other people who had a similar story, whether it was due to their ethnicity, or just fear itself. Spit and Passion accidentally became this homage to the closet; and I was really happy with that route the book took; because it really sheds light on this Latina experience (of holding onto culture) as oppose to just the experience of being queer and scared.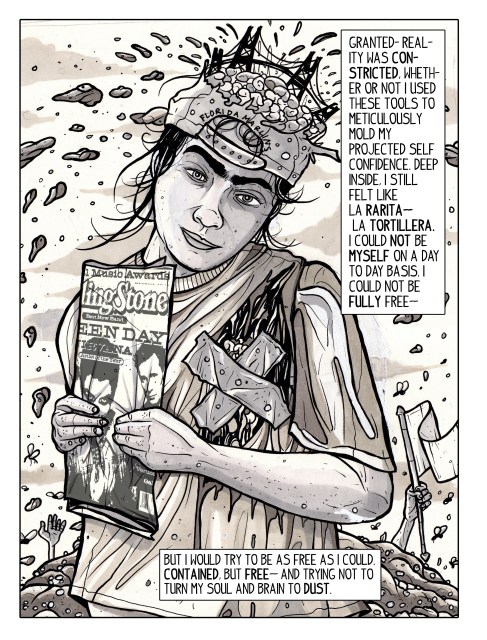 How has your Cuban family responded to your work, to Spit and Passion?
C: They are into it! We've all done a lot of growing up between my coming out and now.
You are also working on a Tarot deck with Michelle Tea! What themes are organizing this deck politically and creatively?
C: Since this project has less restriction and more of an artistic flow, I've had a lot of freedom with this project. There are a lot of references to queer culture, punk culture, and I get to stay in tune with my aesthetic: A lot of slimy things and dust and Ren and Stimpy-looking color schemes and facial expressions; and definitely a bizarre post-apocalyptic vibe. It's all pretty trippy— but at the end, I think there is an all-encompassing theme focusing on queerness, dismantling gender norms, and a big fabulous sparkly party full of weird birds and creatures and rats and skulls.
What deck do you usually use for readings yourself?
C: Pamela Coleman Smith! I keep it traditional and simple…. I want to get a CAT PEOPLE DECK, Though.
Your online bio also describes you, saying, "She thrives to testify to the beauty of the imperfect." What does this mean to you and how has being a QPOC contoured your relationship to the beauty of the imperfect?
C: I wrote that a long time ago, and I think that at the time, I was aware that I would somewhat romanticize struggles and challenges in order to cope with them or, better yet, embrace them and get power over them. I did that with art and songs, etc. But as I've gotten older, there's been an outside perspective that's described my art as dirty or worn out looking (texture wise) and just generally sad and stressed out; but also decadent and enthusiastic — I didn't realize I was doing this by adding little dots on everything — that's just how I see the world and how it comes out on paper.
What do you listen to while drawing?
C: Oh, I don't even know, I have so many moods and I work to anything I like listening to— lately I got really into this band Lipstick Homicide and I'll just listen to the album over and over. But I also will spend a whole day on something and don't really want to think about changing the music; so I end up listening to so much latin radio like la mega… I get really into reggaetón and pop and the combination of that and I get really motivated.
Name three QTPOC folk who inspire you deeply, who are your heroes.
C: Leah Lakshmi Piepzna-Samarasinha, Osa Atoe, Reinaldo Arenas — this is so hard, I want to name all of them
Can we talk about rage for a moment? I think as people of color, and as queer, and/or as transgender, our rage is often seen by society as an individualized problem, as a pathology, rather than an effect of a traumatic capitalist, racist, homophobic and transphobic world around us that we are incessantly contending with. So much of your art depicts rage and trauma, as well as survival and hope through it; as does a fair share of punk music. What are ways you see these mediums opening up space for our rage as a political practice and as a conduit for healing?
C: I see it in spaces where accounts of our struggles are shared and received with a lot of warmth and attention. There was this reading series called Ruckus that hosted QPOC performers and I definitely felt one of those deep healing moments when I saw Leah Lakshmi Piepzna-Samarasinha perform there. I think that as far as punk goes; it has been challenging to feel like our rage, as QPOC, is as important as fighting capitalism or the police state– but when it happens, it happens in a deep and profound way. When I was on tour with RACE RIOT! and the POC Zine Project there were POC punk bands every night following the zine readings; and I seriously had never felt such an intense affirmation that a community exists, even if we are spread apart so vastly (politically, artistically, socially, etc). I think we just need to continue creating these forums if were able to, and supporting them if we're not [able to create them].
---
Cristy C. Road is a Cuban-American Artist and Writer. Blending her political principles, sexual identity, and social inadequacies- Road lives to testify to the beauty of the imperfect. Her endeavors in illustrating and publishing began when writing a punk rock zine, Greenzine, for ten years. This eventually included narratives on race, gender, and eliminating oppression the punk and activist communities. She resumed to illustrate countless record album covers, book covers, political organizations, magazine articles, and more. Road has published an illustrated novel about high school, mental health, sexuality, and Miami entitled Indestructible, a postcard book entitled Distance Makes The Heart Grow Sick and Bad Habits, an illustrated love story about healing, drugs, gay nightlife and her telepathic connections to the destruction of New York City. Road's work has also been featured in the Baby Remember My Name: New Queer Girl Writing Anthology, Live Through This Anthology, Reproduce and Revolt, and countless other published works. She's toured nationally and internationally on her own, and with Sister Spit, an all-queer spoken-word road-show. She is currently working on a tarot card deck with Author, Michelle Tea, and her band, The Homewreckers. Her latest novel, Spit and Passion, a graphic novel about coming out, maintaining her Cuban cultural roots, and an obsession with Green Day was recently released this last fall. She hibernates in Brooklyn, NY.
Heidi Andrea Restrepo Rhodes a  U.S.-born and raised, Queer,  Feminist, Crip, Colombian, scholar-activist, writer-artist, and community organizer currently living in San Francisco, California. Trained in sexual health education, anti-oppression and social justice research and organizing, her commitments include advocacy-based research on State Violence in Colombia, as well as creative justice endeavors through photography, prose, poetry, and performance addressing issues relevant to Queer, Trans, and People of Color communities. She is a co-founder of FCQ! (For Colored Queers), a QTPOC-centered community-based project, and is committed to growing spaces of community justice and healing through scholarship, radical politics, and the arts. She is also the singer in a latin acoustic group called 'Casi Pájaros'. Her work has been seen at San Francisco's SomArts, the Mission Arts and Performance Project, the USF Creative Justice Art Show, and the U.C. Berkeley Multicultural Center's Queer Diaspora Exhibition. She is currently co-producing FCQ's evening of performance 'REVERIES AND RAGE: On Colonization and Survival', and has upcoming work in the MRQFZine.
FCQ! (For Colored Queers) : www.fcq.tumblr.com and www.facebook.com/fcq.qtpoc