Welcome to Oh Gay Cupid! Autostraddle's OkCupid series. We get lots of questions on Formspring regarding online dating, so we finally got a bunch of people together to talk about it. While OkCupid isn't the only online dating site for queers, and maybe isn't even the best, it does seem to be the one we use most often. We'll be discussing all things OkC, including meeting friends, first dates, profiles, fuck-ups, letdowns and more. Even though it's the 'OkCupid Series,' the advice given in this series could easily be applied to any online dating site.
 Oh Gay Cupid! illustrations by Rory Midhani
It's Friday! Do you have a date tonight? Do you want a date tonight? Why don't you get on your computer and find one? If you're anything like my neurotic self, getting an online date requires two days of meticulously editing your profile, two months of cherry picking your city's offerings, two weeks of nonchalantly bantering back and forth with your potential date and two hours of debating the merits of the city's different beverage slingers. Which is all well and good if you want to meet someone before the end of 2013, but tonight is Date Night! You just don't have time for that shit.
So what if you were to throw out all of your preconceptions of How to Properly Meet Someone and actually just met someone? Like saw a stranger across the internet and asked them out on a date without knowing their Google search history? A little more A/S/L and a little less "Will you teach your children to believe in Santa?" I'm a bit ashamed to admit how many profiles I've skipped when I saw they liked a movie I hated, were not as enthused by food as I was or were "too into" politics. You and I have an arbitrarily metered match compatibility of less than 98%? This shit's never gonna work!
There's something to be said for a bit of mystery and that's exactly what Crazy Blind Date is trying to embrace. CBD is OkCupid's foray into the world of instant mobile dating. Fuck crafting the perfect profile. See a person? Meet that person! While Grindr has the market cornered when it comes to gay male mobile hook up apps, there is always room for improvement when it comes to the ladies.
CBD was designed with women in mind, but what does that mean? Is it pink? Does it sparkle? Will it dispense chocolate and Kleenex if I get stood up? Well yes, there are parts of the app that are pink and there is a confetti-like motif on some pages, but sorry, it isn't that perfect. It just takes a different approach which you'll discover soon enough. As with all great things, you have to start somewhere.
Step 1. Craft that Profile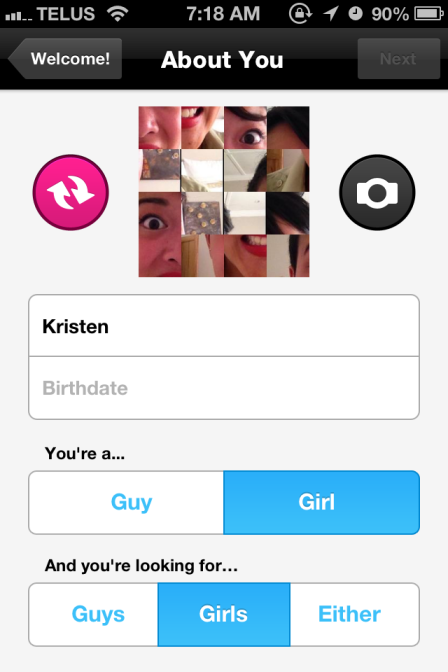 Four questions. You can handle four questions. Especially when one of them is, "What's your name?" (Please don't overthink that one.) Just like the OkC interface, it'll respect if you're only looking for ladies.
Step 2. Know your schedule.
 Are you scheduled to be bored tomorrow? Okay you could go on a date instead.
Step 3. Know Your Area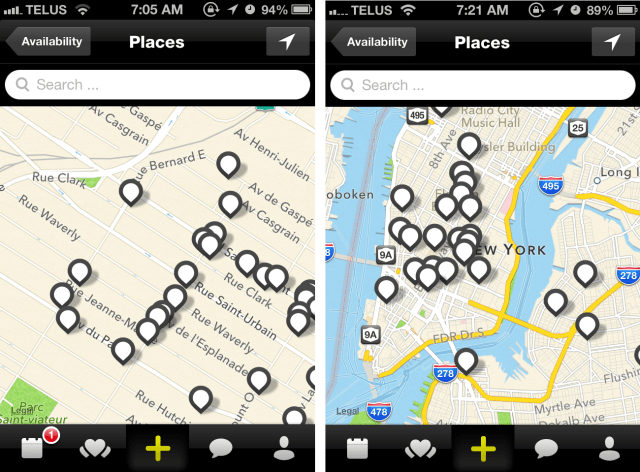 Pick your favourite venue and suggest a date there. You can also suggest dates in other cities if you're going to be travelling in the upcoming week.
Step 4. Get a Date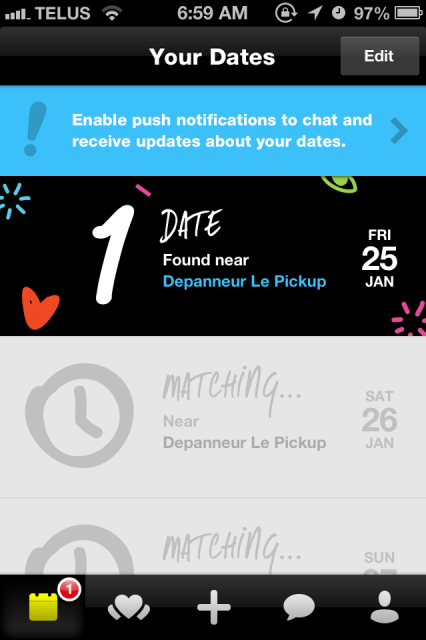 The app'll let other date-seekers in the area know that you're available. Both of you feel like coffee on a Tuesday? Score! Start a chat an hour before you meet up to ensure neither of you will flake and you're good to go.
Wait this app sets you up with a random stranger? That sound sketchy as fuck! 
Hold up unbeliever, let's hear the app out for a second. When CBD keeps ladies in mind, it's trying to think about safety. Even though you don't know a lot about the person you're going to go on a date with, you'll know a bit about where you're going. CBD utilizes FourSquare's resources so you/they can only suggest dates at frequented locations. When you're choosing your venue, simply click the > to access its FourSquare entry and verify that you are indeed going to a cafe and not Hal's Back Alley Murder Emporium.
Pulling yet another page from FourSquare's design, you get to review your date and the app when it's over. Did you meet The One? Were they actually a fifty year old man? Were they worthy of a second date? You have an opportunity to give a monetary Kudos to the app for a successful or not-so-successful date. But just like your well-meaning great aunt gets offended when you won't consider going on a date with the wonderful boy she met on the sidewalk, CBD gets in a bit of a huff if you ignore its offerings. Turn down too many dates? Refuse to acknowledge that it helped you find a winner? You'll notice that the "Available Dates" gets less and less populated. However, if you treat it nicely it'll keep setting you up and hopefully find a decent date.
In the spirit of getting things done, the app puts a lot of time limits on you. It will only let you schedule dates for the upcoming week. It'll only let you chat for an hour leading up to your date.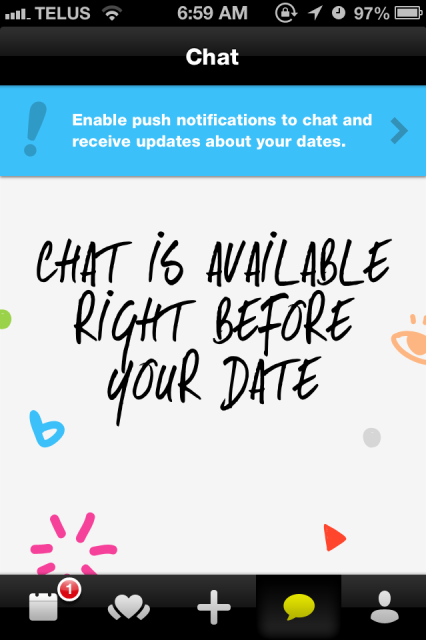 In a weird feat of technology, this app actually manages to get people to meet offline. While that sounds like a lot of pressure, it's a bit of a comfort to an overthinker. You simply don't have the opportunity to psyche yourself out of a date. You can't spend forty minutes a day crafting a witty yet thoughtful response to, "What's your favourite colour?" You also can't go into daydreaming overdrive and create ridiculously inflated expectations of them based off of their witty yet thoughtful responses. Y'all just get to be yourselves.
Given that it's such a fussy app, will it work? Excuse me for a second while I put away my matchmaking crystal ball and pull out my fortune telling crystal ball instead. CBD has an advantage over mobile dating apps since it can piggyback off the success of OkCupid. You can skip the five steps you took in crafting your CBD profile and use your OkC one instead. The apps are connected to one another, allowing you to choose how you'd like to meet someone that day. Feel like a game of forty questions? Open up OkC. Just wanna share popcorn with a stranger? Open up CBD.
If the idea of meeting someone and talking to them one-on-one still sounds too weird, CBD may not be for you. If you'd rather head to a gay bar and hope you meet someone on the dance floor, you can still use technology to find that party. But either way, you'll still have to suck it up and start talking to someone if you ever expect to find that date.
Hopefully that doesn't sound too crazy.