Modern society is a lazy, impatient beast. We want instant gratification for very little work. The mobile dating app sector isn't any different; Skout, Badoo, MeetMoi, Zoosk and Grindr are flying off the proverbial shelves of the App store and Android market. The Washington Post cited a Flurry Analytics report, saying that "the number of people using dating apps is growing faster than the number using all apps." Juniper Research predicts the mobile dating apps will be worth $2.3 billion by 2016. As people become busier yet still want to make connections, downloading an app and chatting during a commute makes sense.
Grindr is the big daddy (sorry) of gay mobile dating apps. In a press release on its third birthday, Grindr boasted 3.5 million daily users in over 192 countries. Few dating apps have made international headlines when they went down, but Grindr sure did. Following its success, developers have flooded the m4m mobile market with specialized apps such as Mister, "Scruff, u2nite, iDate, SpeedDate, Hornet, SLAM, nearox, ManCandy, Gaybook, Purpll and Adam4Adam." In fact, OutMilitary just released their mobile app earlier this week.
All those gay apps out there makes it seem that the gay agenda's taking over the mobile market. But not so fast there, speedracer. These explosive stats aren't echoed in sapphic dating apps in the slightest. I'm only one among many who've asked where our apps are for the past year. As Brittani noted, Grindr attempts like Qrushr have disappeared and failed to fill the void.
So what's happening here? Like all social media, if the trend isn't broadly adapted it'll fail regardless of its ground-breaking technology. Remember Diaspora? Or Google+? Chances are you don't. Even though they were supposed to let us flee the dreaded FBook, they never gained enough traction to start creating converts. (The torch lies with you App.net!)
Even though Grindr is advertised as a way to hook up with random dudes down the street (or in the alley or at a cafe or at the Olympics), it really is a bit more than lightspeed CL personals. As a mobile app, it gives people a better sense of who's around them. Grindr use has become such an everyday thing that guys feel comfortable whipping it out (that's what he said) over coffee or beers or brunch.
Does mobile community and digital gaydar sound like something queer women want? Hansen valiantly offered to help me try our app offerings.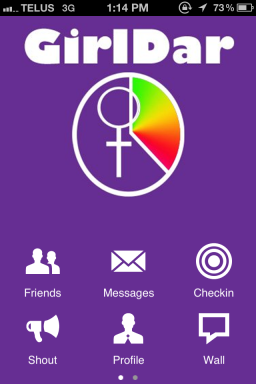 GirlDar was released earlier this year, championing itself as a way to "connect queer women for networking and friendship purposes." Hansen, Ali and I downloaded it last month and in terms of functions, it's remedial at best — it's just a wall. Krysten, the developer, has repeatedly posted that it's still in its infancy and needs the support and patience of its members. In July we held off on criticizing it and decided to see how it grew. As of today it has 100-500 downloads in Google Play.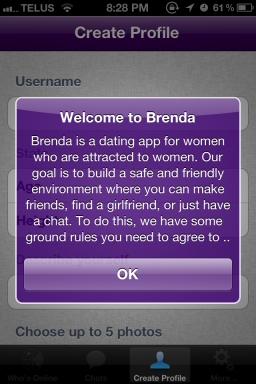 One app that has kicked around for a while is Brenda. It has an intuitive user interface and makes a point of emphasizing the app as a safe space for queer-identified women to chat with others. The users on Brenda seemed pretty happy with what they had, but really there just weren't that many people using it. Pink Sofa is an Android app that seems to be working out, but again, there aren't many people on that couch. They are both great for talking to queer ladies in faraway lands, but if IM-ing locals was what brought you to the app store in the first place, in their current incarnation these apps aren't doing the trick.
Apps like LGBT Chat and Lesbian Chat are just chat rooms, bringing all the discomfort of 2001 Yahoo chats to the convenience of your iPhone.
So what's left? Hansen and I looked at some of the apps that the Washington Post and NPR say are revolutionizing relationships for men and women. Although these apps are primarily getting straight strangers to talk, some are supposedly throwing us a bone. We hoped that these popular social networking/dating apps might house the ladies missing from the queer apps. Keeping in mind that these apps weren't designed specifically for us, I gave their binary nomenclature a pass (for now). We looked at the apps for ease of use, word choice, required sharing, filtering abilities and whether they actually let us find queer women in our area. Oh, and they had to be free. I was definitely not paying for this.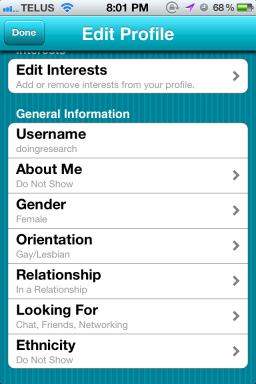 Blendr lets you "make new social connections and meet people who share your interests or background and like to visit the same places you do." You like Chinese Food? I love Chinese Food! We are going to talk about so many things! I was drawn to this app since it lets you clearly state straight, gay/lesbian or bi. Besides your name and gender, you choose exactly how much you'd like to share.  Going through a checklist of pre-defined interests, you can hopefully find people with common ones.
We quickly realized the orientation admission was for naught. The chat options displayed everyone based on interests, regardless of who you wanted to talk  to. As I checked out profiles, I realized it displayed your orientation in the same way you may profess your love of Walking. So if you're planning on just talking to people for the sake of talking to people, this could work; but to specifically seek queer ladies, not so much.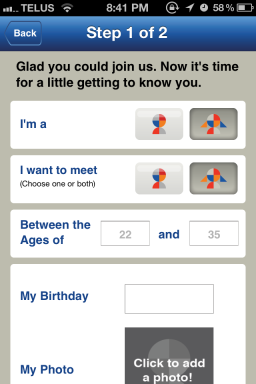 MeetMoi "turns every occasion into an opportunity to connect with the people around you." Every occasion? That sounds promising!
At least this app asks if you're a girl or a boy and whether you'd like to talk to a girl or a boy. Its design is comparatively plain and some of the menu buttons annoyingly switch locations. You build your profile (or sign in from Facebook) and specify your ethnicity, height, body type and education. It's "the #1 app in making introductions to great people nearby" which is great in theory, but fell flat for me. If two nearby people are interested in one another, they get to share an hour long chat via an Intro. If no one wants to talk to you then you're out of luck. Alternatively, you can pay for the privilege to talk to someone from the Browse menu. Honestly, I'd rather spend $7.99/month on Nutella than pay to chat with faraway strangers; I can do it here for free! 
Skout lets you "find your party anytime, anywhere." I love anytime parties! The interface was clean and, although it was slow, it seemed to work pretty well. I spoke to a few ladies (generally from further away) that seemed to like it. When I was looking at the Meet People, it actually showed ladies that wanted to talk to ladies (or ladies and men). Given my luck with the past apps, this made it stand out. It also messages users to contact newbies so you don't have to stay a wallflower forever.
One of Skout's major downfalls was that men could see or message me even if I only wanted to speak to women. Although they weren't showing up as one of my options,  I was showing up as one of theirs. The mobile harassment issue has definitely come into play, so I asked other users what steps they'd taken to identify who's actually on the other side of the screen. One girl suggested becoming friendly with the block button and another suggested asking the user to send a photo with today's paper if identities were in question.
When asked if anyone would use these in a Grindr-like capacity, few people were down. Most preferred it as an instant chat instead of a quick introduction before an offline meeting. Some liked the relative anonymity and used it when they just wanted to talk to someone. Others used it when they were bored. A few said they managed to make friendships that eventually entered the real world. Queer women shying away from instant hookups (digital or not) may just be a fact for now, and there's nothing wrong with that. However, for the lady that simply wants to talk to other queer ladies in her area, we're moving in the right direction.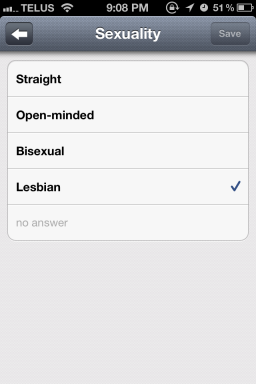 Badoo "is great for chatting, making friends, sharing interests, and even dating!" As the last app that I tested, I found that it managed to miss the pitfalls of the other apps. Since it is popular (158 million users worldwide ) they have the money to design a slick app. Again, you can link it to your FBook profile or build one up independently with as much information as you're comfortable giving (including orientation). Most importantly, when you choose to talk to women, you can actually talk to women. For the time I was on there, I didn't have a single guy message or view me which really says a lot.
Obviously, there aren't any perfect options out there, but of the ones available, some do have potential. If you like a particular app, why not spread its name? Developers will pay attention to the needs of queer ladies if they comprise a significant part of the user base. For all we know, one of these apps will take off soon, so instead of lamenting the lack of lady-Grindr next year, we'll just say, "There's an App for that!"