Esther Zinn is an app extraordinaire and freelance media professional who grew tired of googling for hours on end to find the queer events in every city she visited. So rather than doing what the rest of us might do (complaining to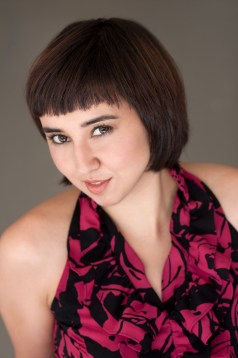 our friends while knitting in our favorite queer vegan coffee shop), she decided to make her own iPhone app to solve the problem (that way, we can have favorite queer vegan coffee shops in up to 25 major cities!). I caught up with Esther to ask about this new app magic, SheSeek. She had some fun tales to tell, from creative endeavors fueled by popcorn, to lesbian bars rated with gold stars to her motivation behind developing SheSeek (I'll give you a hint: Esther is really big on building both local and national communities).
Can you tell me a little bit about what SheSeek does? How does it work?
SheSeek is a location-based app for LGBT-identified ladies which allows them to find the nearest clubs, bars, and fun events near to them in 25 major cities. It'll also have daily news and pop culture articles that are delivered directly to their smartphone, which makes it easy to find something to check out and stay connected to current events.
What was your inspiration to make SheSeek?
So last year I went on a trip with some friends to Miami. Despite a rigorous Googling, I couldn't seem to find any lesbian bars or club nights, so I found myself just walking through South Beach and asking people at places identifiable only with tiny rainbow flags in the window where the good places to go were. This happened again when I traveled to New Orleans and quickly found that all of the women's bars listed in the guidebook I'd brought with me had closed down years ago, so I had to ask people on Bourbon Street where the events for women were. It felt like I was in the prohibition or something and I kept wondering, why isn't there an easier and faster way to find events for women in other major cities? I remembered that when I came out 12 years ago, it was difficult to find out where to go unless you knew someone in the community, and it seemed a little silly that with the Internet and social media it isn't easier. I thought it would be so much easier, with the technology we have now, to just turn on your phone, touch an app and figure out where to go, rather than googling things for hours or having to ask people. And then I began to think about how I subscribe to a a few newspapers and magazines digitally, how convenient it is to get news sent directly to my phone, and wouldn't this be great if a resource like this could be available to queer women, too? I thought that a resource that would keep people effortlessly connected not only to their local communities, but to the national LGBT community as a whole on a device that they always have with them would be a great way to cooperate, stay united and work towards gaining equal rights.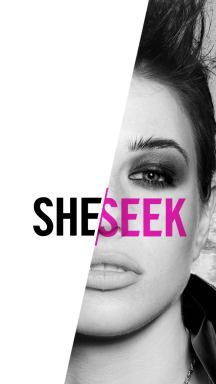 What's your favorite feature of your new app?
The other developers of SheSeek and I had a good laugh at some of the features over many brainstorming sessions (fueled by cupcakes and popcorn, of course.) If you search for something in your city that isn't currently there (like, say, a ladies night on a Tuesday) it will take you to an error screen that shows a confused man in his underwear saying, "Oops. We couldn't find what you were looking for!" Also, we had to come up with a system that shows users if a place is a lesbian bar all of the time, on certain nights, or if it's just an awesome place to check out, so we used a star system—lesbian bars are, of course, marked as gold stars.
Also, I spent about two months researching places to go in the top 25 cities that have the highest LGBT populations, and I tried to include places that help bolster community in places like, say, the southern states. I included places like local PFLAG chapters, to help LGBT-identified people who might be afraid to come out to their family or friends, and other places that host city or state-themed equality campaigns. I also included places like tasty vegan restaurants, or cute, queer-friendly places to take a date. Basically, I am really excited about the potential for the app to be used not only as a way to find out where the latest party is, but to help strengthen communities locally…because if we can work on building our communities, educating our friends and family, and staying informed, it will make gaining equality that much easier for us!
Fill in the blank: if you found out _______ was using your app, you'd squee.
Oh my God. I would die if I found out Lady Gaga was using my app, because I find 90% of her sex appeal is in her ability to be a unique innovator, and that's inspiring. Or Mila Kunis…my girlfriend is the hottest girl ever to me, but after her, I would say Mila is the second hottest.
On which platforms is SheSeek available?
Right now, the SheSeek app is only available for iPhone users, but if you have an Android, fear not! All of the same functionality (events listings, articles) will be available on Android phones via the official website.
What does the future of SheSeek look like? Anything you're hoping to add?
I know people have been asking for a very long time for a lesbian Grindr. Depending on how many people download this version of SheSeek, I am absolutely willing to consider developing something similar: a location-based feature that provides a way to "find and meet new friends." What other people define as "friends" will be up to them.
Tell me why Autostraddle readers will love SheSeek?
I've worked hard on making SheSeek really efficient, easy-to-use, and with a trendy look (because it's clear that Autostraddle readers love good design!) This will definitely not be yet another lesbian website that looks like it's a geocities page.
Is there a cost for all this magical appy goodness?
SheSeek is absolutely free! Enjoy.
---
Really like the idea of SheSeek? Isn't Esther awesome/sexy/really smart? I was so intrigued by Esther's interview that I went out and downloaded SheSeek – you guys, it's beautiful! She wasn't fucking around when she said it's not another Geocities page-esque website. I'm big on user interface, and the app and website are both smooth and lovely. I live in New York City and the app recommended Bluestockings, a bookstore that I'm absolutely in love with! This app has good taste, if I do say so myself.
When I went to check out the cities offered, I was surprised/not at all surprised/really ecstatic to find Asbury Park on there, being a Jersey Girl by origin. You can also find bars and events in Atlanta, Austin, Boston, Charlotte, Chicago, Dallas, Denver, Fort Lauderdale, Houston, Las Vegas, Los Angeles, Miami, Minneapolis, New Orleans, Philadelphia, Phoenix, Portland, Sacramento, San Diego, San Francisco, Seattle, Tampa, Tucson and Washington D.C. Basically what I'm saying is that I am super impressed by the scope of this. Some of the spaces are missing photos that you probably happen to have – if you have a photo of one of the recommended spots, just email editor@sheseekonline.com. In fact, Esther says that if you have a recommendation for a venue or event, you can email it to there as well.
Everyone ready? App downloaded? Website visited? Well then, let's go seek some she.