Hello and welcome to another edition of Autostraddle's College Lesbianage: a glimpse of college life through the wide eyes of six freshly fallen snowflake first-year queers. This month's update finds our Lesbianagelings finishing up their finals and heading back to their homelands. What have they learned about the world and themselves during this first semester of college?
---
Lillian
Vassar
The room was packed that night. I was in the front row surrounded by slam poet lovers, lost souls, queer identified folk and straight people alike. We all sat, talking loudly. My ears floated between conversations about the later evening festivities and the quality of the dining hall food which, as always, is followed by a sigh. And then she walked out onto stage. Andrea Gibson. She was dressed in a grey hoodie, black skinny jeans and sporting an alternative lifestyle haircut. If you didn't know any better, whether it is from lack of knowledge of slam poet culture or from insufficient Youtubing skills, you might have thought she was just any other average Joe/Joanna with an awesome haircut. But as soon as she opened her mouth and the buzzing of the crowd dwindled down to a murmur and then to silence, it was apparent that she was in no way ordinary.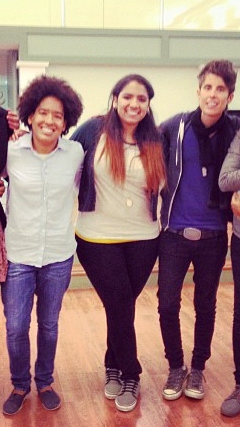 Her verses flung out at me like arrows, each one more poignant than the next. As she went down her set list, I began to soften. I let my guard down and allowed myself to take in her words. I had gone in with the intention of not becoming emotionally vulnerable but alas, I should have known better. She made me feel raw, inspired, worn, proud—basically all of the emotions. I don't know why I had tried to shield myself from those feelings but I felt a warmth in my stomach as I reconnected with them.
When the QCVC (Queer Coalition Vassar College) board and I were done stacking away the millions of chairs and rearranging the common room to its original state, we all congratulated each other and knocked on wood that nothing, absolutely nothing, not even the audio had gone wrong with tonight's performance. It was strange that all of the hard work we put in to bring Andrea here had actually paid off. And then it was just the QCVC board and Andrea and we were all feeling giddy. We stood around nervously and finally someone asked for a group picture. We huddled around her and snapped a photo or three followed by an impromptu hug. My night was made. Before she left we presented her a gift, a single skinny tie with black and silver lines darting down diagonally. As she left she thanked us for having her and she hoped to see us all again.
That was the night I met Andrea Gibson. In a way, her performance was cathartic for me, as most art should be, according to Aristotle. There was the release of all the built up tension from the week prior, but still I felt something else. It was a profound feeling of incapability. [Disclaimer: This is going to get super sappy, angsty, can possible be argued as #firstworldproblems or #liberalartsproblems. So if you want to avoid all of that, feel free to skip down a bit. If not, you've been warned…] To compare my feelings to those of a literary character, I'll say that in that moment, I felt like Raskolnikov (Crime and Punishment) who tried desperately to see if he was extraordinary like his acquaintance Svidrigailov. He failed to do so and it nearly killed him until he found God. It seems like I've been working all my life to achieve some mysterious possibly unattainable goal, to prove myself extraordinary though all I feel is an overwhelming averageness.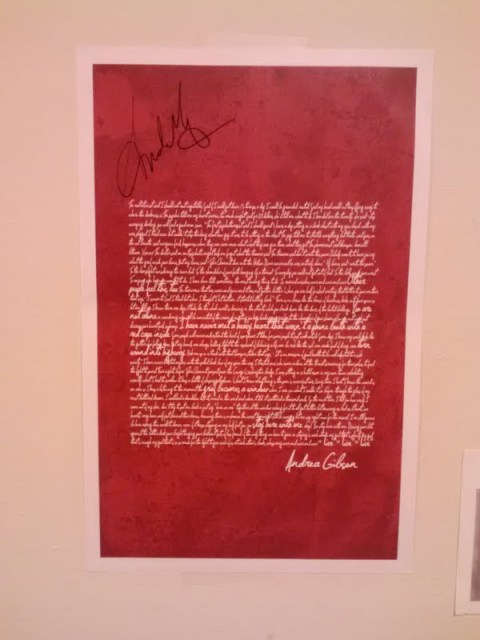 I bring Andrea into this because she got out of that ordinary life. At the beginning of her set she told us that before touring as a poet, she worked as a preschool teacher. Currently though, she is pursuing a life of the arts which I believe takes an incredible amount of will power. And I say this now because I fear that I will not be able to step out of myself and at least try, like Raskolnikov and Andrea, to see if I have what it takes. I fear that I won't raise my voice when I ought to and say what needs to be said, but Andrea reminded me that it's not over yet and I still have time to try. Sitting in my dorm room, plagued by the thought of my looming finals and the work I should be doing right now, the only thing I can do is listen to Andrea.
---
Sunny
Ithaca College
"Extra tickets?" We asked people as we walked up and down a long line that stretched from the Bowery Ballroom. My friend and I arrived super early to Tegan and Sara's NYC concert without any tickets, hoping we would be able to buy some before it started. It didn't hurt to stick around and try our best since we were already in the area. Literally one minute before the doors opened someone offered two tickets for the original price. It was heavenly and I was so ecstatic I could've cried. A shout-out to strangers in line who started our fantastic night: to the girl in the snapback who sold her $100 ticket for $40 to a mom who dropped her daughter off, to the girl who gave a dollar to a homeless man who serenaded her with Bob Marley, and to the woman who tried to find tickets with us and finally found some for all of us.
We walked into the ballroom and got a spot smack in the middle and up-close to the stage. It was the moment I'd been waiting for all my gay, gay life. Honestly, I could've just walked out right then and be completely satisfied. To be surrounded by a bunch of T&S lesbian fans all anxiously awaiting their appearance was enough. Everything went unbelievably smoothly, many thanks to a woman named Natalie who was taller than me and told me to stand in front of her so I could see properly. She also pointed out that Hesta Prynn and Emy Storey were on the balcony and we proceeded to predict what songs T&S would play based on their lined-up guitars. I also overheard a girl beside me ask a dad "so…the girl with your daughter…are they friends or?" It was hilarious. Overall, the night was amazing and I couldn't have asked for a better experience seeing Tegan and Sara.
I spent Thanksgiving in my dorm room watching Downton Abbey and eating Korean take-out. It was funny, knowing that there were other international students in my dorm doing likewise. Although I didn't engage so much with Thanksgiving, I did spoil myself with Black Friday. All for the better of course. I got a proper winter jacket, three Milan Kundera books, and an acrylic paint set. I plan to finish the Kundera books before the summer, considering how often I go to coffee shops and have perfect time to read. Here I am with the box of acrylic paint in the LGBT resource room:
I was recently working behind-the-scenes shooting footage and photos for Ithaca College's fashion organization. They worked on an Alice in Wonderland themed photoshoot and had a huge winter fashion show which I was gladly a part of. I loved being the little unnoticed detail running about with a camera in the hectic scene behind the stage watching models and wardrobe people struggling to get things done. I can only imagine what goes on during professional runway shows. Speaking of runways, did anyone else watch the Victoria's Secret fashion show making lesbian-Justin Bieber jokes, commenting on how thin the models were, and ignoring the lingerie whilst eating a lot of food?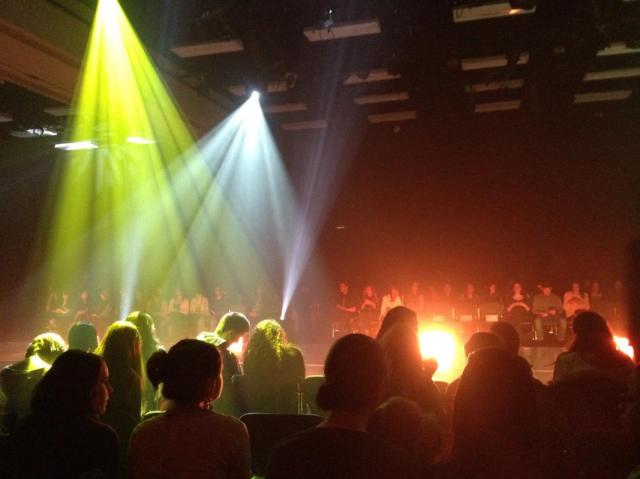 I will be on a plane to Bangkok, Thailand within a few days. I have no idea how things will be when I get back. All I know is I want to see my friends from home and I hope my mom didn't find the stack of Curve magazines and lesbian erotica I have hidden in my room. Cheers.
Pages: 1 2 3See entire article on one page