Kate
Wellesley College
By the time this is published, I will be at home cuddling my cat with a cup of tea (yes, I know, GAY) in the sparkling, snowy state of Minnesota. However, as I write this, I am in the throes of reading period (we have a week to study before finals week) and unable to even entertain the thought of home.
I got pretty homesick about a week ago. I was fine for four months, and then a week ago I got a Nikolaustag package from my mom and burst into tears. I suppose it's normal to be sad in December, because my family is really big into Advent and my mom's birthday is in December and it's Minnesota so snow is everywhere and there are mittens and hot chocolate and ice skating outside and everybody helps each other dig their cars out of two feet of snow. Winter in Minnesota is something I never thought I'd miss as much as I do.
Autumn in Massachusetts was heavenly. There's no way to explain the way the trees look at about 4pm in November – my roommate was trying to explain something about latitude and how the sun's light hits Massachusetts, but I was too busy staring at the red leaves and gold light and old stone buildings that I've come to call home. But now the leaves are gone and the days are grey and misty and cold but no snow. Minnesota is already a winter wonderland, and I know that when I get off the plane in a week the second thing I will do (after I hug my mother) is roll around like a happy puppy until my hair turns into icicles.
I only get homesick when I have too much time alone with my thoughts, and luckily that is not often the case. Things have been happening – I finished Henry IV and then directed my own show for my Theatre class (it was pretty much all the penis jokes we could fit into 50 minutes plus drag queens. You would've loved it.) I stayed on campus for Thanksgiving with a group of Shakers, which was fantastic. We cooked a delicious Thanksgiving dinner and then spent the rest of the break watching Dollhouse and eating leftovers. Shakes has had a two gorgeous fancy dinners in which I got to dress up like a princess and I got three lovely old books of Shakespeare from my Secret Shaker (anonymous gift-giver, it's fantastic) that I can't stop touching because they were made in 1915 and they're gorgeous.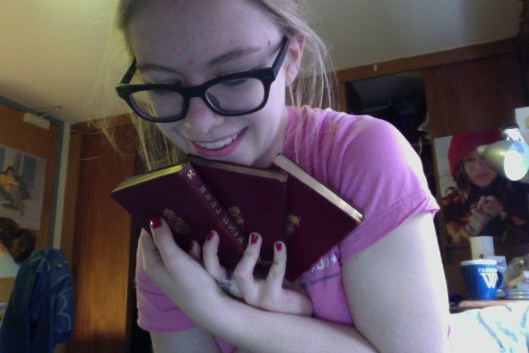 The thing about homesickness is that it makes me think about what Home actually means. My roommate and I have been referring to our room as "home" for a few months now, but the more I think about it, Wellesley is becoming Home. My mom moved a couple weeks after I left for college, so the closest I've been to her new house is zooming in on Google Maps. Home is where I make tea and watch Downtown Abbey with my roommate. Home is the kitchen of the Shakes Haus on a Tuesday night. Home is this floor with two Shakers ready to cuddle the sad out of me at a moment's notice. Home is the place where I feel safer, in this brand new city, in a state whose name I still misspell, than in the place where I grew up; a city whose bus routes I can list extempore, whose streets are alphabetized and chronological, and where you can bike for five minutes in any direction and hit a lake. I love all of these things, but I have felt happier in my four months here at Wellesley than at any other time in my life, and that must mean something.
---
Nita
The University of North Carolina Greensboro
Right now as I write this, I'm home from my first semester for college on winter break, and sitting in bed, where I've been for the past three days. I had foot surgery this past Thursday to correct the bunions on my feet, so that means bed rest, a giant boot I'm confined to for four weeks, minimal showers, and a lot of Netflix. I'm not happy about the limited mobility, but having people take care of me is pretty sweet, and hopefully I'll be back on my feet (foot?) by the time school starts back again.
I finished up my first semester of college on December 7, and I honestly couldn't have been happier with it. I've made some great friends, passed all my classes, and even ended up on the Dean's List, so that's been pretty sweet. I've got some kickass classes for next semester—Intro. To the Deaf Community, Abnormal Psychology, and The New Testament and Origins of Christianity. Plus, I learned how to crochet, so now my status as the old woman amongst my friends is officially complete.
I made a big decision the last week of my semester—well, two big decisions, actually: I decided to accept an offer to be a leader of the Wesley-Luther group on campus, and decided to add an English minor to my two other degrees. I'd been struggling with my decision to become a leader in Campus Ministries—I'd heard it was a huge time commitment, one I didn't quite feel ready for, but I took the plunge anyway. I feel like it's something I'm being called to do, and all of the people I've met through campus ministries have been simply amazing. As far as adding an English minor goes, well, writing it something I've always loved doing, and it would kill me to not take any English classes beyond my prerequisite ones, so I did it. It may put me back a semester, but at this point I don't care, because I'm doing what makes me happy.
As of right now, I'm just glad to be home with my family and my girlfriend. I've really missed seeing them all, and I can't wait for my Mom's family's annual Christmas party with the more "redneck" side of my family. Rachel got accepted to UNCG, so we're just waiting to hear back from Vassar before she makes her decision. I'm really excited about that, and I'm super excited about Christmas and just being home for the holidays.
Pages: 1 2 3See entire article on one page