Hello and welcome to another edition of Autostraddle's College Lesbianage: a glimpse of college life through the wide eyes of six freshly fallen snowflake first-year queers. This month's update finds our Lesbianagelings finishing up their finals and heading back to their homelands. What have they learned about the world and themselves during this first semester of college?
---
Lillian
Vassar
The room was packed that night. I was in the front row surrounded by slam poet lovers, lost souls, queer identified folk and straight people alike. We all sat, talking loudly. My ears floated between conversations about the later evening festivities and the quality of the dining hall food which, as always, is followed by a sigh. And then she walked out onto stage. Andrea Gibson. She was dressed in a grey hoodie, black skinny jeans and sporting an alternative lifestyle haircut. If you didn't know any better, whether it is from lack of knowledge of slam poet culture or from insufficient Youtubing skills, you might have thought she was just any other average Joe/Joanna with an awesome haircut. But as soon as she opened her mouth and the buzzing of the crowd dwindled down to a murmur and then to silence, it was apparent that she was in no way ordinary.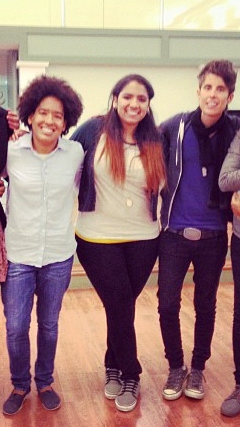 Her verses flung out at me like arrows, each one more poignant than the next. As she went down her set list, I began to soften. I let my guard down and allowed myself to take in her words. I had gone in with the intention of not becoming emotionally vulnerable but alas, I should have known better. She made me feel raw, inspired, worn, proud—basically all of the emotions. I don't know why I had tried to shield myself from those feelings but I felt a warmth in my stomach as I reconnected with them.
When the QCVC (Queer Coalition Vassar College) board and I were done stacking away the millions of chairs and rearranging the common room to its original state, we all congratulated each other and knocked on wood that nothing, absolutely nothing, not even the audio had gone wrong with tonight's performance. It was strange that all of the hard work we put in to bring Andrea here had actually paid off. And then it was just the QCVC board and Andrea and we were all feeling giddy. We stood around nervously and finally someone asked for a group picture. We huddled around her and snapped a photo or three followed by an impromptu hug. My night was made. Before she left we presented her a gift, a single skinny tie with black and silver lines darting down diagonally. As she left she thanked us for having her and she hoped to see us all again.
That was the night I met Andrea Gibson. In a way, her performance was cathartic for me, as most art should be, according to Aristotle. There was the release of all the built up tension from the week prior, but still I felt something else. It was a profound feeling of incapability. [Disclaimer: This is going to get super sappy, angsty, can possible be argued as #firstworldproblems or #liberalartsproblems. So if you want to avoid all of that, feel free to skip down a bit. If not, you've been warned…] To compare my feelings to those of a literary character, I'll say that in that moment, I felt like Raskolnikov (Crime and Punishment) who tried desperately to see if he was extraordinary like his acquaintance Svidrigailov. He failed to do so and it nearly killed him until he found God. It seems like I've been working all my life to achieve some mysterious possibly unattainable goal, to prove myself extraordinary though all I feel is an overwhelming averageness.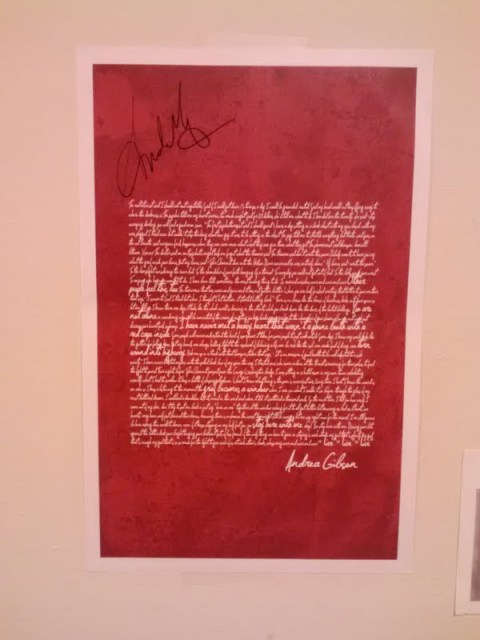 I bring Andrea into this because she got out of that ordinary life. At the beginning of her set she told us that before touring as a poet, she worked as a preschool teacher. Currently though, she is pursuing a life of the arts which I believe takes an incredible amount of will power. And I say this now because I fear that I will not be able to step out of myself and at least try, like Raskolnikov and Andrea, to see if I have what it takes. I fear that I won't raise my voice when I ought to and say what needs to be said, but Andrea reminded me that it's not over yet and I still have time to try. Sitting in my dorm room, plagued by the thought of my looming finals and the work I should be doing right now, the only thing I can do is listen to Andrea.
---
Sunny
Ithaca College
"Extra tickets?" We asked people as we walked up and down a long line that stretched from the Bowery Ballroom. My friend and I arrived super early to Tegan and Sara's NYC concert without any tickets, hoping we would be able to buy some before it started. It didn't hurt to stick around and try our best since we were already in the area. Literally one minute before the doors opened someone offered two tickets for the original price. It was heavenly and I was so ecstatic I could've cried. A shout-out to strangers in line who started our fantastic night: to the girl in the snapback who sold her $100 ticket for $40 to a mom who dropped her daughter off, to the girl who gave a dollar to a homeless man who serenaded her with Bob Marley, and to the woman who tried to find tickets with us and finally found some for all of us.
We walked into the ballroom and got a spot smack in the middle and up-close to the stage. It was the moment I'd been waiting for all my gay, gay life. Honestly, I could've just walked out right then and be completely satisfied. To be surrounded by a bunch of T&S lesbian fans all anxiously awaiting their appearance was enough. Everything went unbelievably smoothly, many thanks to a woman named Natalie who was taller than me and told me to stand in front of her so I could see properly. She also pointed out that Hesta Prynn and Emy Storey were on the balcony and we proceeded to predict what songs T&S would play based on their lined-up guitars. I also overheard a girl beside me ask a dad "so…the girl with your daughter…are they friends or?" It was hilarious. Overall, the night was amazing and I couldn't have asked for a better experience seeing Tegan and Sara.
I spent Thanksgiving in my dorm room watching Downton Abbey and eating Korean take-out. It was funny, knowing that there were other international students in my dorm doing likewise. Although I didn't engage so much with Thanksgiving, I did spoil myself with Black Friday. All for the better of course. I got a proper winter jacket, three Milan Kundera books, and an acrylic paint set. I plan to finish the Kundera books before the summer, considering how often I go to coffee shops and have perfect time to read. Here I am with the box of acrylic paint in the LGBT resource room:
I was recently working behind-the-scenes shooting footage and photos for Ithaca College's fashion organization. They worked on an Alice in Wonderland themed photoshoot and had a huge winter fashion show which I was gladly a part of. I loved being the little unnoticed detail running about with a camera in the hectic scene behind the stage watching models and wardrobe people struggling to get things done. I can only imagine what goes on during professional runway shows. Speaking of runways, did anyone else watch the Victoria's Secret fashion show making lesbian-Justin Bieber jokes, commenting on how thin the models were, and ignoring the lingerie whilst eating a lot of food?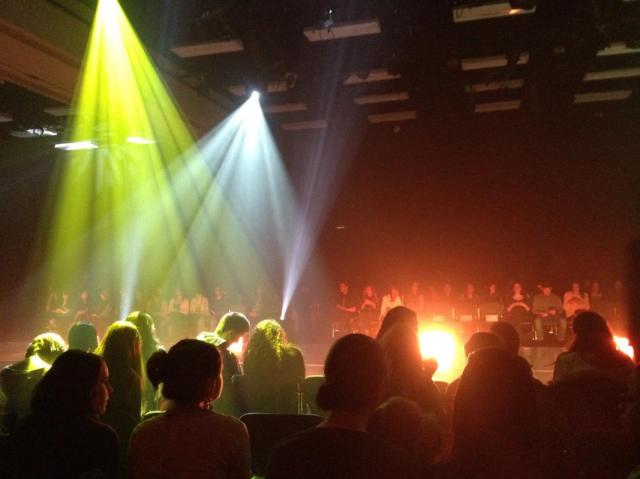 I will be on a plane to Bangkok, Thailand within a few days. I have no idea how things will be when I get back. All I know is I want to see my friends from home and I hope my mom didn't find the stack of Curve magazines and lesbian erotica I have hidden in my room. Cheers.
---
Kelsey
Bryn Mawr
Two days after I submitted my last Autostraddle column, I got a concussion in the final rugby scrimmage of the season. I was running to tackle someone on the other team, but she passed the ball before I had the chance to, which meant that I wasn't allowed to tackle her anymore. I was too close to her to stop, though, and I hadn't started to go in low to tackle her yet, so my cheek collided into her head. Summary: I'm a klutz. The athletic doctor didn't think I had a concussion at first but, after my dizziness and headache hadn't gone away two days later, it was pretty obvious that I did. I spent the next week and a half not doing any homework and sleeping a lot–I was awake for a grand total of seven hours on Thanksgiving. Perhaps I should be slightly less excited about rugby now that I know what a concussion feels like, but I really miss being with my team, and I even kind of miss the running. I can't wait to get back to practicing and playing after winter break.
One of the most exciting things that's happened to me this month is that I got a heller! For non-Bryn Mawr people, Hell Week is a tradition where, during a week in February, each freshman is "helled" by a sophomore or sophomores of their choice. As I understand it, the sophomore hellers make the freshman hellees do crazy but fun things throughout the week, like saying weird things in class or dressing up. It's a really great way to form closer friendships, and freshman don't have to do anything they're not comfortable with, so it's a safe environment. Before Hell Week, each freshman has to ask a sophomore or sophomores to be their heller. It's a pretty big deal — freshmen spend a lot of time thinking about who they want to ask, and then come up with elaborate ways to ask them.
I decided to ask Alisha, a sophomore in my physics class, to be my heller. Alisha likes physics and moose, so I knew I needed to include those two things in my hell proposal to her. In preparation for the proposal, I looked up physics equations that contained the letters in "Alisha, Hell me? Love Kelsey", and then I wrote out the equations vertically with blank spaces for the letters in the message. I also printed out a bunch of cartoon moose pictures. I asked a mutual friend of ours to bring Alisha back to her room after their class together. While Alisha was at class, I decorated her door with the physics equation sign and the moose pictures. Then I hid in the bathroom across the hall and waited.
When Alisha came back to her room, she was instantly excited, but she wasn't sure why her door was decorated or who did it. It took her a few minutes to figure out the message and, once she did, I came out of the bathroom and said surprise! We were both really happy, and it's awesome to be a part of such a great Bryn Mawr tradition and to have a hell family. My grand-heller (Alisha's heller) is abroad in Japan, and I met my great-grand heller (Alisha's heller's heller) today! I also have a hell-sister, another freshman who asked Alisha to be her heller. She's one of my friends and is in the same physics class as Alisha and I. I am ridiculously excited for Hell Week, and I can't wait to tell you all as much about it as I'm allowed to once it happens!
Now, I'm counting down the days until I get to go home for winter break — I leave Tuesday morning. The only work I have left is an Arabic skit and an essay revision, and it's finally sinking in that my first semester of college is actually over. I'm really excited to see my family and friends at home, but I'll really miss everyone here. I suspect that being home for almost five weeks will be a huge change, but I'll let you know how it goes in my next column!
---
Claire
Wellesley College
I keep seeing Facebook statuses from high school friends about being back in Phoenix, eating homemade meals, and cuddling with family pets. I'm still on campus, eating dining hall food, and cuddling with my girlfriend. At Wellesley, finals period doesn't end until December twenty-first, and I'm staying until the last day. As much as I love this place, and these people, I'm excited to get to go home for the holidays.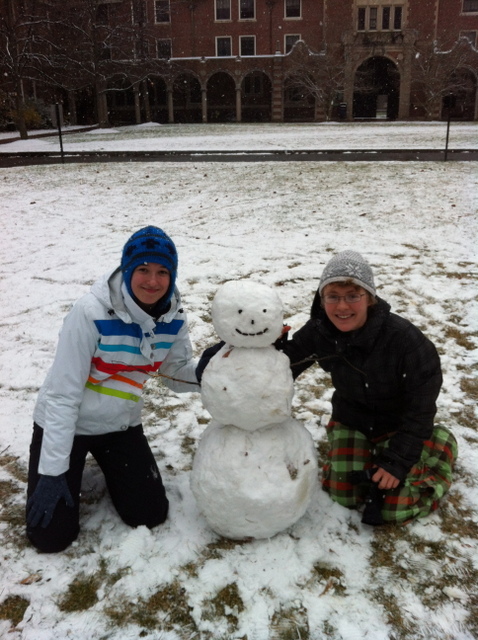 Café Hoop is long and skinny, with cozy spots for sitting in the front and back, and the kitchen/counter in the middle. The walls are a mess of brightly colored painting, witty graffiti by students, and the signatures of visiting queer performers like Andrea Gibson.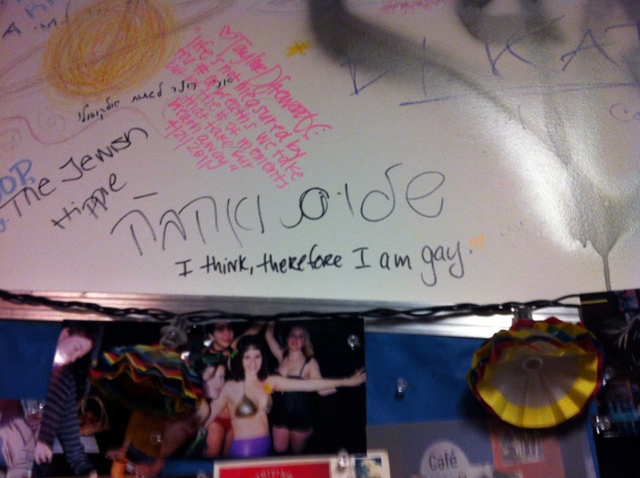 For Queer Open Mic night, my friends and I arrived early and snagged the stiff-backed wooden chairs near front. People poured in, filling the room far past capacity. Looking around, I recognized most of the people in the crowd. One of the first friends I made at Wellesley was the MC, and one of my other close friends was performing a poem that ze had written. Most of the other performers were also familiar faces. Eight months ago I sat in the same spot and saw a crowd of strangers. Cute strangers, with cool hair and adorable partners, but strangers nonetheless. I met some of the people that I still am friends with at the Queer Open Mic that happened in April, during a weekend for admitted students. This Queer Open Mic, I got to appreciate just how ridiculously talented my friends are.
We had a few hours to waste between Queer Open Mic and Queer Pub Night, so we played Bananagrams in the Hoop at one of the booths in the back corner. I'm not really sure if Queer Pub night was actually any gayer than regular Pub nights. I'm at the Pub pretty much every Thursday to dance my academic frustrations away, and the regular crowd is pretty queer. Most of the couples on the dance floor are Wellesley students. The only things that really made Queer Pub night queer were the rainbow shirts that House Council was selling and the skittles in bowls on the bar. Regardless, I was happy for the candy and more than happy to sing along to every Spice Girls and Britney Spears song that played.
Reading period just ended, and finals week is upon us. I haven't done a whole lot of studying yet, but I have watched eight movies. My girlfriend and I hosted a Lord of the Rings marathon the second day of Reading Period. We started at 11 a.m., and finished at midnight. The experience was emotionally cleansing. After thirteen hours of philosophical musings intertwined with a healthy dose of violence, I had run through every emotion I was capable of feeling and was at peace with the world.
After peeling ourselves off the sofa, six of us bundled up, walked down to the boardwalk by the lake, created a massive cuddle puddle of blankets, and watched the meteor shower for an hour. Our spot was perfect: it was dark enough to get a great show, yet close enough to campus to not be absolutely terrifying at one in the morning. We saw probably twenty or thirty meteors before heading back inside for the night.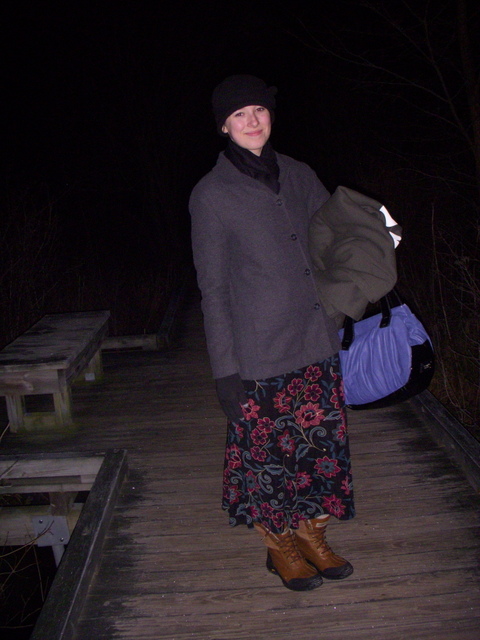 The next morning my girlfriend and I woke up ridiculously early to go see The Hobbit in 3D, obviously.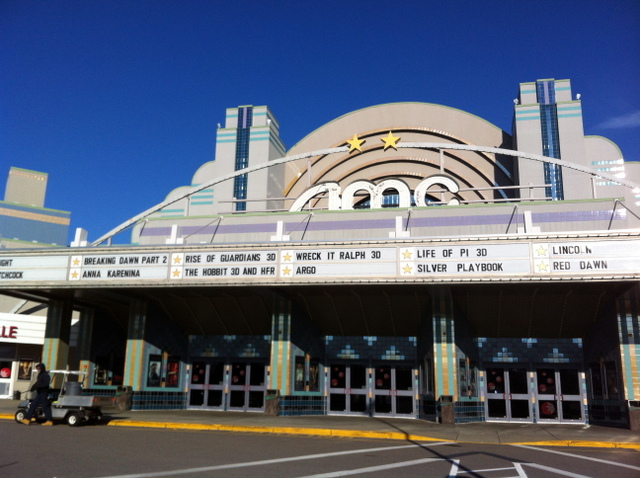 I geeked out for the majority of the film. The CGI is so good! The music is also epic, and it's fast paced, despite covering only one third of the book. I wish I could say that afterwards I sat down and did serious amounts of studying, but I didn't. That was yesterday. Today, I got a decent amount of work done, but I don't know if I'm on track to take a self-scheduled final in two days like I had planned. I need to study, but I just don't know how to motivate myself to do work. Here's to hoping I can be really, really productive in the next few days.
---
Kate
Wellesley College
By the time this is published, I will be at home cuddling my cat with a cup of tea (yes, I know, GAY) in the sparkling, snowy state of Minnesota. However, as I write this, I am in the throes of reading period (we have a week to study before finals week) and unable to even entertain the thought of home.
I got pretty homesick about a week ago. I was fine for four months, and then a week ago I got a Nikolaustag package from my mom and burst into tears. I suppose it's normal to be sad in December, because my family is really big into Advent and my mom's birthday is in December and it's Minnesota so snow is everywhere and there are mittens and hot chocolate and ice skating outside and everybody helps each other dig their cars out of two feet of snow. Winter in Minnesota is something I never thought I'd miss as much as I do.
Autumn in Massachusetts was heavenly. There's no way to explain the way the trees look at about 4pm in November – my roommate was trying to explain something about latitude and how the sun's light hits Massachusetts, but I was too busy staring at the red leaves and gold light and old stone buildings that I've come to call home. But now the leaves are gone and the days are grey and misty and cold but no snow. Minnesota is already a winter wonderland, and I know that when I get off the plane in a week the second thing I will do (after I hug my mother) is roll around like a happy puppy until my hair turns into icicles.
I only get homesick when I have too much time alone with my thoughts, and luckily that is not often the case. Things have been happening – I finished Henry IV and then directed my own show for my Theatre class (it was pretty much all the penis jokes we could fit into 50 minutes plus drag queens. You would've loved it.) I stayed on campus for Thanksgiving with a group of Shakers, which was fantastic. We cooked a delicious Thanksgiving dinner and then spent the rest of the break watching Dollhouse and eating leftovers. Shakes has had a two gorgeous fancy dinners in which I got to dress up like a princess and I got three lovely old books of Shakespeare from my Secret Shaker (anonymous gift-giver, it's fantastic) that I can't stop touching because they were made in 1915 and they're gorgeous.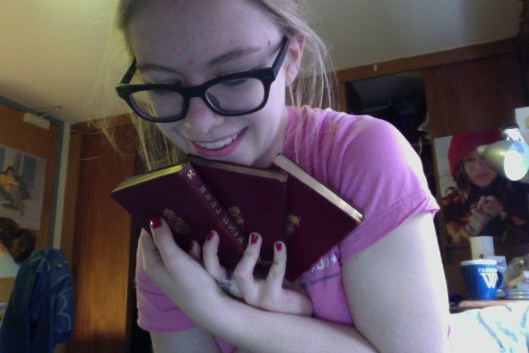 The thing about homesickness is that it makes me think about what Home actually means. My roommate and I have been referring to our room as "home" for a few months now, but the more I think about it, Wellesley is becoming Home. My mom moved a couple weeks after I left for college, so the closest I've been to her new house is zooming in on Google Maps. Home is where I make tea and watch Downtown Abbey with my roommate. Home is the kitchen of the Shakes Haus on a Tuesday night. Home is this floor with two Shakers ready to cuddle the sad out of me at a moment's notice. Home is the place where I feel safer, in this brand new city, in a state whose name I still misspell, than in the place where I grew up; a city whose bus routes I can list extempore, whose streets are alphabetized and chronological, and where you can bike for five minutes in any direction and hit a lake. I love all of these things, but I have felt happier in my four months here at Wellesley than at any other time in my life, and that must mean something.
---
Nita
The University of North Carolina Greensboro
Right now as I write this, I'm home from my first semester for college on winter break, and sitting in bed, where I've been for the past three days. I had foot surgery this past Thursday to correct the bunions on my feet, so that means bed rest, a giant boot I'm confined to for four weeks, minimal showers, and a lot of Netflix. I'm not happy about the limited mobility, but having people take care of me is pretty sweet, and hopefully I'll be back on my feet (foot?) by the time school starts back again.
I finished up my first semester of college on December 7, and I honestly couldn't have been happier with it. I've made some great friends, passed all my classes, and even ended up on the Dean's List, so that's been pretty sweet. I've got some kickass classes for next semester—Intro. To the Deaf Community, Abnormal Psychology, and The New Testament and Origins of Christianity. Plus, I learned how to crochet, so now my status as the old woman amongst my friends is officially complete.
I made a big decision the last week of my semester—well, two big decisions, actually: I decided to accept an offer to be a leader of the Wesley-Luther group on campus, and decided to add an English minor to my two other degrees. I'd been struggling with my decision to become a leader in Campus Ministries—I'd heard it was a huge time commitment, one I didn't quite feel ready for, but I took the plunge anyway. I feel like it's something I'm being called to do, and all of the people I've met through campus ministries have been simply amazing. As far as adding an English minor goes, well, writing it something I've always loved doing, and it would kill me to not take any English classes beyond my prerequisite ones, so I did it. It may put me back a semester, but at this point I don't care, because I'm doing what makes me happy.
As of right now, I'm just glad to be home with my family and my girlfriend. I've really missed seeing them all, and I can't wait for my Mom's family's annual Christmas party with the more "redneck" side of my family. Rachel got accepted to UNCG, so we're just waiting to hear back from Vassar before she makes her decision. I'm really excited about that, and I'm super excited about Christmas and just being home for the holidays.
Pages: 1 2 3See entire article on one page