LADY GAGA:
A lot of Gaga news today people. EVERYWHERE YOU LOOK, IT'S LADY GAGA.
OhNoTheyDidnt: Did you know about the Lady Gaga/Beyonce Telephone Video/Gay Porn connection? Are you ready to see actual cock on your computer screen? If you answered yes to either of those questions then you should read this. I recommend that you do not click "source" unless you are ready to see some serious assf*cking. Not that there's anything wrong with that, but just saying, NSFW.
Via Geekweek: Who is that girl Lady Gaga is kissing in the video!?! That'd be Heather Cassils: "I am an artist, stunt person and a body builder who uses my exaggerated physique to undermine and interrogate systems of power and control. Often employing many of the same strategies used by FLUXUS and guerrilla theater, my method is multidisciplinary and crosses a spectrum of performance, film, drawing, video, photography and event planning. I am a founding member of the Los Angeles based performance group the Toxic Titties."
The Awl says it best, re: Telephone:
"The girl on girl trope is so tired but here we have here surrounded by surly dykes, leathery cholas, and forbidding black ladies. So here's where it gets transgressive because unlike say Madge, who leaned over and kissed Britney on a "GEE ARENT ME NAUGHTY" trip."
"She seems more like a cult leader than a business entity, and that's where Gaga is more interesting to me [than Madonna] and what keeps her scary and funny and fun."
Gawker TV: Gawker TV has some very valid words regarding MTV "banning " Lady Gaga's video in a piece entitled "MTV Bans "Telephone" Music Video, Remains Completely Irrelevant":
The ironic thing about this is that MTV, through years of cultivation of reality programming that infested its schedule so deeply, barely even airs music videos anymore—a quick look at the network's programming schedule for today reveals no time slots devoted to music videos, yet seven hours set aside for its docudrama program, True Life—yet still feels the need to issue a ban on one it deems too provocative.
MTV: Except that um, CNN was wrong when it reported that MTV banned the video — yes CNN was totally wrong:
"MTV did not ban Lady Gaga and Beyoncé's 'Telephone' video — in fact, we premiered it on Friday, March 12, on-air and online at MTV.com, two days before this story was falsely reported."
Gawker TV: Suze Orman gets a caller wanting to know if she can buy $1,400 headphones and Suze Orman tries to get her to buy Lady Gaga headphones instead because she is a total Lady Gaga freak.
Haus of Gaga: People are worried that Gaga is getting really exhausted from her crazy-ass schedule as she had to sit down on stage during the New Zealand show. I actually don't understand how she is able to do any of the things she is doing, she is playing way too many concerts.
Lady Gaga: Gaga has announced her North American tour dates. ABC News reports that fans have "gone Gaga" about these 31 New Tour Dates, as well as over the video which featured "Lesbian Prison Sex." It did? WHERE WAS THE LESBIAN PRISON SEX WE DIDN'T SEE THAT.
AdAge: Miracle Whip and PlentyofFish.com are the only companies that paid directly for product placement in Gaga's Telephone Video. However obvs Virgin is sponsoring Gaga's tour, and she is the creative director for Polaroid.
Fox News: Lady Gaga debuts a bloody nun outfit in New Zealand.
GLEE:
Do you know Paleyfest? You should, because you can buy the podcasts of their events if you don't happen to live in Beverly Hills to catch them live. They did a fantastic broadcast with the cast of The L Word in 2005, and other notable InsideMedia sessions include The Office, Sex & The City, 30 Rock and Law & Order. Entertainment Weekly is covering PaleyFest '10 and has some major spoilers from the next season! I hate spoilers, you'll have to check it out for yourself. Also they'll be covering a Gaga song in the upcoming season. (@ew)
IDOL:
David Cook, Ke$ha and Orianthi are all performing on American Idol together probs. We don't know who David Cook is, we just think it's cute 'cause Orianthi and Ke$ha are both gonna be at Dinah Shore (Orianthi at Girlbar, Ke$ha at Club Skirts) (@ontd)
SUZANNE WESTENHOEFER:
Suzanne Westenhoefer is interviewed at The Sacramento Press: "Westenhoefer did not always identify as a lesbian, however. Early on she felt that she was out of the mainstream but it didn't occur to her that she was gay until she was 19. "It was such a shock when it occurred to me, and then I thought, 'Oh! Totally awesome!' and that led to 'Oh, my God, I'm gay and we're not equal to other people! Where's the protest marches?'" (@sacramento press)
LESBIAN TEEVEE/FILM/WEBTEEVEE: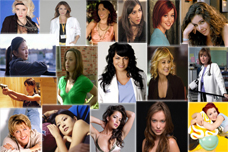 The results of Afterellen's Top 50 Lesbian & Bisexual Characters are out! You know what that means! 12 pages and 50 gigantic photographs of your favorite lebsian & bisexual characters. Naomi & Emily from Skins snagged the first two spots (this reminds me of having dinner with my family when I was like 8 or something after we'd just gone to see Bill & Ted's Excellent Adventure and my Dad asked us what our favorite movies were and my brother and I both said Bill & Ted's Excellent Adventure and he was like wow, short-term memory), and the ladies of The L Word, South of Nowhere, Grey's Anatomy follow in sharp succession as well as ladies from Buffy, Xena the Warrior Princess, Guiding Light & ETC. Unfortunately two of my favorite L Word characters, Tasha & Jenny, did not rank that high because not everyone realizes that they are better than everyone else. (@afterellen)
BOOKS:
Prolific writer Joyce Carol Oates won a Lifetime Achievement Award t the National Book Critics Circle Awards. If you don't know who she is, you should! Also, she wrote the novel that Foxfire was based on, as well as about 6,000 other books because she writes faster than any other human being ever of all time seriously. (@wsj)
ADAM LAMBERT: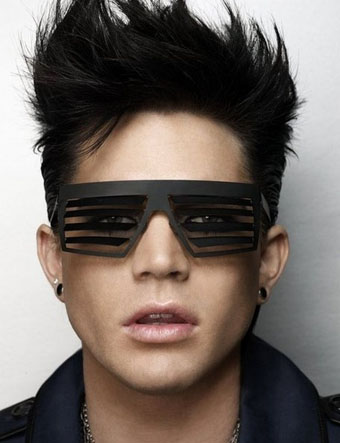 …. Adam Lambert is in FLAUNT Magazine. I used to work in the office right next to FLAUNT's office, and there were all these fun gay boys there. That being said, I can't figure out how to get the shit from their website, like the article? It's a good magazine, I'll just buy it and scan it later but anyhoo the photos are hot!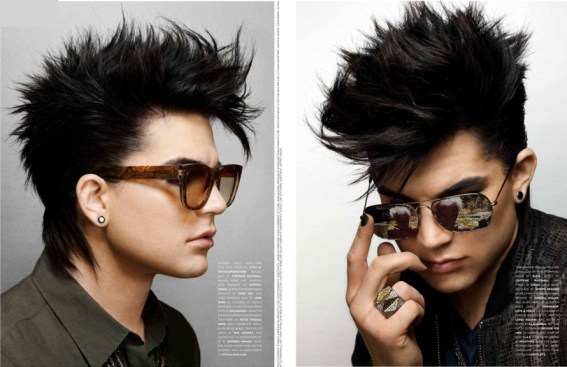 CELEBRITY APPRENTICE:
Cyndi Lauper advocates equality on Celebrity Apprentice. Sidenote; lesbian Carol Leifer was the first to get kicked out on last night's premiere. (@shewired)
MOVIES ABOUT LADIES:
The Novelty Of The Imperfect (But Redeemable) Female Character: "Despite complaints that it's too parochially New York, there's evidence that writer-director Nicole Holofcener's Please Give, currently screening at Sundance, offers something distinctly more relatable: female characters that are neither bitches nor saints." (@jezebel)
DAVID FOSTER WALLACE:
David Foster Wallace: Viking Poem (@the awl)
ALSO: Autostraddle recaps episode 407 of Skins and has 10 Female Musician Fashion Icons.