The 27th Annual GLAAD Media Awards nominees were announced today, and although the nominations are fairly predictable, they're still a pretty cool barometer for how far we've come, especially on the big screen.
The Outstanding Film – Wide Release category is entirely composed of movies where women are prominent, if not the most prominent, LGBTQ characters: The Danish Girl, Carol, Freeheld, Grandma and Dope. Although The Danish Girl has earned its fair share of criticism from the trans and queer community, it does do one thing differently: the trans woman at the center of the story desires and is in a relationship with another woman, which's something we often see from actual trans women but rarely see from fictional trans women characters. As far as I know, this is the first year the Film-Wide Release category has been so female-dominated. For the past five years, no more than two films with female LGBT characters have been nominated for the category. It's also honestly a revelation that these films are all focused on their lesbian, bisexual, transgender and queer characters. In the past, GLAAD Award nominations have always gone to at least one, if not five, movies with tertiary queer characters.
Also worth noting: Stonewall was not nominated. Because it was terrible.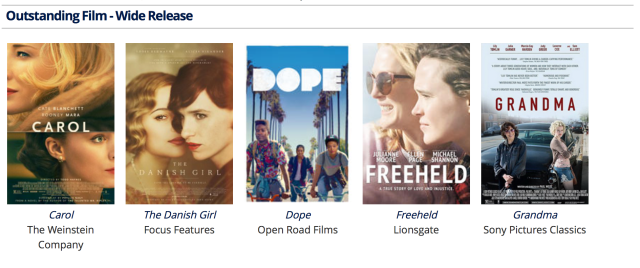 Outstanding Film – Limited Release features a whopping four movies with transgender characters, including trans women who are Native American (Drunktown's Finest) and black (Tangerine). The other nominees include 52 Tuesdays, about a 16-year old girl whose mother comes out as a transgender man and begins a physical transition; Boy Meets Girl, a tender romantic comedy centered on a bisexual trans woman and Appropriate Behavior, the hilarious debut film from bisexual Persian-American writer and director Desiree Akhavan.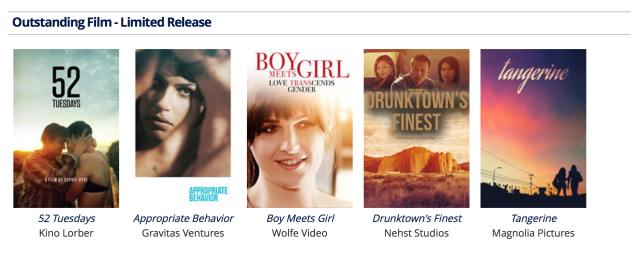 Meanwhile, the Outstanding Reality Program category is almost entirely devoted to shows about transgender women: I Am Cait (E!), I Am Jazz (TLC), New Girls On The Block (Discovery Life) and Transcendent (Fuse). The fifth nominee, The Prancing Elites (Oxygen), also has transgender and gender-non-conforming black characters as well as cisgender black gay men. There are also two "Special Recognition" honors for Logotv.com's Beautiful As I Wanna Be and Amazon Instant Video's This Is Me, which are both about trans people.
In fact, transgender issues and topics are more prevalent this year than ever before — featured in four out of the five Outstanding Digital Journalism nominations, two Multimedia Digital Journalism nods, three Newspaper Article nominations, two Magazine Article nominations, one TV Journalism segment and three out of five Outstanding Talkshow Episodes. Outstanding TV Journalism – Newsmagazine nominees include the Bruce Jenner interview and MTV True Life: I'm Genderqueer. 
Also, our best friends The Lumberjanes scored another well-deserved nomination this year. This year is also the year that the series had one of its characters come out as trans.
The Television nominees include lots of our lady-favorites (and former favorites *cough* Empire), like Orange is the New Black, Transparent, Faking It, Orphan Black and The Fosters. A notable exclusion this year was Pretty Little Liars, because it fucked up. Which brings me to this point: all this media representation has not stopped the violence and harassment trans women face in real life.
Other nominees include:
Outstanding Film – Wide Release: Carol, The Danish Girl, Dope, Freeheld, Grandma
Outstanding Film – Limited Release: 52 Tuesdays, Appropriate Behavior, Boy Meets Girl, Drunktown's Finest, Tangerine
Outstanding Comedy Series: Brooklyn Nine-Nine (Fox), Faking It (MTV), Grace and Frankie (Netflix), Looking (HBO), Master of None (Netflix), Modern Family (ABC), Orange is the New Black (Netflix), Transparent (Amazon), Vicious (PBS)
Outstanding Drama Series: Arrow (The CW), Black Sails (Starz), Empire (FOX), The Fosters (ABC Family), Grey's Anatomy (ABC), How to Get Away With Murder (ABC), Nashville (ABC), Orphan Black (BBC America), Sense8 (Netflix), Shameless (Showtime)

Outstanding Individual Episode (in a series without a regular LGBT character): The Carmichael Show, Black-Ish, Royal Pains, NCIS New Orleans, NCIS.
Outstanding TV Movie or Limited Series: Bessie (HBO), Cucumber (Logo), Banana (Logo)

Outstanding Documentary: Kumu Hina (PBS), Limited Partnership (PBS), Mala Mala (Strand Releasing), Tig (Netflix), Tab Hunter Confidential (The Film Collaborative)

Outstanding Daily Drama: The Bold and the Beautiful (CBS)
Outstanding Music Artist: Brandi Carlile (The Firewatcher's Daughter), Miley Cyrus (Miley Cyrus & Her Dead Petz), Adam Lambert (The Original High), Troye Sivan (Blue Neighbourhood), Le1f (Riot Boi)
Outstanding Comic Book: Angela: Queen of Hel, Harley Quinn, Lumberjanes, Midnighter, The Wicked + Divine

Outstanding Magazine – Overall Coverage: The Advocate, Cosmopolitan, Seventeen, Time, Variety

Outstanding Novela – Antes Muerta Que Lichita (Univision), Celia (Telemundo), Los miserables (Telemundo), Rastros de mentiras (MundoMax).
For the first time in over a decade, The GLAAD Awards will be televised on Logo in a one-hour special.
It appears as though the "Outstanding Blog" category peaked last year when they awarded that one to us, because that particular category seems to no longer exist.
UPDATE: Apparently it no longer exists because they've decided blogs are indistinguishable from online journalism. But as Mark S. King (another 2015 nominee) points out, "That's ridiculous. Not only do we, as bloggers, provide a voice of lived experience not featured in mainstream outlets, we are without the resources to compete with the likes of The New York Times, MSNBC, and other online journalism nominees." It's also worth noting that the Online Journalism Awards never, as far as I can tell, go to independent media properties like ours. King writes:
GLAAD hasn't simply marginalized the unique voice of bloggers. They have rendered us dispensable and ultimately invisible. It's shameful that a national organization that purports to lift up LGBT voices has dismissed the very people and outlets that deserve encouragement and recognition.