feature image by Charley Gallay/Getty Images for GLAAD

---
The 26th Annual GLAAD Media Awards in Los Angeles were triumphant on multiple levels.
Ellen and Portia actually walked by us on the red/blue carpet and for the first and hopefully last time in my life, I slipped into a terrifying moment of Paparazzi Mode. I have no regrets.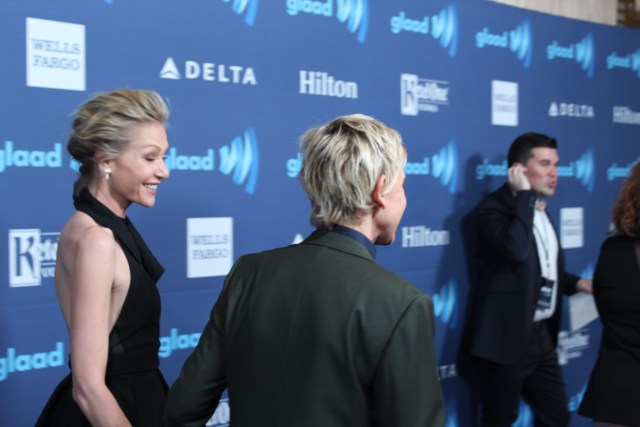 I had nice chats with the star and the showrunner of Faking It about what to expect next season…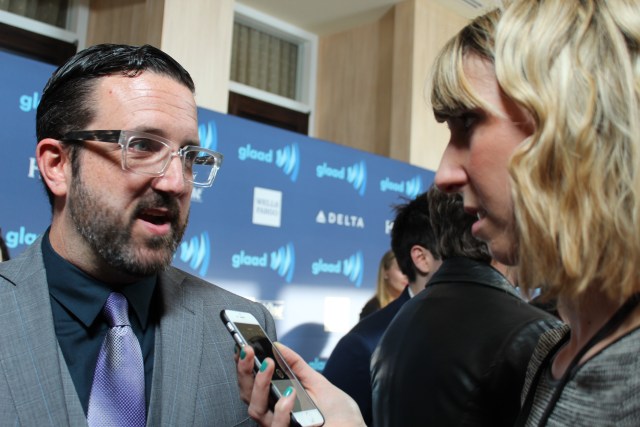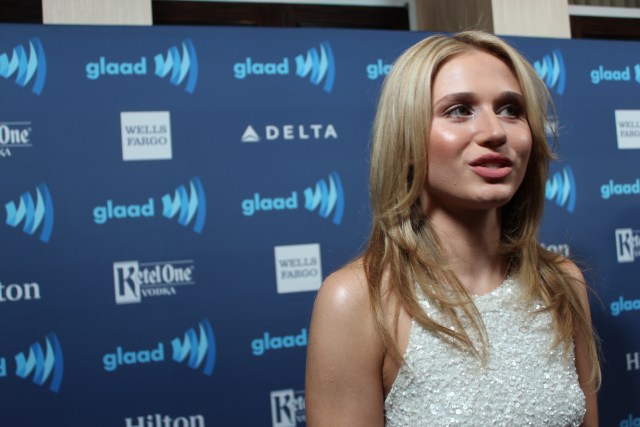 We got the scoop on New Girls On The Block, a new reality series about a group of trans women friends…
Host Tig Notaro made me laugh my ass off. 
I've seen Tig now at BlogHer and at GLAAD, and at times she was too dry for both audiences (obviously much moreso at BlogHer), but always exactly as dry as I like my comedy. Like parched. It's marvelous.
The winners for Outstanding Comedy Series (Transparent) and Outstanding Drama Series (How To Get Away With Murder) were both shows created by females, which's a minor miracle in an industry that remains so extremely male-dominated.
My A-Camper (and Autostraddle contributor) Cleo gave a speech about Glee and then Alex Newell sang a song and it was amazing.
I even managed to forget that I am dying a slow death from fevercoldmonster for a solid half-hour…
… AND AUTOSTRADDLE FINALLY WON THE GLAAD AWARD FOR OUTSTANDING BLOG! That's why the women in this pictures are so happy, it's because they just found out that Autostraddle won Outstanding Blog:
Our award wasn't actually announced out loud — along with most smaller awards, like Best Comic Book, the winners of Outstanding Blog were flashed on one of many large television screens for us to see but nothing happened onstage. However, if it had been announced out loud, I bet this girl and this guy from Girls would've wanted to give it to us:
Portia's like, "my favorite thing about Autostraddle? How can I pick just one?"
Look at these winners:
Almost as exciting as us winning an award was Kerry Washington's speech when she accepted the Vanguard Award, presented to an ally in the entertainment community who has made a significant difference in promoting equal rights for LGBT people. Here's Ellen introducing her…
…and here's Kerry Washington BLOWING YOUR MIND:
It was a very star-studded evening! Actual homogay ladies in attendance included Samira Wiley, Hannah Hart, Antigone Rising, Jessica Clark and Nats Getty.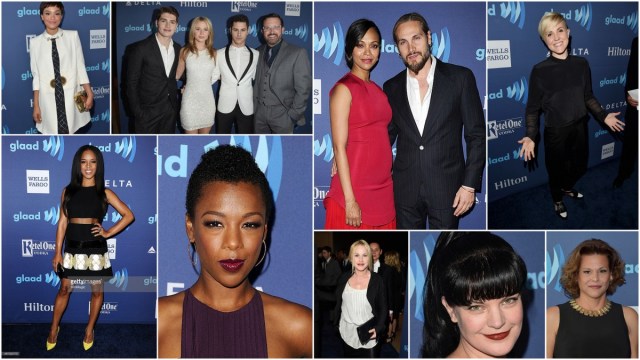 I have to say — and I realize that as a WINNER, my account of the evening may be biased, but it felt very triumphant, the whole thing, like a fancy parade. It also felt slightly less male-dominated than usual, and the trans female representation was outstanding — guests included Laura Jane Grace, the entire cast of New Girls on the Block as well as Transparent folks including Alexandra Billings and Our Lady J.
I smiled so hard when Cleo was onstage that my face nearly froze that way. I clapped so loud when Kerry Washington talked about the importance of not just LGBTQ stories but diverse LGBTQ stories that I nearly slapped my hand off my own arm. My girlfriend got to talk to Daniel Franzese, the actor who portrayed the first queer character she really fell for. It was an evening infused with joy; one which acknowledged how far we've got to go and how far we've come in equal measure. The aggressive fundraising that happens at these events is often pretty easy to scoff at, but I also recognize how real the need to raise funds is, so it doesn't bother me. They've got a lot of people to pay and programs to run — and hiring really good people requires providing them salaries competitive with the for-profit sector work they're leaving behind!
Like I said, the winners of smaller awards like ours don't get up and give speeches. But if I had given a speech, I would've thanked my team first and foremost, and also all of you. I would've thanked all of you who've given money, bought merchandise, joined A+, come to camp, shopped through our affiliate links, donated a campership, left a comment, hosted a meet-up, attended a meet-up, shared a post of ours on social media, sent us a delightful e-mail, told your friends about us, wrote about us in your publications or on your blogs, given us an interview, ran into us at Whole Foods, taken a reader survey or ever tried to explain what "Autostraddle" means to anyone, ever. I would've thanked my incredible team: firstly, my Executive Editor and Best Friend Laneia and my Co-Founder, Tiny Dancer Alex Vega. My Managing Editor Intern Rachel, sister wife for life. My Senior Editors Yvonne Marquez and Heather Hogan. My founding team: Tess, Crystal (whose praise I sing from the highest hills), Stef, Carly, Robin and Natalie. Gabby and The QPOC Speakeasy. Every single Autostraddle Subject Editor, Contributing Editor, writer, developer, designer, tech person, photographer, camp staffer, intern, illustrator, merch girl, comic artist and all the other humans who make this place run. These humans work so hard, and so many of them have worked or do work so hard for so long for free, too. All the souls who make A-Camp so fantastic, and the guests like Deanne Smith, Hannah Hart and Julie Goldman, who have leant A-Camp their starpower and used their powers for good. I would've thanked my dearest mother and my little brother. My girlfriend, Abby, for making me happier than I ever knew possible, and Quickbooks, for basically the same reason. Also my Dad, even though he's dead so I'll have to tell him about it later. Also Tinkerbell. The most important thing to take away from all of this is that it's basically all because of Tinkerbell.
It's going to be an exciting and transformative year. I can feel it!
And here is the complete list of winners from Saturday night's award ceremony:
Vanguard Award: Kerry Washington
Stephen F. Kolzak Award: Roland Emmerich
Outstanding Film – Wide Release: The Imitation Game (The Weinstein Company)
Outstanding Drama Series: How to Get Away with Murder (ABC)
Outstanding Comedy Series: Transparent (Amazon Instant Video)
Outstanding Individual Episode (in a series without a regular LGBT character): "Identity Crisis" Drop Dead Diva (Lifetime)
Outstanding TV Movie or Mini-Series: The Normal Heart (HBO)
Outstanding Music Artist: Against Me!, Transgender Dysphoria Blues (Xtra Mile Recordings)
Outstanding Daily Drama: Days of Our Lives (NBC)
Outstanding Comic Book : Rat Queens, written by Kurtis J. Wiebe (Image Comics)
Outstanding Digital Journalism Article: "31 Days of PrEP" [series] (Advocate.com)
Outstanding Blog: Autostraddle (autostraddle.com)