Hello fruit snacks! Who wants to talk about Fundamentalist Christian child molesters and the current status of Bruce Jenner's genitals? OH GOOD, ME NEITHER. Here are some other poppy cultural things to chew on this bright beautiful morning in your weekly look at all the pop culture news I have subjectively determined to be relevant to your interests. Not a big news week, honestly, I guess everybody's getting ready for A-Camp.
---
Early Bird Specials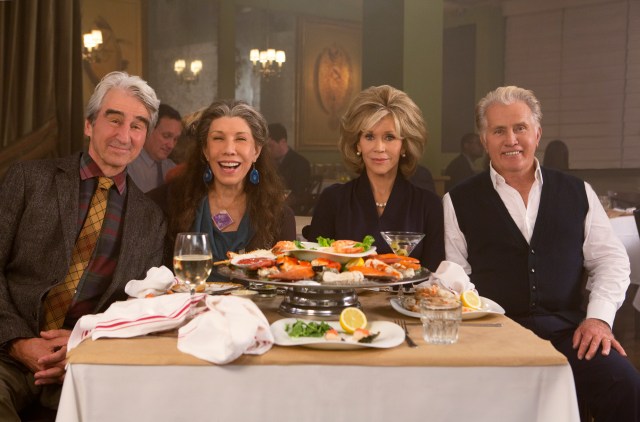 + MOST IMPORTANT NEWS OF THE DAY is that Netflix has renewed Grace and Frankie for Season Two.
+ And that The AV Club has a story called Do it, Rockapella: A Where In The World is Carmen Sandiego? Contestant Looks Back. I read the whole thing, it was worth it.
+ In Clementine Ford Sets The Record "Straight," Ford talks in great detail about her early experiences with girls, dating men, going back to women while on The L Word, which she describes as heaven, dating women after TLW, being outed on the cover of a magazine, and then liking men again. Here,
I dated men. Got married and divorced. Worked a bit here and there.
And then I booked a job on a little show called, The L Word.
It was heaven. I was 25-years-old and dropped right in the middle of gay camp. Every where I looked I heard Oprah's voice in my head: "And you're a lesbian, and you're a lesbian!wp_postsThese were the people I'd been looking for my whole life. (Take that, Catherine.)
Of course there was a woman right away. I ached for her. I pined for her. I couldn't see straight around her, I could barely look her in the eye. She, however was as cool as a chocolate chip in the freezer. Way too cool for me. I stumbled over my words when we spoke and felt like I was trying to swallow my own heart.
We were talking outside the trailers when she very abruptly asked:
"So, are you gay, or what?"
+ How do you feel about a lesbian witch web series? Pretty good, I bet!
+ What Really Happened Behind The Scenes of "Designing Women"
---
Film Show On the Big Screen
+ Cara Delevingne is really excited to see her own movie: "It's f–king insane. I'm not the biggest fan of superhero films. There are so f–king many. I love the Batmans but some of them I'm not that keen on. I've never been so excited to see a film and I'm actually in it. I wish I could tell you about it at all. The movie is going to be the best thing in the world. The camaraderie on set is insane."
+ 25 Indie Movies of Summer To Look Forward To: THE WOLFPACK LOOKS SO GOOD. There is also a documentary about "two transgender prostitutes working the streets by Santa Monica and Highland," a swinger comedy starring Taylor Schilling, the story of The Stanford Prison Experiment, an "inner city coming-of-age story,"  a fictionalization of David Foster-Wallace's five-day road trip with a Rolling Stone reporter, a "New York tale of millennials lost at sea" screwball comedy about step-sisters from the Frances Ha folks, a documentary about the William F. Buckley and Gore Vidal debates, something delightful-seeming called The Diary of a Teenage Girl, and, of course… AMY.
+ Rapper Azealia Banks to play aspiring rapper in movie directed by RZA
+ 14 Facts About Netflix, Recommended For You
+ Lesbian drama Carol takes home Queer Palm at Cannes
+ Do You Realize Mad Max: Fury Road is a Miracle?
---
Are Men Necessary
+ So, Denver Comic-Con had an All-Male Women in Comics Panel. I think I'd be more surprised if I hadn't recently seen, via the All-Male Panels tumblr, the all-male panel recruited to discuss expanding leadership opportunities for Buddhist women. Anyway, what did they have to say for themselves? Apparently, that the panel was one "that took a historical view of women characters in comic books rather than the current role of women creators in the industry or diversity in comics — of which DCC has many with appropriately diverse panels."
+ The World Needs Female Rock Critics: "I don't entirely agree with Willis's defense of the Stones, but I do recognize the difficult trade-off she describes, between the freedom that rock can feel like, for a woman, and the subjugation that it might celebrate. It's between these boundaries that the female critic works, hoping to clear a path."
---
Also
+ Broadway Sets Sales and Attendance Records, says The New York Times. Am I missing something, or did they manage to write this whole damn thing without mentioning "Fun Home"? SHEESH.
---
Take These Pebbles From My Hand
+ 21 Times Feminist Musicians Took Action For The Cause 
+ Here is some Chimamanda Ngozi Adichie for your soul.