I don't watch much TV that isn't related to bake-offs, but when Autostraddle and MTV asked me to review an episode of True Life: I'm Genderqueer, premiering this Tuesday, 11/17, at 11pm ET/PT, I was excited. And apprehensive. It's part of MTV's "Look Different" campaign for Transgender Awareness Week, which also includes an online vigil for Transgender Day Of Remembrance, PSAs about gender-based microaggressions, and the recent call for trans actors to appear on Faking It.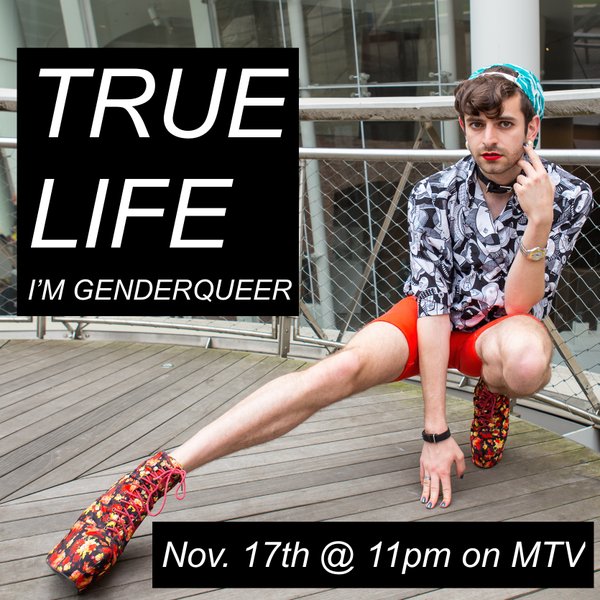 My initial reaction to True Life: I'm Genderqueer was suspicion. These kind of reality shows don't have a good record of being representative (or kind to) the queer community. However, I watched the trailer and instantly recognized Jacob Tobia, a genderqueer writer and activist whose work I admire. Jacob's work is frank and honest and I was excited to watch them speak more about their identity and life. The second person the show focuses on is Brennen, a 17 year old high school student who isn't out to his parents about his gender identity or pronouns (yet).
Reality shows that center on identity, especially trans and queer identities, especially misunderstood ones, often have unclear goals. Are these shows sensational or educational? Informative or exploitative? For better or worse, this episode of True Life fulfills all of these components.
Jacob starts the show by giving a wonderful definition of the term genderqueer. Brennen already has a working knowledge of queer issues, is out at school, and has many queer friends. I appreciate that this show shared the story of someone young and inexperienced parallel with someone who is very out in their everyday life, fighting for understanding and equality. It was also refreshing to see that Brennen and Jacob are both very solid and sure in their identities and how they present themselves to the world.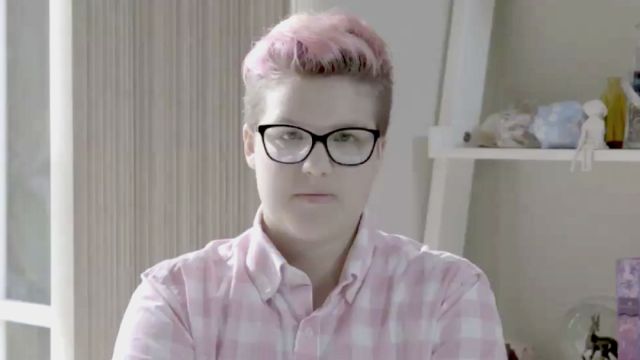 Jacob's describing what it was like to realize they were genderqueer totally brought me back in time to when I was figuring it all out. They described genderqueer as, "internal work, years and years of practice to love myself as I am." They initially thought being gay explained everything, yet never felt totally right. I'm not sure about others, but this mirrors my experience. You identify as gay or queer and that seems like it's enough until it's not. You hear the word and meaning of genderqueer and it just rings this intimate inner bell and it feels right and it feels solid. As Jacob says in the show, the complexity is what makes it so beautiful.
All in all, this is a show that still centers on the coming-out narrative. Brennen announces to his mother he's genderqueer and uses he/him pronouns while they are out to eat. Jacob is traveling home to give a speech and wants their father to watch. Jacob wishes that their father could see how amazing they are on stage, performing (and just being plain inspirational), while simultaneously in a skirt and make-up. Basically, Jacob wants their father to accept them when they are at their most powerful.
I wish this True Life episode emphasized something else other than coming out to one's parents. I wanted it to be more about Jacob and Brennan's personal journeys; I wanted to hear about Jacob and their accomplishments and their struggles (besides their father not being 100% accepting). I feel like there's so much potential for unheard stories in this show, but for simplicity's sake, the show focuses on a narrative the audience is used to.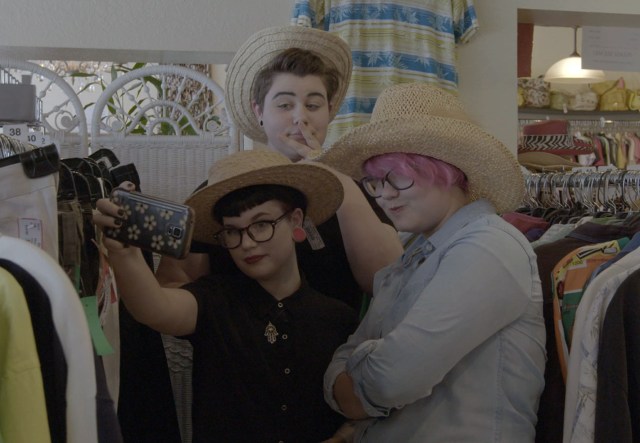 As expected with reality shows, it's hard to tell what exactly is scripted and planned and what isn't. I feel that the genuine emotions are all there, but diluted with the knowledge that everything they say and do is recorded by a camera crew. It's clearly hard for these parents to articulate their confusion and concerns for a bunch of strangers in their living room; filming these interactions tries for intimacy that it's hard to achieve on TV.
Unexpectedly, I felt so much empathy for Brennen's parents. They struggle with the new knowledge and terminology. They make mistakes, but try hard to remedy them. They take Brennen to hang out with queer peers and attend a PFLAG meeting. I sympathize with Brennen's frustration when he is misgendered, but I also sympathize with his parents. They are out of their element and uncomfortable but working through it because they love Brennen.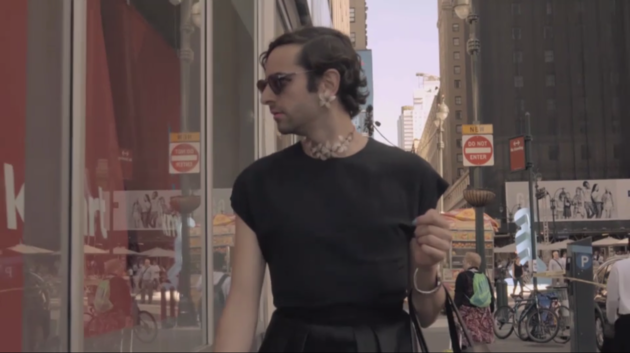 On the flip side, Jacob's father is resistant. You can also see he's struggling, but it's more with the idea of Jacob in a dress than Jacob's pronouns or queerness. At one gut-wrenching moment he calls Jacob an 'it.' Jacob responds with grace and calm, which is more than I could muster watching the scene.
I loved that we got to see each person doing what they need to do to feel comfortable in their body. Jacob never trivializes their femininity; we see how important and necessary it is. At one point, Brennen bought a binder, tried it on, started crying and whoa. My heart did a flip because I remember the sudden shift where my body went from stranger to home, and now I was watching this shift happen to someone else. And maybe this is why these shows exist: because someone else is going to want that feeling, they're going to recognize themselves in Brennen's reaction, they are going to recognize themselves in Jacob's confidence.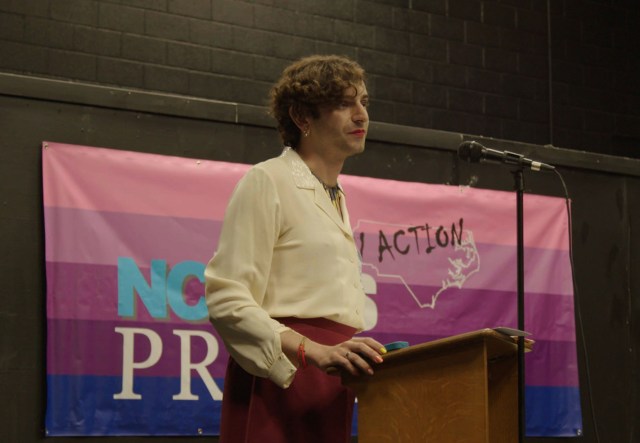 The episode ends on a positive note. A standing ovation from their father for Jacob, and graduation announcements with Brennen's name (which is not his birth name) to pass out to extended family. Overall I found a good balance between enjoying True Life: I'm Genderqueer! and criticizing it. It's educational and informative without being too exploitative of the people participating.
It is so hard to come out and name your gender in a way many folks don't understand. Watching Jacob and Brennen's enthusiasm for being genderqueer and embracing that part of themselves was refreshing and invigorating for me. I've felt so bogged down by this part of myself recently, having to come out and constantly explain only to be misgendered and ignored. I really needed to see their intensity and passion to remember my own.