Welcome to a very special Employment Edition of You Need Help!
This has traditionally been done by way of individual Formspring accounts, Autostraddle's Tumblr and a Formspring Friday column, which has all been very fun and insightful. But, because Formspring has a character limit and we're wildly optimistic w/r/t our time-management skills, we thought we'd go one further and let you use our ASS private messaging to share advice-related feelings, too.
For more info on sending in questions, see the bottom of this post. Let's get down to bossing people around on the internet! Today we help you dress for your first interview and give you tips on how to get and keep a job.

Q:

I have an interview at a finance company next week and I don't know what to wear. Should I buy/wear a suit? This is my first serious interview and I don't have much money to spend…
A:
Congratulations! I think the popular opinion is that you should dress in the way that matches the business environment, which for a finance company most likely means a suit (skirt or trousers with a matching jacket) and a tailored shirt or blouse. It's possible that the company has a 'business casual' dress code instead of a corporate one, but if you're unsure then err on the side of formal.
The good news is that if you're young and at the beginning of your career then no (reasonable) employer will expect you to be decked out in designer threads. If you can't afford to spend big bucks, hit up your local outlet malls, thrift stores or friends' closets. You should be able to find something that's appropriate and affordable.
So that's what I assume a recruitment pro would tell you. My personal, not-so-popular idea of interview attire involves black jeans, a button-up shirt and leather street shoes. I refuse to wear suits to the office and so I like to manage my future employer's expectations up-front. However, dressing casually isn't without risk – if you want to give yourself the best chance, suit it up.

Q: Interview advice? I have my first one next week and I'm freaking out.
A:
There are hundreds of career blogs/articles online that all give fairly consistent interview advice, so definitely read a few of those. Here are some tips that I've found particularly helpful:
1. Know the company you're interviewing for. I've only been unsuccessful in two interviews, and on both of those occasions I drew a total blank when the interviewer asked me to tell them what I knew about the business. I don't think that's a coincidence. Memorize a few key facts about the company and its core services/products.
2. Prepare for "tell me about a time when…wp_postsquestions. Interviewers love love love asking people to describe scenarios in which they've handled their business like a pro. As such, you can never have too many anecdotes prepared as evidence of how boss you are. Look at the key skills that the job requires and then have real life examples ready to whip out on cue.
3. Be nice to the receptionist or whomever greets you. If they don't like you then you probably won't get the job.
4. If possible, bring a portfolio. Portfolios aren't just for creative types. If evidence of your abilities can be printed out and stuck in a folder, do it. The interviewer may have zero interest in seeing your Employee of the Month certificates or innovative pie charts, but there's no harm in asking.
5. Don't doubt your abilities. From reading your resume, the interviewer already suspects that you're a talented snowflake who has what it takes to do the job – otherwise they wouldn't waste their time meeting with you. All you have to do is go in there and confirm their suspicions.


Q:
I just started my first job, any tips for making a good impression?
A:
Don't go to work if you have the flu. Calling in sick isn't ideal, but making your co-workers sick is a whole lot worse. They'll never forget.
Don't gossip.
Don't make out with your boss.
Go get 'em tiger!


Q: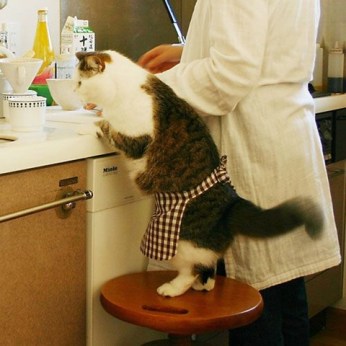 Do you think everything will be fine if I quit the secure office job I've had for the last 8 years and try something new? I want to start a cake business but I'm sort of terrified it won't work out.
A:
But what if it does work out? Instead of sitting in an office all day you could be in the kitchen making cakes and they could be the best cakes that anyone has ever tasted. That would be awesome, right?
Everything is going to be fine. You want to know how many careers changes I've had? Dozens. I couldn't tell you the exact number. I've worked in music shops, at pet magazines, on tours and on puppet shows. I've been a copywriter, an editor, a band manager, a popcorn popper and even a poultry stuffer. I fisted dead turkeys to make a living.
You can fit a lot of careers into a lifetime, or even a quarter of a lifetime. Giving up job security to follow a dream can be terrifying but it can also be the best decision a person can make. If your cake business doesn't work out, the good news is that you can go back to working an office job. Or you can try again.

To send your question via ASS personal messaging: Riese | Laneia | Rachel | Crystal
Or ask any team member you'd like: Meet the Team
*If messaging is down, email us! There are so many options. You could send carrier pigeons!*
For total anonymity, contact us through Formspring:  Riese | Laneia | Rachel | Crystal
Please keep your questions to around, at most, 100 words. Due to the high volume of questions and feelings, not every question or feeling will be answered or published on Autostraddle. We hope you know that we love you regardless.