feature image via shutterstock.com
It's been a heavy and anxiety-ridden (at least for me) last few days as news of terrorist attacks in Paris and Beirut, the subsequent media speculations and public commentary on the attacks have completely engrossed our social media news feeds. It's been hard to sift through all the news since reports and articles on the topic have been frequently updating since Friday. Here's a bunch of things you should know about the attacks, the aftermath, the victims, some articles on what people think of the internet solidarity (or the non-solidarity) that arose in the last few days and other relevant links you should read to make sense of these tragedies.
The Latest
At least 129 people were killed and more than 350 were injured in seven coordinated terror attacks in sites around Paris on Friday evening including at a concert hall, the Stade de France and at least two restaurants.
At least seven men, mostly in their twenties and all believed to be Europeans, were identified as the culprits, with one of those men, Salah Abdeslam, still on the run while the rest are dead.
The attacks come a day after two suicide bombings struck Beirut, killing 43 and wounding more than 230 people. The attacks in both cities are said to be connected to ISIS. As a result, France enacted raids and arrests in France and Belgium in connection to the attacks and airstrikes in Raqqa, Syria aimed at ISIS targets.
I found this video on the history of Syria's war and the rise of ISIS and this overview of Syria's civil war to be very helpful in understanding the gist of what's been happening and what fueled these attacks.
On Islamophobia
+ French Muslims fear that attacks against them will increase in the aftermath, just like it did with the Charlie Hebdo killings. "As a French Muslim, I worry that this massacre will be used against the French Muslim community by politicians, like it happened back in January when Charlie Hebdo was attacked," a 19-year-old Muslim woman told Aljazeera America. "But I also worry that refugees, especially those coming from Syria, will be the next target of conservative politics and racist acts."
+ Columnist Omid Safi gathered his thoughts on the attacks in Paris and Beirut and wrote some profound things that you should read. He touches on various points including the huge difference between ISIS and Islam and how ISIS intends to create a false divide between Muslims and the West in order "to create a culture of backlash against Muslims in Europe, to foster a situation of persecution of Muslims there that will bolster future recruitment of extremists."
"I don't know how to say it more directly than this: Yes, the members of ISIS come from Muslim backgrounds. No, their actions cannot be justified on the basis of the 1400 years of Islamic tradition. Every serious scholar of Islam has confirmed this clearly, and unambiguously. ISIS is about as Muslim as the KKK is Christian. If you don't look to the KKK to tell you about God's message of love as expressed through Jesus, don't look to ISIS to tell you about God's mercy as expressed through Muhammad."
On Syrian Refugees
French authorities found a Syrian passport outside the Stade de France where a suicide bomber was supposed to detonate an explosive vest inside. The passport turned out to be a fake. The attacker posed as a Syrian refugee and entered through Greece. The discovery has created a fear that terrorists could pose as refugees and infiltrate the West which has inspired many right-wing politicians to call a close of borders and to refuse entry to all Syrian refugees. So far 23 US governors said they'd block any attempts to resettle Syrian refugees in their states. This is exactly what ISIS wants. ThinkProgress has a piece on why there's no legal basis for US governors to do what they're threatening to.
Ben Rhodes, one of President Obama's top security advisers said in an interview the US will not halt its efforts to accept 10,000 Syrian refugees. "Let's remember though Chuck, we're also dealing with people who've suffered the horrors of war, women and children, orphans. We can't just shut our doors to those people. We need to sort out how to focus on the terrorists that we need to keep out of the country. But I think we do need to do our part to take those refugees who are in need."
Just to put into context why Syrians are fleeing the country, according to conservative estimates about 210,060 people have died in the civil war since 2011, or about 144 people in Syria have died each day, with more than half being civilians.
On Media Criticism and Backlash
+ Over at Vox, Max Fisher, writes about the backlash against media from readers who say they neglected to cover the Beirut bombings. He says journalists have been covering bombings in the area and in nearby countries for years but nobody is paying attention or reading their stories.
"It's not just me, of course: My peers throughout the media have dutifully and diligently covered such attacks for years. Local reporters and foreign correspondents out in the field have of course done far more than I have, spending days interviewing victims and painstakingly reconstructing events — despite knowing that readers were all but certain to ignore the stories. "Nobody is going to read this" is a phrase we've grown accustomed to hearing."
Fisher does say he understands the underlying anger behind the criticism which is the world at large has largely ignored Beirut's trauma since it's not in a wealthy or Western country. He says pointing the finger at media is a cop out and instead we should take a look at our own role in how we prioritize one country over another.
"It would be easy to blame the media for this, to say that if only media outlets covered Beirut rather than ignoring it, the world might pay attention. I have bad news: The media does cover Beirut, just as it has been covering Lebanon's refugee plight for years. That's an uncomfortable truth, because rather than giving us an easy villain, it forces us to ask what our own role might be in the world's disproportionate care and concern for one country over another."
On Facebook's Safety Checks and Profile Filters
Over at Wired, Molly McHugh writes about the criticism towards Facebook's Safety Check In and temporary French flag filters on profile pictures. People wondered why Facebook didn't do the same for Beirut or for Kenya or Syria and other countries with similar tragedies. McHugh postulates Facebook's algorithm is what picks which crisis is spotlighted over other crises on the site, which is unsettling. She also mentions how fighting over who changed their profile picture isn't worthwhile, instead we should be asking how others can be supported in the same way Paris was.
"But each school shooting and each hurricane is not going to trigger Facebook's algorithm or attention. The alarm of sorts that Facebook has created won't sound for every terrible thing that happens. That doesn't necessarily mean individual efforts in the form of features and filters are without merit, but in responding to some tragedies and not others, Facebook has put itself in the business of ranking human suffering, and that's a fraught business to be in. Facebook is built on ranking things that matter and how much, like which BuzzFeed quizzes you see in your News Feed or which friends' photos show up the most. But it's deeply uncomfortable — disturbing, really — when that same idea is applied (even with what I have to imagine are different metrics) to disaster and death."
---
LGBT News
+ A Utah judge reversed his decision to take away a foster baby from a lesbian couple.
+ A Costa Rican woman was able to marry her same-sex partner, briefly, because a mistake on her birth certificate marked her as male.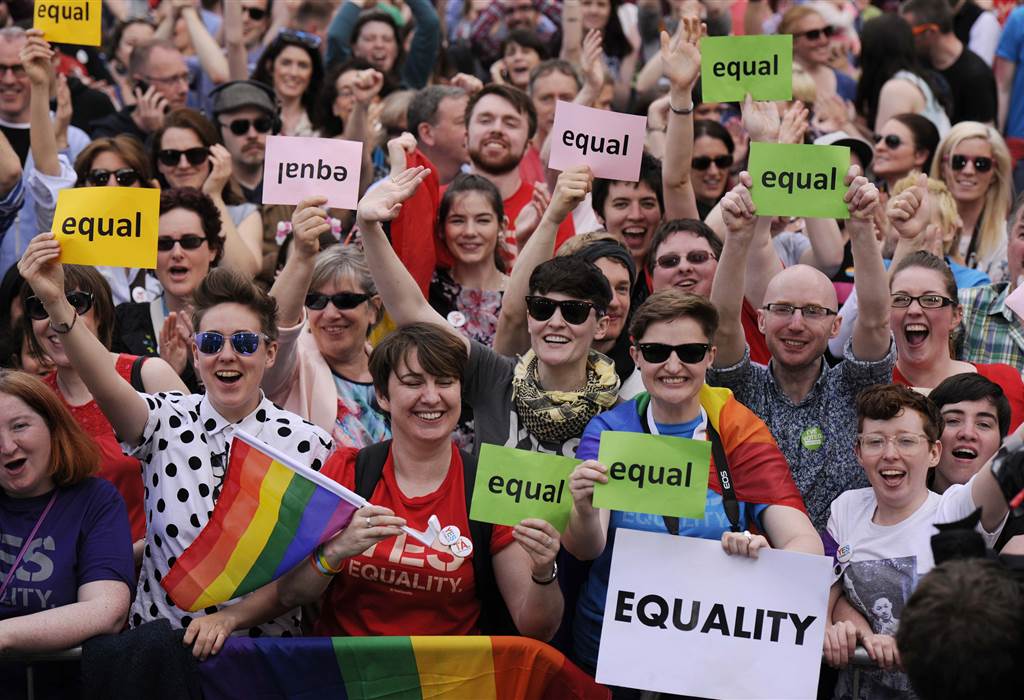 + Months after Ireland won a referendum on same-sex marriage, yesterday was the first day gay and lesbian couples could marry in Ireland.
+ About 1,500 Mormons resigned from the church in Salt Lake City after the church announced it wouldn't baptize children of same-sex couples.
Racial Justice News
+ Colorline reports: "[T]he Obama administration announced that Prosperity Together, a group of women's foundations, will dedicate $100 million over the next five years to improving the economic status of low-income girls and women of color."
+ 51 protestors were arrested yesterday after they shut down a highway in Minneapolis. They were demanding justice for 24-year-old Jamar Clark who was shot by the police over the weekend. Police say he was a suspect in a domestic assault and interfered with paramedics. Witnesses say Clark was shot after he was already handcuffed.