Welcome back to No Filter, our weekly collection of celebrity stalkings. This week, we continue to ask the eternal question: why doesn't Evan Rachel Wood have an Instagram? Why is she trying to hurt me? This week, she gifted us with this:
https://twitter.com/evanrachelwood/status/689649904600264704
Girl, we're so close. I feel like this is a medium in which you could really shine. Let's talk about it.
---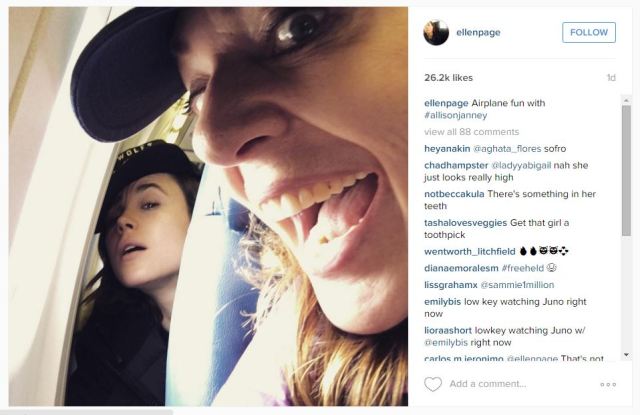 Ellen Page is the creepiest person who could possibly sit behind you on a flight, I guess.
---

Cara Delevingne went to the White House and probably took important meetings about foreign policy.
---
https://www.instagram.com/p/BBBGlJ6gBYT/
Probably we're supposed to be looking at AzMarie's hair; I have been gazing deeply into her eyes instead.
---
https://www.instagram.com/p/BAxzm5hsZcw/
And there is absolutely nothing wrong with that. Not pictured: Ellen Page creeping from the seat behind her.
---
Laura Jane Grace keeps it very casual in the studio. Stars: they're just like us!
---
If I woke up to these cute faces every day I would never ask for anything else in the whole world. Maybe a smoothie.
---
Beth Ditto is just so goodlooking, you guys, I can't deal with it.
---

Sure, you're probably drawn in by Brittani Nichols' irresistible smile, but I'm here for this serious eye contact between Liz Castle and Bandit.
---
Can confirm.
---

Eileen Myles has posted about a dozen pictures of walking her dog this week. There's the dog, being walked. Eileen Myles' Insta is cryptic and weird and I'm kinda into it.
---
Join us next week, when Brittani Nichols storms the White House and has some important and controversial things to say about foods she doesn't like.