Welcome to the Pop Culture Fix, your weekly look at all the important pop culture stories you need to know about.
---
2015: The Year of Gal Pals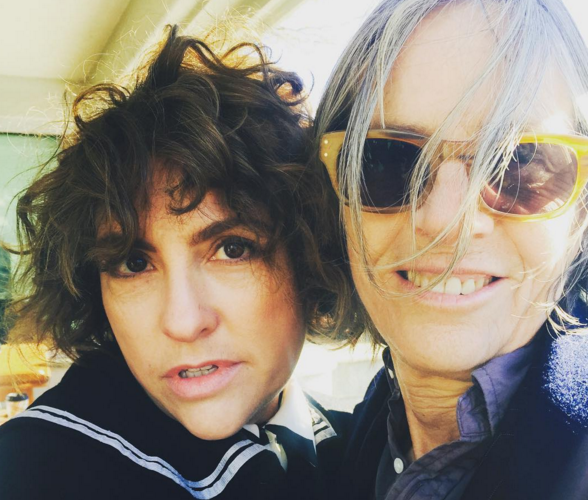 Riese has this working theory that we're quickly approaching a day when all women will date other women, and that's just the way the world will be, and deal with it, etc. 2015 seemed determined to back up her hypothesis; nary a fortnight passed without an always-assumed-straight celebrity casually making it known that she was now braiding another woman's hair in an official Gal Pal capacity. As the year winds down, Transparent creator Jill Soloway continues the trend. In a profile in the New Yorker, Soloway revealed that she is "in the tight grip of new love" with Eileen Myles. They're "touching each other's backs and legs ceaselessly."
Remember how Kayla told you that in the new season of Transparent, Cherry Jones plays Ali's new Eileen Myles-esque graduate poet/professor? Yeah, well, when Soloway was researching the role, she got a Big Lesbian Crush on Eileen.
"So I go on sort of a deep dive of who Eileen is, watching videos of her,wp_postsSoloway told me. She felt the spiky blossoming of a crush. "I kind of get a feeling of, like, Oh, this is gonna be bad."
And then they met in real life and had an instant connection and now they're together, and that's that. Turns out it wasn't bad at all! The New Yorker profile is fascinating in the way all New Yorker profiles are fascinating, in large part because sentences like this exist: "Myles was wearing jeans and a button-down shirt, her hair silver and shaggy, her face set in a more lined version of the intense stare that Robert Mapplethorpe captured when he photographed her in 1980." The profile is not without its bizarre, offensive, eyebrow-raising quotes about gender and identity, though, as all things related to Transparent seem — at least in part — to be.
---
Good Movies & Teevee Are Queer Movies & Teevee
The Screen Actors Guild Award nominations were announced this morning, and lordy, the SAGs are gonna be a queer old time next year.
Cate Blanchett and Rooney Mara are both up for acting awards for Carol.*
Queen Latifah snagged a nod for Bessie.
Christina Ricci, too, for her portrayal of an extra-queer Lizzie Borden.
Viola Davis seems like a lock for Best Female Actor in a Drama Series, for her portrayal bisexual Slytherin badass Annalise Keating on How to Get Away With Murder.
Same for Uzo Aduba for playing Suzanne Warren in Orange Is the New Black, which is also up for Outstanding Performance by an Ensemble in a Comedy Series.
And Transparent too.
* When is Carol coming to you? Here is that information.
UPDATE: Carol was also nominated for five Golden Globes, more than any other TV or movie. Lily Tomlin got two nods, for both Grandma and Grace and Frankie. Transparent and OITNB were both nominated for Best Drama, and Uzo and Viola were both nominated for Best Actress.
+ Queen Latifah will headline a new Lee Daniels drama on Fox about an all-female singing group from Atlanta!
Asked about his inspiration for the show, Daniels said, "It's based on LaBelle, it's based on the Supremes, it's based on TLC, it's based on Destiny's Child. Same sort of inspirations, same sort of template when we created Empire … The new pilot has the possibility for a crossover with Empire, but there are no immediate plans yet.
---
Queer Women Out and About
+ You know who doesn't give a flip if you like her, or the characters she plays? Lily Motherfucking Tomlin, that's who. She and Amy Schuemer chatted about it for Variety.
+ Every queer women's favorite imaginary girlfriend, Samira Wiley, will voice Michonne in Telltale Games' new The Walking Dead: Michonne. The trailer, which premiered at the Game Awards last Friday, is chilling and also awesome. (Obviously I will never play this due to the blood, but you should play it and tell me what you think.)
+ Megan Rapinoe tore her ACL at USWNT practice on Friday, and now Hawaii's Attorney General is stepping in to see if Aloha Stadium defaulted on its agreement to provide the women's team with a "first class field." After Rapinoe's injury, the team wrote an open letter on The Players Tribune demanding access to facilities as good as those provided for the men's national team, who never play on artificial turf. Abby Wambach took up this fight last year, and it seems like the USWNT is going to see it through. The New York Times published a lengthy look at how this fight has progressed and what it will mean for Rapinoe's future.