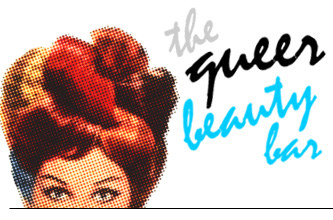 It's autumn! Have we started all of our last posts with some type of comment on that? Probably. It's hard to ignore the turning leaves, cute girls in grandpa sweaters, Festive Fucking Gourd lattes and the wind that'll peel the tan right off your face. It's simultaneously romantic and worrisome. Everyone looks so gosh darn cute and you want your face to be all up in theirs, but there are other forces at play.
I want to be in love with fall just as much as the next lady, but sometimes my body is like, "DUDE, move somewhere else! I do not like the ensuing winter woes that these moderate autumn temperatures imply. I'm going to show you my distaste for the situation the only way I know how!"
So your skin goes into Revolt Mode and decides to flake and make you feel less than lovely, but hey, we already know one way of dealing with that! So instead I'm going to focus on your mouth instead. No matter how expressive, inviting and non-peely your cheeks and nose are, your lips take priority when making out in a pile of leaves. Keep your pucker happy and smooth this fall since nothing stops a makeout session faster than the corners of your mouth cracking open.
+
Stay Wet
Moisture is key when it comes to keeping your face kissable. When the temperature drops, so does the humidity. So even though you aren't visibly panting from the heat, it'll still take a toll on your skin if you aren't paying attention. Fill up your water bottle post haste to keep your skin plump.
If you find yourself licking your lips to keep your mouth moist, you should probably stop that right now. Even though your chops will seem hydrated for a split second, saliva can actually make it even worse. Make sure your skin has a barrier to prevent your pout from peeling. Chances are I didn't have to tell you this since you've already extoled the virtues of our fav chapsticks and learned how to make your own lip balm, but some conversations are worth revisiting. (Especially when you're lazy and the pharmacy's closer than the craft store.) Waxy, water-resistant balms and salves are better at keeping moisture put, so the thicker the better.
I'm a sucker for anything mint since it does double duty. All of a sudden make outs are a tingly experience and your pumpkin beer breath is masked! Lately I've become a fan of EOS' Sweet Mint Balm since the container is super cute, doesn't require you to dip your fingers and is dog-resistant. A lot of people will warn you about the drying effects of mint, but fuckit. I love me some minty chapstick (or lip ice as my mom might say). CO Bigelow scores points from me for having added SPF in their balm.
In some cases (read: mine) autumn gusts give way to those awful, red cracks at the side of your mouth. One day you're skipping through the fallen leaves completely carefree and the next you're asking yourself if you can open your mouth wide enough to eat a juicy apple without wincing like a puppy. Life's tough guys. Licked lips have been posited as a cause, but also vitamin deficiencies, general dehydration and the wonderful world of bacterial infections. If you happen to be part of my unlucky club and the problem keeps coming up, you might want to talk to your doc to see if there's an underlying cause. (Because in case it hasn't been made clear I'm not a doctor and just a gal behind her laptop telling you to make out with people.)
+
Rub One Out
So now your lips are hydrated, but they may not be in tip top shape. All of the skin at the surface is dead anyways, but you might have a layer that's peely, cracky and dull. It simply has to go so call the exfoliants in for backup! By removing that ruddy layer of skin your lips will feel softer and possibly renew at a faster rate.  So get scrubbing.
Your face will be more receptive to a friction attack when it's already supple and soft. Your lips might bleed if your lips are too dry — which is a definite necking no-go. Hop in the shower (and possibly bring a friend) before you start your scrub-a-dub-dub routine. Give yourself a few minutes to enjoy the suds and steam so your angry skin will be more than happy to get touched.
Sugar is a great way to get rid of some dead skin since the crystals are small and dissolve quickly. You could buy a fancy exfoliant, but it's still sugar right? Simply mix your sugar with olive oil or scent your concoction for an extra pick-me-up.  I fall on the really lazy (read: forgetful) side of the body potion scale, so minimal is always better for me. Brown sugar. Rub. Rinse. Go.
If that seems like too much work and mess, just keep an extra soft-bristled toothbrush lying around. Once you're done scrubbing your teeth, brush your bouche to get rid of the bits of skin that are peeling. (I only suggest having a toothbrush for This Sole Purpose because some people are put off by lip scrubbing and I wouldn't want your bathroom-mate to shame you. )
+
Leave a Mark (or not)
So now that your lips are all sultry and smooth, it's time to take them for a spin. If you happen to be absolutely pleased with how you look au naturel, AWESOME. But, if playing with colours is more up your alley, there are a shitton of ways you can play with your face. There shouldn't be any rules when it comes to makeup, but each September shades of purple and burgundy spring up on the catwalk, in magazines and on my pucker. I'm pretty much drinking the wine-flavoured kool-aid when it comes to autumn makeup trends but there's just something about thick scarves and tweed that pairs well with vino-inspired shades.
Whether or not you like lip colours, it's best that you focus on the mouth of your makeout buddy. The virtues of vampy, opaque, matte lipstick have been splashed across glossy mags for the past few seasons, but they really don't get rewarded when it comes to the bedroom (or the backseat of your car or the last row in the movie theater). Sure, you make look fantastic with a painted pout, but your partner may not feel the same when it's smeared across their face. Lighter lip prints tend to get a pass, but when you're messing with Oxblood (as the trendy Pantoners might say) it's a different ball game.
I have no idea who still wears lipstick, but I'm just going to pretend there are at least two of you, so this message is aimed directly at you (and your partners). Feel special because I love you! I've always been a devotee of MAC's lipstick, but lately I've noticed how it fucking gets everywhere. Why not try liquid lipstick or a lipstain to have a bit of pucker power? The normal gripe when it comes to these so-called permanent lip colours is that they have nasty textures or simply don't work.
I've always been a fan of Benetint for that I've Been Running Through the Orchard glow, but it doesn't always have a shitton of staying power. My favourite MAC Everlasting-Gobstopper Permanent Lipstick has been long since discontinued, so I had to branch out. Luckily I discovered Revlon has a 24 hour lipstick that truly doesn't budge. Amazeballs. I want to hug it and marry it and tell it I'll stay true to it forever (which might turn out to be a lie). Swipe it a few times to change from translucent to opaque and you're good to go for all of your apple-munching, pumpkin-spice-latte-swigging, cider-chugging ways. The stickiness disappears as it dries and the result is a perfect wine pout that won't make people question if you're sloshed at 10am. When you're all done just go over your lips with a bit of oil and you're back to you.
+
Pack It
As a bonus, you can store all of your favourite happy lip items in an adorable seasonally appropriate pumpkin purse so you're ready to make out wherever the autumn winds blow you.