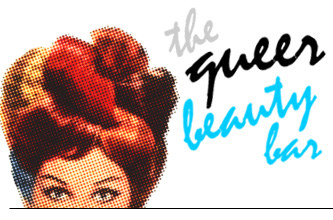 I have a confession to make: I'm a closet hippie. I wouldn't be caught dead in a pair of Birkenstocks and I wouldn't go to a Phish concert if you paid me, but I'm a total sucker for all that close-to-the-earth natural stuff. Burn me at the stake; I'm a lesbian, it's in my blood.
So anyway, as a sneaky (not dirty) hippie, I feel like it's my duty to tell you about the oil cleansing method. It's this totally weird way to clean your face where you use oils to get rid of the oil and dirt that likes to hang on all over your cheeks and forehead and nose. It sounds all counterintuitive, but I want to to harken back to high school chemistry for a minute. Remember how they were always talking about how like dissolves like and drawing pictures of Mickey Mouse water molecules? We're gonna use that knowledge to make your skin beautiful.
Don't believe me? Give yourself a month to try it out. It takes a little patience because your skin's got to get used to the change in oils. Normal cleaning methods like soap and water strip your skins of its natural oils, which sends your pores into mini-overdrive to make up for what it lost. Since your skin's used to making oil like there's no tomorrow, it'll take a little while to retrain it to cut back. Which means your face is probably going to feel like an oil slick for a few weeks. But hold on, young grasshopper, it's worth it. It's gobs cheaper than buying fancy ass department store potions or even the stuff from the drug store and it's a nice little way to start your morning.
Materials
When it comes to the oil cleansing method, you've really got to find what works for you. A lot of people recommend starting out with a cleansing oil and a carrier oil to get a nice balance.
| | |
| --- | --- |
| | Grape seed oil is really light and doesn't have much of a smell. It's also non-allergenic, so it might be a good place to start if you've got sensitive skin. |
| | Olive oil is good for younger skin and dries slower than other oils, which means you may be left feeling oily for a while if you use too much. |
| | Avocado oil is this really awesome green color. If you're older, it might be the stuff for you because it's crazy rich and moisturizing. It does leave a film on your skin even after you wash it off, so it's good if you're prone to dry patches or are used to using lotion after washing your face. |
| | Sesame oil is a natural sun screen and is moisturizing. |
| | Jojoba oil is actually a liquid wax. It's absorbed easily and doesn't leave your skin feeling greasy. |
| | Sunflower Seed oil is anti-bacterial, which makes if good for fighting acne. |
| | Almond oil helps remove itching and inflammation. It's also great for dry skin. |
| | Safflower oil is used to treat damaged skin. It's very moisturizing, but doesn't leave your skin feeling greasy because it penetrates quickly. |
| | Argan oil is the superstar of the oil world. It comes from trees that only grow in Morocco, which means that you can easily pay $50 for a tiny bottle. It's got all kinds of fancy vitamins and minerals, is anti-bacterial,  anti-fungal and anti-inflammatory, slows cell aging and repairs dry skin. |
The mix you make should be at most 50% castor oil, with less than that if your skin is dry. I have a bottle of 20% castor oil and 80% grape seed oil that sits on my counter so that I don't have to remix it every day.
Instructions
Using a dime-size amount of oil in your (clean!) hands, massage your face for about 2 minutes. After about a minute, you'll feel little sand-like pellets start to form. Those are little pieces of dirt and oil from your pores. Gross, right? Right! But better out than in.
Give yourself a minute while you let your water heat up to as warm as you can handle without burning yourself; we're going to steam that goo off your face. You can either run a washcloth under the faucet, wring it out and then let it sit on your face until it goes cold three times or you can splash the water directly onto your face. I opt for the splashing method because it's important to use a clean washcloth when your pores are all open and vulnerable and I just don't have that many washcloths. Afterward, splash some cold water onto your face to close your pores, pat your face dry, and you're done — no toner, no lotion, just plain old oil.
Because I'm a product junkie and wholly incapable of simplifying anything, I dab tea tree oil onto anything that looks remotely impending-breakout-y after I wash my face to care those suckers away.
And ta-da, you're done! Let me know if you don't feel beautiful and luxurious and clean after a month or so.