Welcome to You Need Help! Where you seek advice and we try our very best to give it.
This has traditionally been done by way of individual Formspring accounts, Autostraddle's Tumblr and a Formspring Friday column, which has all been very fun and insightful. But, because Formspring has a character limit and we're wildly optimistic w/r/t our time-management skills, we thought we'd go one further and let you use our ASS private messaging to share advice-related feelings, too.
For more info on sending in questions, see the bottom of this post. Now let's get down to bossing people around on the internet! Today we're going to talk about appropriate social interactions with your ex.

This article was born from an Autostraddle formspring question that I stumbled across on tumblr during my nightly lurking-on-pretty-girls-with-pastel-coloured-hair and felt inspired to write about.
The original question, word for word is:
"You know what should be an article? How to navigate a weekend-long, large group social event with your ex (who you are on good terms with, but not like friends-friends and may want to hook up with)"
It should be said that my past experiences (which are obviously all I've got to go off of) could either be seen as 'unconventional yet a nice thing to aspire to' OR 'royally fucked up in all kinds of Lesbian ways'. I'm very good friends, if not plain friendly, with ALL of my exes. This includes the many ex-boyfriends that I had throughout high school — even the last guy I dated before I dropped the L-bomb.
That's not to say it has been easy. There's always a bitter/angry/awkward breathing zone where space and time is probably best, however, I feel it's kind of crazy to spend so much quality time and share so many life experiences with someone, only to just completely cut them out of your life all together once the romantic relationship is over.
But hey, that could just be me.
I've heard my share of horror stories; I just refuse to ever let it get to that point.
This has meant that in the past, I've forced myself to attend painfully awkward events such as my ex-girlfriend's, new girlfriend's birthday party….with my new girlfriend, JUST so that my ex and I could get back to being 'good friends' faster. Let's get started!
Tip 1: Decide if your attendance is appropriate/if the invite was genuine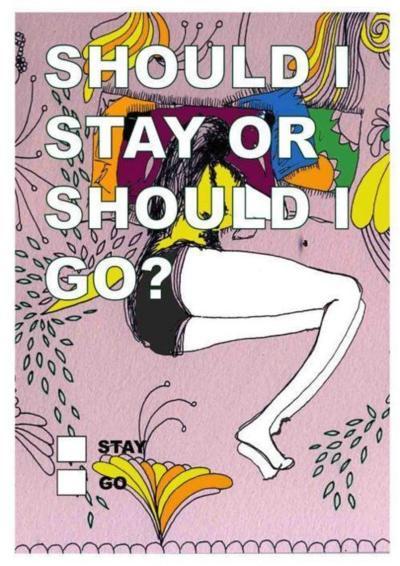 Were you invited to her sister's engagement party before you two broke up? Is it an intimate birthday dinner for 5 for her best friend who you never really liked anyway?
Before you even ATTEMPT to navigate a social event with an ex, you should probably figure out whether you're supposed to be there at all.
If you're being invited because they (or a family member) feels duty bound, maybe sit this one out.
If you're being invited but can already tell just by the headline of the Facebook event that its going to be awkward as fuck, don't go.
If you think you've been invited to the 'Housewarming of Beccy Boo and Tara Choo' and have a feeling it could just be a stab at you — an excuse for your ex to rub in the fact that she's moved into a cutesy little one-bedder with her new squeeze — you're probably right. Click 'Maybe' and pretend you never saw it.
Tip 2: Bring backup – safety in numbers!
When attending a social event that is sure to feature an ex, no matter how long it's been since you broke up, it's always a good idea to have a wingman/woman.
There's something very comforting and calming about having a close friend with you at these kind of things, someone who understands the situation completely and won't leave you alone at any point during the night (unless of course you decide on a 'Last Time' rendezvous with the ex, which is not advisable, but if you must…)
Your plus one won't only act as a social buffer when things get a little tense, they'll also double as the perfect excuse for when you decide the whole thing was a terrible idea and you require an immediate exit strategy.
"We're going to have to bail, [Wingperson's name]'s new puppy Indie has just vomited all over the sitter and we should probably get back there…"
Tip 3: Leave the past in the past
Never, ever under any circumstances dredge up your past relationship in plain sight of all the other innocent party-goers.
This includes, but is not exclusive to:
– Calling your ex by her old nickname. Stop. Just don't.
– Turning every story around so that it somehow relates to your ex. "Oh yeah that reminds me of the time Jess broke her nose when we went skiing…remember that Jessy?"
-Take jabs at your ex based on past grievances. E.g., "Oh really? That's not what you USED to say Jess! You NEVER wanted to go to New York with me!"
– Get drunk and drag your ex into a room to discuss the in's and outs of why you ever broke up in the first place. Pretty self-explanatory you'd think, but you'd be surprised by what future-you might think is a terrific idea after two carafes of sangria.
Tip 4: Play nice and act your age
If you simply MUST attend said event (it's your own brother's birthday party, mutual friend's wedding etc. etc.), but you're currently on shitty terms with your ex, then just keep it civil, for the sake of everyone else.
If you can't stand the look of her then keep your space. I'm not suggesting you immediately about-face every time she joins a circle of people you're talking with, just be an adult and avoid situations that could lead to a public argument or awkward situation for anybody else.
Remember, you once loved and respected this person. Respect them now and leave them alone and they'll probably do the same. (That is of course unless they are an evil bitch in which case, why the hell did you date her in the first place!? Pat yourself on the back for cutting the ties before it was too late.)
Tip 5: Fuck everyone else, have fun
Regardless of whether you're already double dating with your ex or you still want to throw hot oil in their eyeballs, it's important to remember the social event you now both find yourselves attending is probably NOT about either of you or your past relationship.
Remember why you decided to attend in the first place — chances are it was to celebrate something or socialise with friends, so try to not think about or focus on your ex at all and concentrate on having a good time.
Besides, if at the end of the day all that's happened is that your ex has seen you laughing, dancing and having a good time — then at least they'll know you're just fine all by yourself.

To send your question via Formspring, choose an editor:
Riese | Laneia | Rachel | Laura
More writers' Formsprings can be found on Autostraddle's tumblr presence. Please keep your questions to around, at most, 100 words. Due to the high volume of questions and feelings, not every question or feeling will be answered or published on Autostraddle. We hope you know that we love you regardless.